George McConnel's Gold Wing Page
(Disclaimer: I'm Not affiliated with Honda in any way)
This Motorcycle Web Ring site is owned by .

Click for the
[Previous] [Skip Previous] [Random]
[Next] [Skip Next] [Next 5]


Click here if you would like to joinThe Motorcycle Web Ring.
---
I'm proud to be an MSF Certified Safety Instructor!
The more you know, the better it gets!


Please Note:Although I am certified by the Motorcycle Safety Foundation as an instructor and RiderCoach, the views I present on this page are not necessarily sanctioned by the MSF. I have put this page together as a reflection of my own personal opinions and attitude toward motorcycle riding.
---
I've had several motorcycles over the years, but using the same word (motorcycle) to refer to the the other bikes I've owned and also to refer to the Gold Wing just doesn't seem fair. It's kind of like using the word "computer" to refer to both a Commodore Vic 20 and a 450 Mhz Pentium II. They just don't seem to live in the same league.
I know there are other touring bikes out there, made by other fine manufacturers. I can't speak to their virtues and I'm not qualified to compare them. I only know from my personal experience that the Honda Gold Wing is absolutely AWESOME!!!
I currently have a 1985 Honda Gold Wing (GL1200LTD). My bike's "nickname" is Bulldog. He sports a four cylinder water cooled 1200 CC engine. The "LTD" (Limited Edition) Gold Wing which was only produced in 1985 is somewhat of a collector's item, I've been told. It is one of the only two (so far) models of the Gold Wing that employs Electronic Fuel Injection. It also had many nice accessories, many of which Honda has not put on even more recent and higher priced models. Bulldog also has a LOT of aftermarket add-on chrome which gives him a decidedly opulent look.
Here are a few pictures of Bulldog for your viewing pleasure: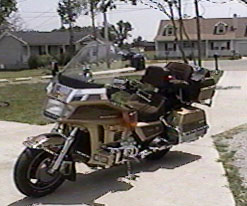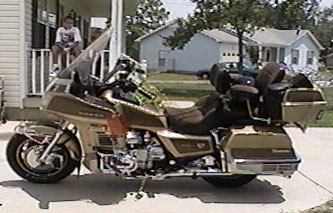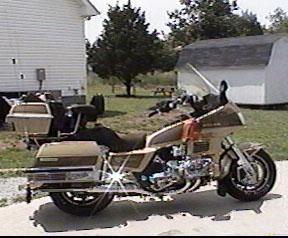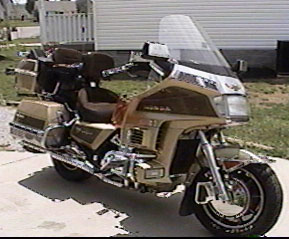 I enjoy negotiating twists and turns and nice rolling hills. There's plenty of all that around here in Middle Tennesse where I live. The ride on State Route 269 between Murfreesboro and Tullahoma Tennessee is very scenic and features lots of nice hills and curves. The towns of Wartrace and Bell Buckle are quite scenic along this route. Also, Hwy 31 South out of Nashville, TN offers lots of pretty scenery and quaint old small towns.
My other street bike is a 2001 Suzuki Hayabusa. I also have a Honda RC51 for riding on the race track.
At 147,000 miles the Universal Joint failed on ol' Bulldog right in the middle of a 500 mile ride. Bummer. Here's a picture of the damaged U-Joint.
My previous Gold Wing was a 1981 Honda Gold Wing (GL1100). Click here to see some pictures of her.
Click here if you want to see a couple of pics of me and Donny (Deathwind) Morlan when he was on his way to the WOTI book brunch.
---
Other Folk's Rides
Earl Scherzinger's Gold Wings
Geoff Graham's 1982 "Mathilda"
Bob Chapman's GL1500
Russell Dickerson's Bikes
Greg (Lil' Scoot) Cross's Bikes
Peter Stratmoen's GL1100
Twan's GL1200
Hoagie's 1985 GL1200
Frits Plant's 1982 GL1100 "Pegasus"
Paul Morgan's Bikes

And now for something really different: "A convertible Harley Davidson!"
If you'd like to have your Gold Wing's pictures here, send me some and let me know!
---
Miscellaneous
I am a member of the following Motorcycle Organizations
I subscribe to the following email discussion groups:
The Tennessee Honda Rider's Club is probably one of the best riders clubs around. Headquartered in Murfreesboro, Tennessee, they meet regularly at Sloan's Motorcycle and ATV for a pancake breakfast on the 2nd Saturday of each month. During "normal" riding season these pancake breakfasts are usually followed by a group ride. I heartily recommend their web page and activities to anyone interested in enjoying the company of a fun group of fellow riders. And you don't have to ride a Honda to be a part of the fun!
Please visit my tribute to Erold (The Whale) Ansell.
Don't hang out in the No-Zone!
If you're interested in the Honda Gold Wing, I've just got one link for you. Visit the Honda Gold Wing Home Page. Maintained by Rex Holder, I believe it would be hard to find a site better equipped to inform, enlighten and astound you with plenty of Gold Wing related information.
---


This Motorcycle Web Ring site is owned by .

Click for the
[Previous] [Skip Previous] [Random]
[Next] [Skip Next] [Next 5]


Click here if you would like to joinThe Motorcycle Web Ring.