George McConnel's Motorcycle Racing Blog
Date:
December 31, 2011-January 1, 2012
Track:
Jennings GP
Bike:
2001 Suzuki SV650
Weather:
Morning fog, mostly sunny with highs around 75.
Sponsor:
LearnToRide.Org
Conducted By:
Dynoworks

Track Diagram

The Jennings GP track is very flat with little or no elevation changes. Although it is a two mile track there really aren't any long straight sections, so speeds rarely get as high as they will on a track like Road Atlanta. Like Talladega, this track was designed by Ed Bargy, so it offers a good learning experience with a variety of different types of turns. Also, like Talladega, the track was designed to allow riding in either direction, although riding it in reverse direction was not done until recently.

For this weekend the track was ridden in reverse direction. The most technical turns in reverse direction are 4, 5 and 9. Another concern in reverse direction is that there are many decreasing radius turns. There are no decreasing radius turns when running the track in normal direction.

The facilities at Jennings are really great. Nashville's only advantage is that it has a covered garage. Jennings features a paved paddock with pit areas just the right size to cover with a 10x10 pop-up tent. Jennings provides electricity for each pit so you don't have to listen to noisy generators, and there are excellent shower and camping facilities. Add to that a very reasonable gate fee of $10 for the entire weekend and you've got one of the best values for your track dollar anywhere.
For two years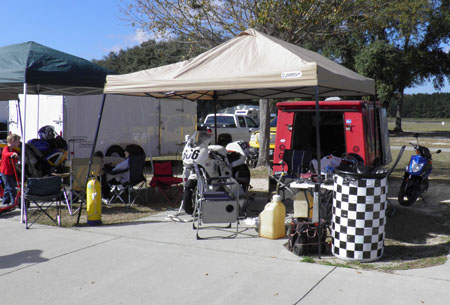 Pit, sweet pit. What wonderful weather!

straight Finish Line Racing has been unable to put together the usual end-of-year trackday at Jennings that they had done in the past. However, the FLR board itself was still useful in hooking me up with Donny Wright, who sponsored a Dynoworks trackday for the New Year's weekend.

The weekend before the big event I went ahead and prepped the trailer and bike for the trip. This time around I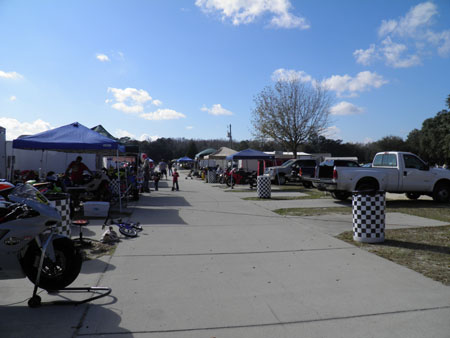 The view down pit row.

also borrowed a scooter from our training site (LearnToRide.Org) to use as transport to and from the track, as well as to have for a pit bike if necessary. Tuesday afternoon I got everything loaded and hooked up the trailer so I could leave as early as possible Wednesday afternoon after work. We hit the road Wednesday afternoon and drove to Thomson, GA to spend the night and visit the next day with my family. This was how we celebrated our christmas holiday this time around. It was short but very enjoyable. The only real fly in the ointment was the fact that the hotel we had booked didn't allow pets even though the travel site we'd used (Travelocity) indicated that they did. We let the dogs stay at my mom's house that night but cancelled our 2nd day's stay to go on down to south Georgia a day early. The motel we got in Lake Park (the Day's Inn) was much more pleasant and was, indeed, pet friendly. The next morning I was able to call a friendly person at the track in Jennings and verify that it would be okay if I came on down and unloaded Friday rather than wait until 4:00 PM. This was good because the sun was out and the weather was pleasant for unloading. I got the 3rd pit from pit-out, a superb location and was pitted directly across from Donny Wright as it turned out.

Since we weren't camping out at the track the nighttime accomodations weren't an issue at all. I left the pit set up nicely, secured everything and Sherry and I drove back to Lake Park. Actually we went to Valdosta to grab some supplies at a Wal-Mart first, then back to the hotel. Our friend Carlton was there by then, so we had an enjoyable visit with him for awhile before I retired to bed. I had set my alarm to wake me at 6:30 AM. The plan was for bikes to be on the track at 9:00 AM and I wanted to make sure I had plenty of time to let the tire warmers do their job before the first session. I took the dogs out to take care of their "morning business", then bundled up for the cold ride down to the track on the scooter. The scooter, a 125cc Kymco, didn't offer much in the way of wind protection, and only had a top speed of around 60. I took the backroad route, which wasn't really that much further than jumping on the Interstate. The problem was that it was really foggy and cold. It was so foggy that I had to continually wipe my helmet visor just to see, as moisture just kept collecting on it the entire time.

When I got to the track I still hadn't signed in or paid the gate fee, so it was necessary to take care of that small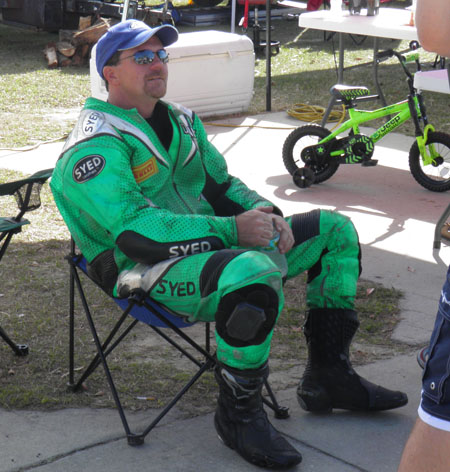 Donny Wright answers a couple of questions
about the event.

matter before I could enter. I rode on over to the pit and plugged the tire warmers in right away. I also went ahead and filled the gas tank and found a bolt to secure the belly of the faring lower so it would be less likely to drag at full lean angle. I went ahead and put on my leather so I'd be ready to go whenever they wanted to start things up. They called a short rider's meeting at some point (I had completely lost track of what time it was and didn't have my normal pit clock). During the rider's meeting we were all advised that the first session for each group would start with a few parade laps behind Donny to give everyone a chance to figure out the track and see "the line". I asked if there would be a lap timer beacon and one of the other guys in the group said he had one and would set it up on rider's left. It had been over a year since I had used the lap timer and I wasn't sure it still worked. But it worked just fine when I plugged a fresh battery in.

Talk about a no BS trackday, this was it. There was no waiver to sign (except the sign-in sheet where you paid your gate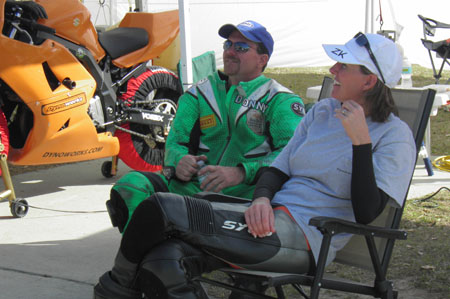 Donny Wright and his wife.
Our hosts for the weekend.

fee). There was no 'tech' inspection of the bike or gear. There were no stickers put on the bikes to identify them as to which group they were in. There were wrist bands for the riders and the bands were different for each day. They'd check your wrist band for the first session but that was it. Other than that it was fairly informal. If you wanted to switch groups nobody would stop you. If you wanted to go right back out with the next group, no problem. Basically it was an all-you-can-eat track buffet once the day got started.

Expert bikes were sent out first. I got in line and we finally took off, riding very slowly around the track. The morning fog still hadn't completely cleared, but the track was clear enough. My helmet visor still collected moisture during the ride though.

As promised, Donny led us on a really slow parade lap for the first lap. He then sped it up a little for the 2nd lap and a bit more for the 3rd lap. After about the 4th lap he pitted in and we all followed him back to pit lane. All he was doing was sending the group back out for an open session. It was at that time that I discovered that my gear shift lever had disappeared. I looked down and saw that it was facing straight down. I went ahead and pitted in.

When Randy crashed the bike in Atlanta back in October we had borrowed someone else's gear shift lever in order to ride the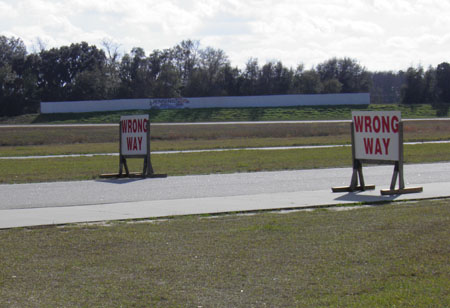 Ordinarily you'd hang a right onto pit out.
Not this weekend...

endurance race. During the "off" season I repaired my broken gear shift lever (and ordered a new clutch lever from eBay). For some reason I didn't tighten the lock nut on the gear shift lever when I finished the job. I remember at the time thinking that it would be good to wait and do it later. That was just not correct. Live and learn. You tighten everything up just like you're going to ride it hard even if you think it may need adjusting later. When you adjust it you can loosen it up. So anyway, I lost the heim linkage. Fortunately I had a spare in my tool bucket and was able to get back out there for the next session. Since I hadn't had a chance to ride the track at any speed at all I went back out with the intermediate group and rode with them, getting another set of parade laps before Donny released the hounds. It was sort of nice in a way riding in the intermediate group as I got to pass a few people to start the weekend. That was about all the passing I got to do all weekend though, as I did every other run in the expert group.

Riding Jennings


Here's how I used to look going through T1 on the RC51.

in reverse direction wasn't nearly as big a deal as Donny kept making it out to be. Of course I don't ride at the ragged edge anyway, so it truly wasn't that difficult for me to work up to my pace. The biggest single difference is that when riding in reverse direction there are several decreasing radius turns. Obviously these same corners are increasing radius turns when riding in normal direction. Instead of being a track where the long sweeper turns "open up" as they finish this track had the opposite effect, requiring you to slowly scrub off speed throughout several of the turns.

The biggest problems I personally had during the early stages of riding that version of the track were turns 4 and 5 (11 and 10 in normal direction), then turn 9 (turn 5 in normal direction) and turn 13 (turn 2 in normal direction). In the first two cases the knowledge that the end of the turn was going to be so tight had me slowing much more than necessary leading up to the tight part of the turn. I find it hard to gauge just how much slowing down I can do while leaned over, and I very much prefer to err on the side of caution. As the morning progressed I found it easier to carry more speed into turn 4, knowing I could scrub it off as I started the run towards turn 5. Turn 9 required a much later entry towards turn 10 (T5 in normal direction), which if done correctly would result in much better acceleration through the esses. When I got it right the front tire would lift off the ground as I accelerated through turn 11. The problem with turn 13 was that it was a blind curve as you were approaching it (with trees hiding the other side) so it was difficult to gauge the speed you could carry. Nearly everyone was slowing down far more than necessary for that turn at first. After awhile I got so I'd just back off a little, then tip it into the turn and make a rapid dive towards turn 14 (T1 in normal config).

Turn 14 was also



Check out some video from an onboard
camera taken by Donny Wright!

a little challenging because it was a double-apex turn that got tigher as you exited. However the tightness was really just an illusion, as the track was so wide you could simply clip the apex, drift wide and carry all that speed straight out down the front straight.

Although I thought I could ride every session on Saturday I got to feeling a bit ragged in the afternoon and had to sit a session out. Sherry came back after having slept most of the day and tried to take some pictures of me during the last session of the day. She never really got a great picture, but managed to capture a couple of images of me riding around turn 2.

Saturday evening Donny had promised he'd serve barbecue. We hung around for that and it was, indeed, very good. Donny had been slow-cooking the pork shoulders all day long in a large cooker all day. There was cole slaw, baked beans, and "jalapeno poppers" (slices of jalapeno wrapped in bacon). Very enjoyable.

Sunday morning the fog was even worse. I could barely see on the scooter ride down and I had waited until much later in the morning to get started since there wouldn't be as much prep work to do. I didn't get to the track until around 9:10 or so and bikes were still not on the track. It was so foggy you could barely see small portions of the track. The corner workers couldn't even see all of the corner they were supposed to be working. No way we could ride in that soup. It took an hour or so more before the fog lifted enough so that they could start the day. Around 10:30 or so we went out for our first session. I felt pretty good during that session and rode about as well as I rode all weekend.

During the next session I traded GoPro cameras with a new acquaitance I had met (John Dunham). He was pitted near me and was just a bit faster than me on-track, so I suggested I mount his camera rear-facing and he mount mine forward-facing and we could each end up with video of the rider/bike. I ended up copying his video to my laptop so I can edit them together into a presentable Youtube video.

Once we got off the track after that second session I decide I'd had enough. It was time to pack it in and start back home. I loaded up the trailer, got it hooked up and grabbed a quick shower. Donny offered us some pork shoulder for the road and we took him up on that. We got on the road right at 1:38 in the afternoon.

The trip back was uneventful and we pulled back into Nashville around 10:30 or so in the evening. What a great weekend. I was tired and ready for bed by the time we got home.

Most important lesson learned during this track day: Never leave anything "loose" with anticipation you'll adjust it and tighten it later. You can always loosen it, adjust it and tighten it later. It's much harder to replace it when it falls off and gets lost somewhere on the track.


Back to my racing pages