George McConnel's RC51 BLOG
Date:
December 27-28, 2008
Track:
Jennings GP
Bike:
2002 Honda RVT1000 (RC51)
Weather:
Mostly sunny, highs in the low to upper '70's.
Sponsor:
Just me...
Conducted By:
Finish Line Racing

Track Diagram

The Jennings GP track is very flat with little or no elevation changes. Although it is a two mile track there really aren't any long straight sections, so speeds rarely get as high as they will on a track like Road Atlanta. Like Talladega, this track was designed by Ed Bargy, so it offers a good learning experience with a variety of different types of turns. Unlike Talladega, it is designed to run only in one direction (counter clockwise), but it makes up for that limitation by being better balanced with enough right hand turns (including the high speed turn 13-14 complex to burn up both sides of a rear tire equally.

Turns 3-5 seem to spook most people, but ironically turn 10 is actually the slowest speed turn on the track. You can really set up some good passes on the outside of turn 12 by getting a good line and drive out of turns 10 and 11. The braking zone for turn 13 also delivers a lot of excellent opportunities for passing.

The facilities at Jennings are almost as good as Nashville's. The paddock features paved pits, each area being about the right size to cover with a standard pop-up tent. Each pit area has an electrical outlet so you don't even have to bring a generator to run your tire warmers or fans. The only reason Nashville's facilities are better is because it's an actual garage and the entire paddock is paved. Nashville's track doesn't even begin to compare with how great Jennings is.
I


Ready to start that first ride on Jennings
Check out the new boots!

really thought my track days for 2008 were over with the Minnie Pearl track day I did back in October, but as it turned out I had yet one more track day left in me before turning the calendar. I'm not sure what prompted me to go looking, but I noticed that an outfit called "Finish Line Racing" was putting on a track day at Jennings on the last weekend of the year. Since I hadn't seen my mom in a long time I thought maybe it would work out that I could combine a visit with her and a drive down to Jennings. This actually worked out pretty well. At first I just signed up for Saturday only, but Charles (owner of Finish Line Racing) talked me into doing Sunday as well. I was really glad he did.

Although I have finally bumped up to Expert class in WERA, I still believe myself to be very much an intermediate level rider. When I signed up for the Jennings track day I had the choice between "Advanced", "Intermediate" or "Novice". I elected to go with the intermediate group for a number of reasons, not the least of which is that I had never been on the Jennings track before and had no idea what kinds of times I would be running.

After spending a couple of days visiting my mom I drove on down to Jennings. I got there on Friday afternoon at about 4:15.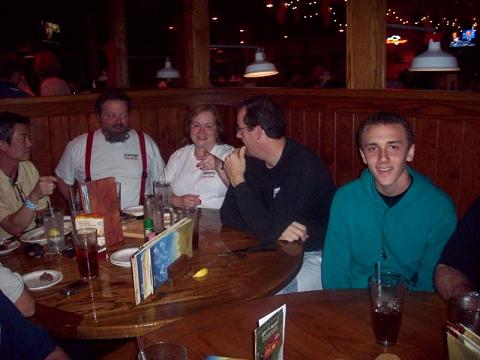 Friday night - dinner at Outback.

A few people had already arrived, but I was able to grab what was probably the best pit spot in the place. I set up my pop-up tent and reserved the next pit for Chad Hargis, who was trailering my bike for me. Once the pit was secure I headed back to Valdosta, where we had gotten a room. One of the team members of Finish Line Racing had arranged for the group to share a meal together at the Outback Steakhouse in Valdosta. As it turned out the steak house was within easy walking distance from our motel room.

Dinner at Outback finally gave me the opportunity to meet Charles as well as Jorge and Moni and other folks with whom I had conversed online at the Finish Line Racing forum.

When dinner was over we walked back to the motel, hit the sack and got a good night's sleep. I intended to be at the track by 7:30 as I would have a lot to do to get ready to ride. I changed the coolant out and replaced it with distilled water, checked my tire pressures, cleaned and oiled the chain, filled the gas tank, put a new battery in my lap timer, went through registration (there was a small line) and tech (quick and painless). They held a rider's meeting at 8:30, so I was really pushing to get all my stuff done in time to be free for the rider's meeting. The track went hot at 9:00, but the first group out would be the Advanced group, so I would have an extra fifteen minutes to get my leathers on and be ready to ride.

It's worth noting that this weekend would be the first time I've had a chance to ride on a track using boots that were actually designed for track riding. I finally found a pair of boots that were designed to be able to be worn by guys with really big calves such as mine. Up till now I've compromised by using hiking boots over which I would zip my leathers. At one point I bought a pair of "Nitro" motorcycle boots that I could barely wear, but the soles on those boots weren't designed to be able to handle the heat of exhaust pipes and melted quickly on my exhaust. I'd read about the Teknic Violator boots and considered buying them, but nobody had them in stock where I could try them on, and for $250 I wanted to actually try the boots before buying them. Eventually, Teknic quit making those boots (bummer) and I managed to find a real deal on some that were being closed out. I bought them from an eBay store for $135 + shipping (total of $145). It turns out that I can just wear them, but that's good enough. I can wear them outside my leathers, which helps hold my leathers in position better for riding. I did discover that it was awful easy to touch the toe sliders on those boots, making it necessary for me to tuck my feet even further, but that's just fine. I really like my new boots.

Chad Hargis had come down with me to ride the Jennings track. He had been there before, so he was no stranger to


Chad and I wait for our next ride...

that track. He was going to go in front of me and show me the lines (as it were), so during our first session he was careful to wait until I was ready to head to pit-out before proceeding. During the rider's meeting they had instructed us to leave our left glove off so they could verify that we were wearing the armband that indicated we had registered and paid for the track day. It takes me awhile to get my gloves on because of how tightly they fit, so I fiddled with them while Chad waited patiently. Then we were off.

As we eased into the pit-in lane Chad started pulling away almost immediately. I was able to keep him in sight but he was definitely more comfortable on those turns than I was. On the first loop around turn 2 and the two kinks that join it with turn 3 I reeled him back in, borrowing on the grunt of the RC51. He pulled away from me during the complexes that start with turn 6, but once again I was able to decrease the gap a bit during turn 12. As we completed the first lap I decided to just let him go and work on figuring out the track for myself. He was way too quick for me.

I rode around the track, slowly getting more comfortable with some reference points, but did not feel like I "knew" the track


First session Saturday morning
Chad (right) pulls a good gap on me.

in any sense of the word when the checkered flag came out. I had gotten passed by what seemed like nearly everyone else on the track by that time. Well, that's not entirely accurate, I believe I had passed one or two guys over the course of the session. When I pulled back into the pit Chad had already gotten his helmet off, showing how much of a gap he had pulled on me during that session. I checked my lap timer and saw that my first lap was about a 1:42 and that my last one was a 1:38.

During the second session Chad and I went out together again and I was actually starting to feel a little more comfortable. There were a couple of places where I knew that I could get around him if I chose to. I was also staying with him now, but I think it may have been because he was taking it a bit slower so we could stay together. At any rate, I decided to go around him during the braking zone for turn 3 and see if we could catch back up to the three riders who had gapped us a bit. Once I got around Chad I began stringing together some decent laps and it didn't take long for me to catch the riders in front of us. I'm not sure if I "pulled" Chad along with me or not, but I ended up passing those three guys before the end of the session.

Chad and I had a discussion of the track while waiting for our next session and we talked about our learning experiences.


Getting quicker - passing another rider on
the outside of turn 11

He mentioned that he had taken a couple of rider's schools and nobody had taken the time to ride behind him and give him any coaching advice. All of them basically said, "You're doing good". I told him I didn't know if I had any advice worth offering for him but I'd be willing to follow him and tell him what I thought. I laughed and said, "I may not know how to do it right, but I've watched a lot of fast guys pass me doing it the right way. I can at least tell you if you look anything like they did."

So during the next session I once again followed Chad onto the track and stayed with him for several laps. I could see that he was braking way early coming into turn 3, and it looked like he could take a better line through some of the turns between 7 and 11. I passed him coming into turn 13, tapped my tail section to indicate "follow me", and tried to show him what I had learned. We made it through one complete lap like that and then I made a mistake that almost ended my weekend. As we entered turn 1 I passed the first reference apex marker and forgot that there was a second one later in the turn. I wasn't looking far enough through the turn and planning my line very well and I had started


Getting a little quicker each session.

rolling on the throttle and exiting the turn when I realized I was running out of track and the turn was tightening again. I slowed as much as I could but it was obvious that I was going to go off the track. Immediately before hitting the dirt I straightened the bike. I have no idea how fast I was going but as soon as I was in the dirt it was obvious that I was going way faster than I wanted to be. The bike was bucking like a bronco. I really thought I was about to go down hard, but somehow I managed to get the bike back onto the track where it suddenly snapped back straight. Without losing a beat I tipped it down into the turn two kink and rolled back on the throttle. When I got back to the pit Chad gave me the "Not worthy" bow for the great save.

We checked our lap timers after that session and I discovered that we had managed to dip down into the high 1:32's. Our times were coming down bit by bit it seemed. Although from the getgo I had been getting a knee down in most of the left-handed turns on the track I had just started occasionally touching the knee down on the right side during that session.

For whatever reason we figured that that would be our last session before lunch, so we started kicking back and having


Rounding the tight righthander at turn 8...

a bite to eat. Sherry went to the concession stand and picked up some barbecue chicken and ham. Chad ate the lunch he had brought with him. But they kept calling sessions and pretty soon it was obvious that our group was going to get one more session before they actually broke for lunch. Chad decided to sit that session out since he had just eaten, but I wanted to go out, so I went out by myself. When I got back in I had notched another '32' on the lap timer, but this time it was a little quicker than the previous session.

After that session was complete we actually did have a lunch break, during which time I just kicked back and soaked some liquid down to rehydrate. Chad and I talked some more about the track and what we could do to ride it better. By this time we were among the quickest riders in the intermediate group. One or two of the other riders had come by and talked about this or that "great pass". We were starting to feel like heroes.

For the first session after lunch Chad and I decided to try seeing how the other half lived. We traded bikes for one session. Although I've ridden inline fours before, most of my experience on them has been on larger displacement bikes. I've never had a 600, and haven't really ridden them much. In order to get to the real horsepower on those


Full speed around Turn 13.

bikes you really do have to keep the engine revving up near redline all the time. This constant high pitched scream from the engine was difficult for me to get used to after being used to the low grunt of the RC51. I kept finding myself in far too low a gear to power out of corners effectively, but I was carrying decent speed into the corners and getting my knee down in most of the corners. The bike felt well planted in turns 1 and 13. It also felt quite nimble as I dipped it into the tighter turns. But Chad had a lot more success adapting to the RC51 than I did riding his bike, and he ran off and left me during that session.

We swapped back for the next session and I once again enjoyed all the monster torque available from the big twin. There's not really much to say about the next several sessions. Neither of us got any faster as the rest of the day progressed. Each time I thought "this time I'll be in the 31's", I pulled into the pit only to discover that I had yet again posted another 32. It was almost bizarre, as I just knew I had to be getting more comfortable with the turns. But as each session passed my rear tire, a Bridgestone BT002 that Stickboy had put on my bike way back at Nashville in September, was getting thinner and thinner on tread. It was about time to pull that tire and put on a fresh one. Chad and I decided to skip the final session of the day on Saturday and call it a day. And a great day it was. I pulled the rear wheel off my bike in preparation for getting a tire change, and then decided that the front tire was also very questionable. The only tire vendor at the track was selling Michelins, so for the


Turn 1 is a high speed sweeper at Jennings

first time since about April of last year I was going to have Michelins on my race bike. Although it was getting late in the day the vendor mounted my new tires for me. I didn't actually get the wheels re-mounted on the bike that evening though.

Instead, we went over to the other side of the paddock where Moni and Jorge were grilling hamburgers and hotdogs for a social gathering. I brought chairs over so we could sit and socialize, but was disappointed that few others bothered to do that. Still yet, we sat around enjoying the ambiance and food as the sun went down and suddenly it started getting cool. After a couple of hours we decided it was time to head back to the motel.

This, of course, meant that my Sunday morning would be even busier, as I'd have to mount and safety wire both wheels. We had intended to sleep a little later Sunday, but as it turned out neither of us could sleep past 5:30 so we got up, got packed, and went across the street to Cracker Barrel for some breakfast. Then we headed on down to the track, where I had plenty of time to mount the wheels and be ready for the first session of the morning.

Once again they were running the advanced group first, followed by the intermediate and novice groups respectively.


Turn 10 - a tight lefthander.

Each group would get fifteen minute sessions. I was still fooling with the safety wire when the 8:30 rider's meeting started, so I reluctantly went to the meeting with a piece of safety wire in my hand. When the meeting was over I hustled back to my pit and finished with the safety wire, then started donning my gear. Chad had left at the end of the Saturday riding, so I had nobody to compare notes with. But I got out there and spent the first couple of laps riding very slowly to get the new tires scuffed in good, then started testing them to see how much grip they actually had. I started passing everyone on the track and finally pitted in at the checkered flag to check my lap timer. I didn't expect to have run a 32 yet, but was pleasantly surprised to discover that I had actually run a 31!

During the next session I ran a 30. Then I ran a 29. And by lunch time I had strung together several 28's. During the rider's meeting that morning they had stated that they hadn't been enforcing it the day before, but that the cutoff for the advanced group was going to be a 28. That meant that if I wanted to I could have bumped up to ride with the advanced group.

Sherry encouraged me several times that I should bump up to expert, but I told her that I was just fine where I was,



Check out some video from an onboard
camera taken by Donny Wright!

and enjoyed riding in a group where I could pass people. It takes practice to get good at making clean passes, and this was my opportunity to get some of that experience.

That morning I pulled one bonehead move that didn't actually cause any problems but it could have. I attempted to make a pass on a guy on the inside of turn 12. He had swung really wide on the approach to 12 and suddenly started towards the inside as we came towards the apex. I had come underneath him and was actually alongside him when he started towards the inside, but he hadn't seen me yet. I saw him check up, but I didn't realize that he had actually run off track afterwards until I talked with him. I went over and offered an apology for my move, telling him that I really thought I had a better drive coming out of 11 and that I'd have time to complete the pass easily before that turn. He said that everything was fine and accepted my apology gracefully. We got to be friends as the day progressed. I learned that he worked at a Cycle Gear in North Carolina. After that I never attempted to make another pass on the inside of turn 12, but I managed to pass quite a few folks on the outside of 12 or into the braking zone for turn 13.

During the lunch break I walked over to Donny Wright's pit to meet him and maybe get some pointers from him about the track. He was control riding for the Novice group and obviously knew the track well. He offered to follow me around and maybe give me some pointers in the next session. I noticed that he had a camera rig on his bike so I asked him if it would work with the SIMM card I had brought. He believed it would so we slipped my card in his camera and I was looking forward to finally getting some onboard video.

Unfortunately the camera ignored my SIMM card and saved the video on its main memory. Donny didn't know enough about his camera to know how to make it transfer to the SIMM card so I asked him if he'd maybe copy it to a CD or something and mail it to me. I left him my address, but never heard back from him for many weeks. But eventually the CD came in the mail, so I made a YouTube clip from some of the video. Sweet!

By the end of the day I still hadn't made it into the 27's, but the laptimes I was turning were quite satisfying to me. I got a lot of respect from the other riders with whom I was on the track. It was really a great weekend. I was amazed at how quickly the Michelin tire I'd had mounted on the rear had been completely used up. That tire is not good for another track day, but the Bridgestone that proceeded it had lasted through most of a WERA weekend, a Nashville track day and a Jennings track day. If ever I had any doubts about my switch to Bridgestone, those doubts were assuaged. It's going to take a lot to convince me to ever give Michelin another try. Unless, of course I'm stuck with no option like I was this weekend.

Most important lesson learned during this track day: Florida folks are really friendly!


Back to my RC51 Page