George McConnel's Motorcycle Racing Pages - My 2002 RC51 Race Bike
I bought my RC51 for track purposes only. It's not street legal. There are no lights or mirrors on it. It doesn't even have a side stand. The racing compound tires on it won't last long. Like everything else on the bike they're specially designed for performance. They stick to the road like they're made of velcro but roll like they're made of glass.
The Jardine slip-on pipes give it a deep, powerful rumble. When you twist the throttle your body is pounded by the massive torque of two 500 cc cylinders until the RPMs get high enough to smooth out the power delivery. The raw power of the engine climbs swiftly as the engine quickly reaches 10,000 RPM, depending on how brave you are about opening the throttle and releasing the beast's fury.
The savage roar crests as over 120 horsepower is delivered to the pavement. The uncompromising performance designed into this thoroughbred becomes evident as you begin leaning it into a corner. The steep steering rake causes the bike to respond with wicked quickness to any handlebar input. No excuses. Whatever the road course challenge is, The bike can provide more than adequate capacity to do it and more. If you're slow it's because of your limitations, not the bike's.
After having completed a couple of open track days on my Hayabusa. I was convinced that it was time to move to the next step and do some amateur road course racing. That's why I bought the RC51. I intend to get my WERA racing license in the near future and start enjoying it in earnest. I'll update this page when that is done. I plan to continue updating this page in the future, using it as a blog for my racing adventures. Meanwhile a few pictures are in order.
And here some pictures of my bike from various angles.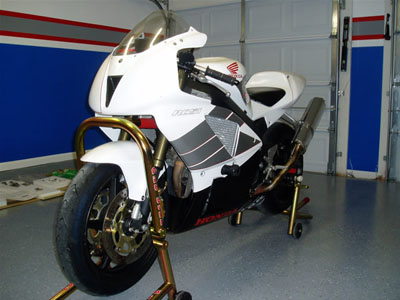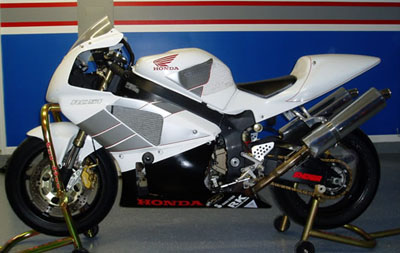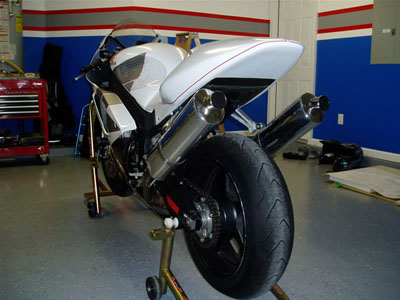 I was given the competition number 666 when I began racing in the WERA circuit, a number I've continued to have since that time. I also have an affinity for the tie-dye look and am often seen around the paddock sporting the look of an aging hippie. My Rc51 is adorned with a few Peace signs and a tie-dye crescent outlining the front number plate. But underneath that peacenick exterior resides a raging beast with power to spare. Appropriately it bears the "number of the beast" and after much consideration I nicknamed it the "Peace Beast".