George McConnel's RC51 BLOG
Date:
September 11-13, 2009
Track:
Barber Motorsports Park
Bike:
2002 Honda RVT1000 (RC51)
Weather:
Mostly cloudy, some misting rain, highs in the mid to upper 80's.
Sponsor:
LearnToRide.Org
Conducted By:
WERA

Track Diagram

Barber Motorsports Park is a beautiful, purpose built motorcycle racing. track built by George W. Barber, an avid automobile enthusiast who made his fortune in the dairy industry. It features 15 numbered turns, several of which are complexes. It also has many elevation changes. It can also be run as a "short track" wherein turn 5 empties out immediately into the back straight, bypassing nearly 50% of the track.

On the same campus as the track is the Barber Vintage Motorsports Museum, which began as Mr. Barber's private collection of vintage automobiles and motorcycles but now is a fully functional public museum.
I spent some time disassembling and cleaning the brake calipers and putting new pads in for this race. During this point I discovered a ridge that had developed inside the left front caliper that was causing one of the pads to bind. I hoped that filing this ridge off would relieve the binding I have been plagued with for years on that bike, but it didn't help at all. I also used some "Dry Slide" on the pots before pushing them back in but that didn't seem to help either.
Trying to help with my dismal launches I went to the drag strip the Tuesday before this race weekend and took some runs. I improved my 1/8 mile numbers by nearly 1/2 second that evening, so I was hoping to see some better results on the race start this time around.
Logan and I


Ready to go Saturday morning. John McDonald is next to me.
Logan and April are in the background.

got everything ready on Thursday evening and pretty much had things ready to go early Friday afternoon this time. We were delayed by a trip over to his house to get some last minute stuff, but still managed to get out of town before rush hour really began to take its toll. The only fly in the ointment this time was that Logan had an issue that required him to go back to his house. He ended up borrowing my SV650 later that evening and rode down on it to stay with us in the hotel room.

During the drive down it rained a couple of times, but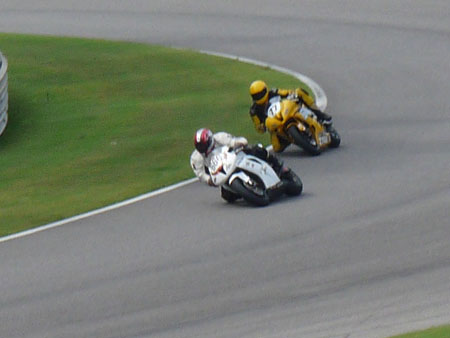 Barber Turn 2 - Looking pretty quick there now.

not particularly hard. When I got to the track I set up next to the Michelin tent, not far from Vicki on the 2nd tier. Ghetto Customs was on the opposite side of me from the Michelin dude. I unloaded the bikes and all the stuff that was on the trailer then went over to see Vicki and the gang for a few minutes before heading over to the hotel. We were just going to stay at the "America's Best Value Inn" near the track. We ran into a snag though because they didn't have any rooms with two queen beds available that night. They did have such rooms available Saturday night, so we took a single king size room for Friday and reserved a double bed room for Saturday. We hit the sack and I think I slept pretty well. Logan got in around 1:00 in the morning and slept on the floor.

Although I had pre-registered, Logan had not. So I set the alarm for 6:30, figuring that we'd needs loads of extra time to get registered. Surprisingly, Logan was able to whisk through registration quickly and painlessly.

But this weekend was a combined National/Sportsman weekend, so there were some slight differences in how things worked out. For one thing on Saturday afternoon there was just going to be an endurance race, and on Sunday the races would be combined across classes. Because of this the attendance was strange. A much larger proportion of people had preregistered for the weekend.

There were no complications this morning during set-up or tech, so we got the tire warmers on and waited patiently for our first (and only) practice session for Saturday morning. Logan was in practice group 2 and I was in practice group 5. There were only 6 practice groups, but the 6th group would be out there for 1/2 hour. Logan managed to turn a low 1:45 during his practice session. I ran about the same laptimes during this session. I had taken up pretty much where I left off from my last outing at Barber in May, but Logan had improved considerably. Very nice. It was a long session - I think they left us out there for maybe 25 minutes. During that time several of the other guys pitted in and out, but I stayed out there and circulated for the whole session. It was interesting seeing the likes of Trey Batey, Opie Caylor, James Stroud and others as they demonstrated their massive talent and equipment compared to my lack of both. Turned out that some of the endurance guys were trying to get their set-up right so they could practice the entire 30 minute endurance stint without break.

I did have a bit of a scare during that first practice session on Saturday morning. The first time I tried to brake hard (coming down the hill towards "Charlotte's Web") the front brake lever seemed to just give way after a second or so of hard braking and come back almost to the handlebar. It was as if something had broken. I released and reapplied the brake and managed to get good traction the second time, but it took several laps before I was willing to trust the front brakes again. Eventually I began braking hard again but I'm not sure I ever regained full confidence in the front brakes that weekend.

During the afternoon I enjoyed


Group riding around turn 2.

watching the endurance race. It was sad seeing such a tiny field of endurance racers. Only 22 teams had started and two of them withdrew because of bike issues or crashes early. However the entire four hour race proceeded without any red flags. As usual, Vesrah Suzuki won the race, clinching the championship for the 9th straight year. Team Kinetic (Michael Wischmeyer, Rob Turner and another rider (Luke?) did okay, finishing in 10th place on their SV650. During the race they had a problem with the quick-fill on their gas tank. It started leaking, blowing gas up into Rob's face shield and onto the left handlebar. The left handlebar grip came loose in Rob's hand because the gasoline solved the adhesive holding it on. Kurt Kesler, working the pit for those guys, used five applications of safety wire to secure the grip. They ended up having to duck tape a folded shop towel over the quick-fill nozzle to accomodate the fuel leak, which they didn't have time to repair during the race.

There were no mini's signed up for the entire weekend,


All by myself, but hauling enough ass for two...

so the minis races on both days were canceled. They distributed the extra practice time the minis would have taken among the other groups.

Saturday evening we grilled some steaks we'd bought from Costco. They were really thick boneless ribeyes. They were absolutely delicious. We hung around at Vicki's place until the sun went down then we all headed back to the hotel for showers and shuteye. Logan and April wanted to go cruising around Birmingham and I guess they probably stopped at a club at some point before coming back and going to bed, but they didn't stay out too late this time.

Sunday morning we got two practice sessions, but they were considerably shorter than the Saturday practice. Still yet I think I ended up getting a little more track time on Sunday than on Saturday, but I did make the blunder of missing the checkered flag on my last lap. I was shown the meatball flag upon crossing the start/finish line during my "extra" lap. I pitted in and asked Tony at tech if he knew why I was meatballed. He assumed it was because I had missed the checker, as there were no safety violations such as a missing lower like I had last time I saw the meatball flag. During my second practice I put up a 1:44.274. Logan's best time during his second practice was a 1:44.229. Talk about close laptimes! But Logan managed to edge my best lap out so far each time out.

I was signed up for both of the Heavyweight Twins classes, SuperBike and SuperStock. These were races


Exiting out of turn 2 towards the hill

2 and 10 on the schedule. Logan was signed up for C SuperStock, which was race 4. I gridded up for my first race with all the riff-raff (WSS, V7MW, V6HW) in pole position yet again. It was finally an opportunity to see if my work at the drag strip had done any good. If it helped it sure wasn't obvious, as yet again I was immediately swallowed up by some of the novice riders during the launch and had to tip it into turn two in fairly thick traffic.

As the race progressed I got a little quicker and ended up passing one or two of the novices back. Ray Hickman came by me at some point, but I held my own pretty well all in all. After the dust settled I had run a 1:43.032. Yet another fastest lap for me, beating my old mark by well over a second.

Unfortunately, when Logan's race came up it started misting rain. It wasn't heavy by any means, but the track started getting wet and they held up the "rain" flags (folded debris flags). A couple of riders went down when the track got wet. The rain was very likely a factor in their crashes. Logan's best lap during that race was a 1:48.7, but of course you wouldn't expect him to be as quick on the wet track. The rain may have helped him though, as he ended up with a 7th place finish in the race. This was his first ever top 10 finish! We were all excited!

My 2nd race, SuperStock started with me gridded on row 17 right. The C SuperBike Novices were out there gridded in front of us. It was a two wave start with a long break between groups. Once again I got a hideous launch and J (John Moore) came around me well before turn 1. The three experts against whom I was directly racing ran off and left me, but it didn't matter. I have a commanding lead in that championship race and all I needed was the 4th place result I'd get by finishing the race under power to clinch the Mid Central championship. As the race progressed I began reeling J back in and though I could pass him on the last lap. Getting a little greedy in turn 2 I felt the bike slide and reacted quickly enough to save it. This happened on the white flag lap very close to the same place I crashed on the white flag lap in '07. In '07 I crashed trying to beat a 1:51. This time I saved what would have been a very similar crash running five to six seconds a lap quicker. I'm very pleased with those kinds of results. Reality check complete, I let go of any ambition to pass J and settled for the points lead and the championship.

At the end of the day I had a 40 point lead in Mid Central Heavyweight Twins SuperStock with only one round to go. WERA only pays 20 points for a first place finish so I've clinched. However, Bradley Duncan won Heavyweight Twins SuperBike, taking 7 points away from my previous 17 point lead. Now I'm only leading SuperBike by 10 points with one round to go at Nashville. Duncan is the only one who can beat me now. If I finish 5th or better at NSS in SuperBike I win that championship. If Duncan wins and I finish 6th or worse he gets the championship. Intriguingly, if neither he nor James Butler show up at Nashville I'd stand a good chance of taking the Southeast HWT SuperBike championship. Somehow I don't think that's going to happen.

Most important lesson learned during this race weekend: I really need to do some work on the RC51. The brakes have issues and there are probably all kinds of issues with the forks from the crashes I've had.


Back to my RC51 Page