George McConnel's RC51 BLOG
Date:
June 27-28, 2009
Track:
Road Atlanta (Atlanta, GA)
Bike:
2002 Honda RVT1000 (RC51)
Weather:
Mostly Sunny, HOT! Highs near 100 each day
Sponsor:
LearnToRide.Org
Conducted By:
WERA

Track Diagram

Road Atlanta is a 2.5 mile track with many elevation changes. The highest point on the track is turn 11, which is 75 feet above the start/finish line. The lowest point is at the end of the "Esses", right about that last kink before turn 5. That point is 40 feet below the start/finish line. The back straight (which has two minor bends in it labeled 8 and 9) is almost 3/4 of a mile long, and it is not uncommon for race vehicles to approach 180 or more MPH on that section. From turn 9 to turn 10a you are going downhill. This makes for a challenging situation as racers must judge how to brake without running off the track while maintaining enough speed to keep other racers from passing them at that point. The good thing is there is a long runoff on the other side of turn 10 with lots of soft gravel in case you make a mistake.
Once again I was riding with Logan for this trip. We got out of town a lot later than I'd hoped and ended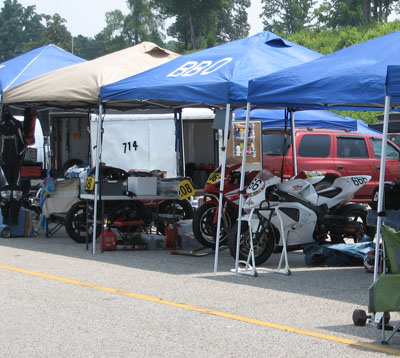 The view once we got the pits setup Saturday morning

up getting to the track kind of late. We unloaded the tent and pickup bed, then headed over to Karl Lemmer's place once again to take advantage of his hospitality. Everyone sat around talking kind of late especially considering the early start we needed to make, but that's how it always goes. I woke with the first chirping of alarm clocks, about 6:00 in the morning and was ready to go. We got kind of a sluggish start which penalized me more than anyone else, as I was not pre-registered and I was in practice group one.

As it turned out that was more than enough to keep me from having enough time to make the first practice. I accepted my fate and just let go. It's real pesky though when track time is so hard to come by. Road Atlanta seems to be the one track where I never get enough practice to get anywhere near a rhythm going.

Logan was preparing himself for an unenjoyable session of having his ass handed to him by considerably faster riders. He was pleasantly surprised when he got back to the pit though, as he ended up passing a few other riders even during his first practice session. Unfortunately for Logan they had underestimated the number of transponders they would need for the weekend and hadn't charged enough of them to be ready. He would have to run practice without a transponder on Saturday and pick on up on Sunday morning. Fortunately he had his video camera and was able to mount it and record his sessions. This means he can get his laptimes from the video, which will give him a chance to see what kind of progress he made from his first laps to the end of the weekend.

I was able to ride my 2nd practice session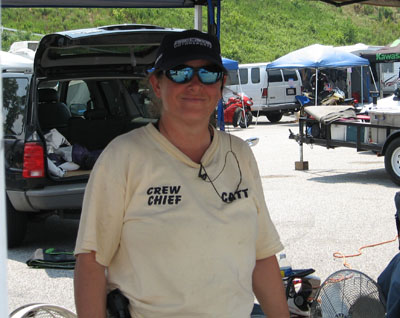 Catt continues to be the greatest pit momma ever.

but I have a feeling they shortened our sessions. I went out with the first riders to exit pit lane during our session and ended up only getting four recorded laps. On a positive note I got quicker each lap, starting with a 1:53 (almost as fast as I had gone all weekend a year ago) and worked down to 1:48.6, a new personal best.

As usual we only got one practice session on Sunday because of the county imposed 2 hour "quiet time" from 10:00 to 12:00. Being in the first group again I got pressed for time to get prepared for my session. My riding gear was all stuffed in Dewayne and Catt's trailer, and while I was able to get it out and get geared up I started frantically trying to locate my helmet to no avail. Dewayne offered me one of his medium size lids which I was barely able to pry onto my XXL noggin. The visor kept fogging up on it because air couldn't flow with my face firmly filling out all the places where there might be a gap. All these things effected my ability to get into any sort of rhythm and I languished in the 1:50's throughout the entire session. Funny thing, a year ago I was pleased with landing my first set of 1:50's in a race. This year I was disappointed to be unable to beat a 1:50. Once again it's all about perspective.

During that practice session I saw Guy at the turn 2 corner station signal me by pointing at his left knee.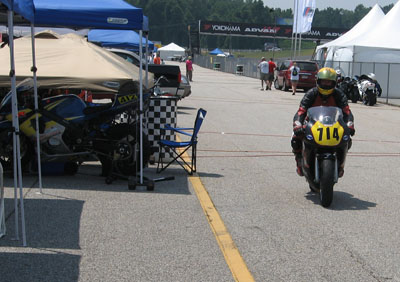 Dewayne comes back hot and tired after a Solo 16

I reached down to feel my knee slider to see if something was amiss and it was there. Then I looked down and saw what he was talking about. The foam I stuff around my radiator to seal around it so air gets pulled through the radiator had worked its way out and was pointing out the side of the bike. I signaled and pulled off the track into the access road that turns off turn 5 (doubles as runoff too I guess). I pulled forward far enough to get well out of danger of traffic, stopped the engine and repaired the foam. A corner worker ran over while I was doing that and I assured him I was good to continue. Turning the bike around I re-entered the track and headed up the hill towards turn 6. That lap was a 3:05 because of the pitstop.

So all in all I didn't have a very good practice session. I got my leathers off, grabbed some water and started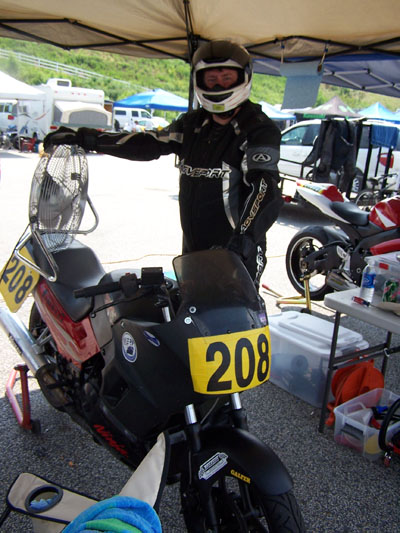 Karl is ready for his V5 race.

working on re-hydrating. It was really getting hot already and it wasn't even 9:00 yet. My missing helmet was sitting right there in Dewayne and Catt's trailer, perched on top of a toolbox at the front of the trailer. I have no idea how I was unable to see the helmet sitting there. I looked in there several times trying to see it.

Logan had gone out with friends on Saturday night and stayed up late. He never showed up for practice on Sunday morning. In fact he didn't even arrive in time to go to the rider's meeting.

I was scheduled to race in race 1 and race 11. I checked my grid positions and saw that for each race I would be in pole position for the start. The first race (HWT Superstock) would begin with the twins gridded starting on row 11. The first 10 rows were composed of the C Superbike Experts. They took off in the first wave


Powering out of turn 10B.

while Chuck held us long enough for them to clear the turn 2 area. When he waved us for our start I once again got a bad jump and got swallowed up by just about all the experts. I even saw Morris pull alongside me into turn 1. I had no choice but to give him the position as he had the inside line. Didn't matter, I just didn't "have it" for that race anyway. My best laptime was a 1:49.092, which was okay, but disappointing as I had managed a 1:48.6 during my first (short) practice on the previous day. The good news was that all five laps every lap were about as consistent as you can have, with the slowest being a 1:49.7.

Morris beat me handily in this race, turning a 1:47 for each of my 1:49's.

My second race (Heavyweight Twins SuperBike) found me gridded on row 1, left position. I got to take off in the first wave but once again got one of my horrid starts and found myself looking at nearly every expert plate on the grid by turn 1. Morris once again got inside of me on turn 1 and I had to let him go. But this time I kept him in sight. He managed to get nearly a 1.5 second lead on me before I started reeling him back in. I got back .4 seconds during lap 4, .8 seconds in the next lap, and as we were looking at the white flag I had a feeling I might be able to have a go at him before


Tipping it into turn 12.

the end of the lap. But I made a couple of mistakes pushing too hard I suppose and ended up losing a couple of tenths to him during the final lap.

Logan hadn't gotten any practice on Sunday and was arguably still a little bit hungover from his long night out with his friends. When he geared up for his race (race 13, C Superstock Novice) he had a really hard time keeping from overheating. I videotaped his launch and each pass he made across the front straight. He was gridded in the first position in the 2nd wave. He got a decent launch although someone got a much better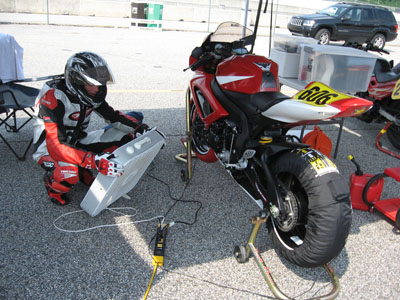 Logan tries to keep cool before his Superstock Race.

one than he did and he ended up going into turn 1 in the 2nd position in his group.

I was really impressed though as his group came around after the first lap. Logan was leading his group! They blew past and disappeared into turn 1. But he lost a couple of positions by the next lap, and each lap after that it seemed like he lost another position or two. By the last lap it looked like he was about 8th position in his group, but of course he'd had to start in the 2nd wave with 15 riders in front of him. He ended up with a 15th place finish. A lot of that was handed to him by a bunch of riders who got confused when a debris flag came out near turn 11, which happened to be close to pit-in. Several of the riders checked up, put up their hands and started into the pit lane. About 10 or so of them came rumbling through pit lane while Logan's blistered down the front straight. When they re-entered the track Logan had gained back most (if not all) of the positions he'd lost during the race. He ended up with a 15th place finish, good for a single point in the championship.

Last year I finally got a knee down on turn 10a, one of the few left-handers at Road Atlanta. This year I was able to drag my knee sliders around nearly every turn on the track. My best laptime at Road Atlanta this year was 1:46.531, 3.7 seconds quicker than my previous personal best. And that was without the advantage of last year's half day of practice and making every practice session.

Most important lesson learned during this race day: I've made considerable improvement this year as well.


Back to my RC51 Page