George McConnel's RC51 BLOG
Date:
June 13-14, 2009
Track:
Talladega Gran Prix Raceway
Bike:
2002 Honda RVT1000 (RC51)
Weather:
Rainy with highs in the mid 80's.
Sponsor:
LearnToRide.Org
Conducted By:
WERA

Track Diagram

The Talladega Gran Prix Raceway is designed to be run either clockwise or counterclockwise. This weekend's events were conducted in a counterclockwise direction. The redesigned track has been run in clockwise direction once since the repaving, owing to safety concerns.
This weekend was a crazy mixture of good and bad.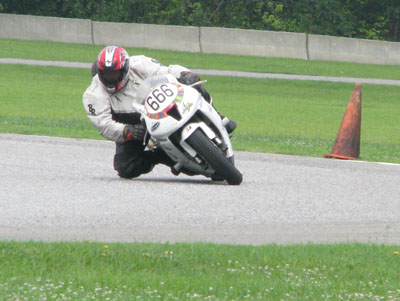 Posing on the Double 90's again

I didn't have my truck or trailer here so Logan pulled together a few resources and came up with a truck and trailer combination to get us there. It worked out real well and we got to the track around 8:30 PM on Friday evening. Unfortunately a storm blew in right about the time we started unpacking and I ended up setting my tent up in a pouring rain. No problem, I'll just finish setting things up and then slip into some dry clothes.

That's when I realized that all my dry clothes (along with my overnight bag) were still sitting at the house in Nashville! I ended up having to wear some of those soggy clothes to "bed" that night in the tent. But I called Dewayne up and he and Catt took care of picking up some dry clothes for me at Wal-Mart in Oxford, since they were staying at a hotel.

Saturday morning I woke up early and started getting things setup. It looked nice, hadn't rained in several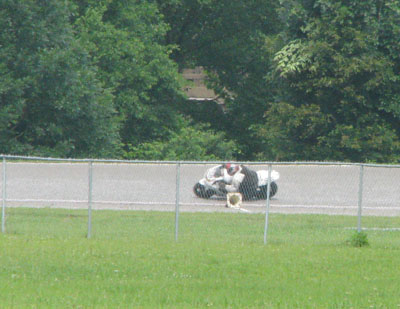 Turn 1 at Tally
Speeding high and cornering low...

hours and the track was starting to dry. Maybe things wouldn't be so bad after all. Logan and I headed over to the tower for registration. We had to stand in line for awhile but got through registration okay in spite of not having pre-registered. We then took care of tech and everything seemed fine. But then the next big rainstorm came. It rained solidly for the entire two hours of Saturday morning practice. Needless to say I just sat under the tent out of the rain and tried to stay dry.

Saturday afternoon it quit raining and after about the 2nd race of the day the track was mostly dry. There were some good races to watch, which I enjoyed.

Saturday evening was also quite pleasant. Catt grilled some hamburgers and I provided potato salad for a nice picnic supper.

Sunday morning I awoke after a refreshing night's sleep. There hadn't been any rain all night so the track was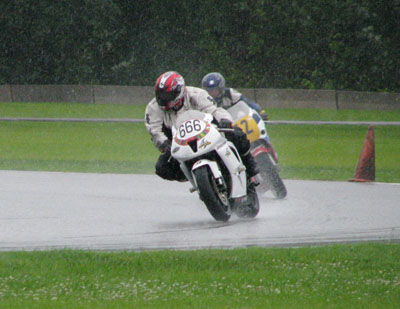 Riding in the rain. Fun! Not.
That's Bobby Qualls catching me.

in good condition. I did both practice sessions and finally dipped into the 1:05's at Tally! Woohoo! 1:05.9, but still into the "fives". I got into the sixes almost exactly one year ago at Talladega, the weekend it all started coming together for me. But it took a whole year to improve on that mark. Go figure.

Logan also set some much more respectable laptimes during his practice sessions, getting all the way down into the 1:07's during his first session. For some reason he was slightly slower during his second practice session although he felt like he was running quicker. It's always disappointing when that happens, but it's part of the game as well.

Right after lunch was over here came the rain clouds. BMFRC's as my old buddy Rick would call them. They managed to get race 1a (minis) completed before the rain started falling. As they were making calls for race 1 the bottom fell out. They had to postpone the start of the race until after the storm. The winds were high (probably 60 MPH or so) and the rain was heavy. By the time it finally began calming down into a steady light rain we had lost nearly 45 minutes. They decided to shorten all races to 6 laps each and began again making calls


Slowing waaaaaaay down for the carousel in the rain

for race 1. I was scheduled to race in race 2.

No worries though, I wasn't going to push hard. I was just going to get out there and circulate around the track and see what happened. I geared up in time to go out for 3rd call and took a slow, easy warmup lap. Gridding into position I looked around and discovered that nobody else had shown up for the race. All I had to do was keep it on two wheels and I'd get a first ever first-place trophy.

So when the green flag waved I launched nice and easy. As the Novices (4 of them) went around me well before turn 1 I just slotted in behind them and followed them for awhile. I gave up on them well before the first lap was over and let them go play while I rode around nice and easy on my way to my first ever victory.

Logan was scheduled for race 4, so I went out and watched him from the farmhouse turn. I took an umbrella and watched as he raced in a steady rain (not quite as heavy as I had run in two races earlier). He managed some decent laptimes in the rain, the best being a 1:24. He ended up with an 11th place finish, netting him enough championship points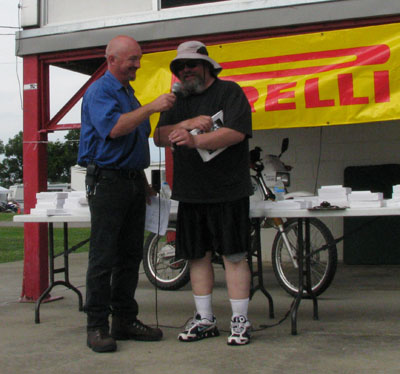 I'd like to thank...

to get tied with two other riders for 19th place in the standings.

I was scheduled to run in race 9. It was still raining as race 7 started but there was some blue sky nearby and it looked like the rain might stop soon. But as race 8 started it was still drizzling. The rain stopped early during that race but the sun didn't come out. By the time I got on the track there was no longer any standing water on it (except for a few puddles), so I took a slightly quicker warmup lap. I accidentally overshot my grid position and had to back the bike up a few feet to get back to it. The "C" experts were gridded in front of us as usual for the HWT Superstock race, so I was on row 7 for this event.

I looked around and nobody was with me on the row, but Morris could have been behind me on the next row. I didn't


Logan watches stepdad get a 1st place trophy.

see him so I didn't know. But I found out when the green flag waved, as Morris outlaunched me and pulled alongside. I managed to outbrake him into turn 1 and never saw him again. Once again the novices passed me (there were only two) but I wasn't concerned about any of that. I just wanted to make sure I stayed ahead of Morris. I ended up finishing in 1st place again, with over a 13 second lead on Morris. But we both were running very slow laps, acting our age.

As if a crazy weekend sullied by rain, wet clothes, leaving my overnight bag at home, etc., wasn't enough, there was one other fly waiting to manifest itself in the ointment. Within about a mile of home I suddenly realized I didn't know where my wallet was. Logan and I were both exhausted and just wanted to unload the bikes and go to bed, but we ended up completely unpacking the truck to try to find my wallet. It turned out that I had left the wallet on the counter at a convenience store in Birmingham. The good news is that I talked to the lady who had it and she promised to mail it to me. As of this writing I still don't have it but I believe it's going to arrive today or tomorrow. Interestingly, the fact that I had left my overnight bag was the factor that caused me to leave my wallet on the counter. Ordinarily I have a pocket for my wallet. But there were no pockets in the replacement shirt or shorts I had bought to wear that evening and I was just holding the wallet in my hand when I went to the counter to pay for some drinks. I told the lady I didn't need a bag for the drinks, sat my wallet on the counter and proceeded to tuck the four drinks between my left arm and my chest. I then neglected to pick up my wallet and exited. If I'd have had a pocket the wallet would have been in my pocket throughout that fiasco. Live and learn.

The really cool things about this weekend were that I finally got a win, I also got a win where I had to beat someone else to get it, and by scoring 20 unanswered points in two classes on all my competitors I have taken the championship points lead in both categories (HWT Superbike and HWT Superstock). For the time being I am the points leader!

Most important lesson learned during this race weekend: Don't forget your overnight bag. And secure that wallet!


Back to my RC51 Page