George McConnel's RC51 BLOG
Date:
October 18, 2008
Track:
Nashville SuperSpeedway
Bike:
2002 Honda RVT1000 (RC51)
Weather:
Mostly sunny, windy and blustery. Started at 50, got up to about 70.
Sponsor:
LearnToRide.Org
Conducted By:
Sarah Cannon Cancer Foundation

Track Diagram

The Nashville SuperSpeedway is a combination track. NASCAR racers use the outer oval, basically just a large concrete track with a back straight, two ends and a tri-oval front "straight".

The road course drops off the tri-oval into the infield, winds through turns 1-6, then exits briefly onto part of the back straight before dipping back into the infield for turns 7-10. Turn 10 is a long non-banked sweeper that exits back onto the front straight. There are transitional seams at each of the four places where the infield road course joins the NASCAR oval. At these points you have to be careful to choose a line that avoids too sudden a transition or you end up getting jarred really hard.

Much like Daytona, races are started from pit lane because the start/finish line is on a steep bank.
Because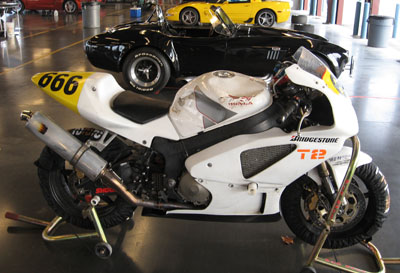 "The Beast" is pitted right next to a Cobra GT. Sweet!

of fall break we were going to go riding out east this weekend. Although there was a track day at Talladega, an ARHMA event at Barber and the track day at Nashville I had reserved this weekend for doing something with Sherry rather than doing a track event. Unfortunately a friend of Sherry's was killed in a car wreck last week and her weekend plans went out the window. Since we were going to be in town anyway I went ahead and signed up at the last minute for this event. I loaded the car and trailer with way more than I needed for a simple track day and headed out. I guess with all the experience I've gained over the last couple of years doing this I just don't want to get there and not have everything I need in case something comes up.

Registration and 'Tech' was about as easy as you can have. I had preregistered for the event, so I walked into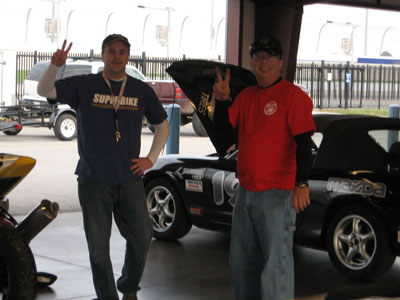 Dewayne and a car driver talk during the morning.

the registration area and picked up my paperwork and armband. Billy Odum was in charge of tech and he knew my bike was way over-prepped for the limited tech inspection he was doing so he gave it a glance to make sure I hadn't crashed it since my last WERA round and handed me a tech sticker.

The "Minnie Challenge" is a charity event sponsored by the Sarah Cannon Cancer Foundation. The event includes track time for automobiles and motorcycles. They break the track time into sessions for Novice, Intermediate and Advanced. For the first time ever, I signed up as an "Advanced" rider, although that didn't necessarily mean anything. The number of people signing up for the event was small enough that they decided to group the advanced and intermediate riders together. The novice riders naturally got their usual classroom and on-track instruction from control riders, but the rest of us just got out there and blistered around the track to the best of our abilities.

There was plenty of meat left on the Bridgestone tires I had Stickboy put on my bike back in September, so I wasn't worried at all about that. I prepped the bike by putting the warmers on and checked the tire pressure when the tires got up to temp. Both were a bit low on air so I topped them off at 29 PSI each and I was ready to go. I'd checked the gas, oil, etc., the night before and had a full can of gasoline so I wouldn't run out.

The track didn't actually go "hot" until about 9:30 or so, so it was a long time before I needed to put on my gear, but I went ahead


Catt, Karl and James mill around waiting for the action to begin.

and geared up anyway. It was so cold that morning that the leathers felt good as something warm to wear. In addition to Dewayne, Karl Lemmer and Steven Greene had showed up for the track day. Catt and Dewayne had also convinced a friend ("James?") to come down from Indiana and ride one of their bikes.

They sent the expert cars out first, which was a sensible thing to do. The cars would be able to handle a cold track better than the bikes, and they would heat the track up better than bikes would. After 20 minutes we'd get our first session on bikes. Their "calls" were handled very different from what I was used to with WERA. When they gave first call you only had about 5 minutes before time to hit the track. I'm used to having more time to prepare, so the quick calls threw my timing off the first session or so. Later in the day I developed my own sense of timing as to when to start getting ready, which was well before first call.

There was some sort of problem with the PA system most of the morning and I never even heard 3rd call. Billy Odum came through telling us


Catt, James and Karl go out for their first controlled session.

we were supposed to be at pit out right then, so I pulled my tire warmers, removed the stands and took off. As it turned out they held us there at pit out for several minutes before letting us on track. I have no idea what was going on, but it was a bit annoying knowing that my tires were cooling back off the entire time.

Once they unleashed the hounds we hit the track and I began to feel comfortable very quickly. It wasn't long until I started passing some of the other guys. I even came up on the familiar "Stringer" leathers and to my amazement I passed him. Later I found out that it was not Mark Stringer, he was loaning his leathers to someone else. Bummer. They didn't have a lap timer beacon out during the first session so I have no idea what times I actually ran. Felt good though. I passed Dewayne early in the session and almost lapped him. The checkered flag came out before I would have lapped him. In fairness he was riding pretty slow.

During


Dewayne rounds the turn two hairpin in front of me...

the second session I encouraged Dewayne to wick it up and let's try getting something going. He just didn't "have it" I suppose that particular day. I went around him on the outside this time in turn three and ran off. The lap timer beacon was out by now. It was situated in an odd location, just after turn 3. Doesn't matter of course, so long as it's somewhere that the lap timer can pick it up reliably and there's only one of them.

During the second session the best lap I put up was a 1:13.540. I was a little disappointed that I hadn't gotten into the 12's during that


... seconds later the upper hand was on the other foot.

session, as I felt pretty good. I was passing nearly everyone else on the track. Of course the really strong riders were riding with the novices as control riders, so I wasn't having to deal with any of them.

We only got the two sessions before "lunch" started. They didn't really break the action for lunch, so I don't know what they did about the corner workers, but I would assume they worked in shifts or something. There was one section of lunch where they were letting cars do parade laps around the track, but even that included letting them open it up on the front tri-oval, so I can't help thinking they might have needed some corner workers for that. At any rate I took off my leathers during the lunch break and started getting back into them when the expert cars went back on the track (which was the group immediately before mine). Since the sessions were all 20 minute sessions that gave me plenty of time to gear up for my next ride.

During my 3rd session of the day I finally got down into the 12's again. In fact I put together three laps in a row that were all in the


Getting low on the hairpin...
12's, so that wasn't bad for me at all.
My 4th session was interesting for several reasons. A guy with expert tags (I believe it was #954) was actually holding me up during the first few laps. I really wanted to get around him and he definitely had the speed to walk away from me on the straights. So going into turn three I took something of an aggressive line and had to back off. He "felt" me there and moved wide exiting the turn. I saw the opportunity and went on around him at that point. After that I started reeling in one of the control riders, who was out riding with the advanced group for a change. I didn't realize who it was until after the session was over, but it turned out that it was none other than Billy Odum himself!


Dewayne checks to see if power really does corrupt.

He had motor on me on the straights, so my only chance to pass him was on the brakes or with a better line in a turn. As we got through turn three I took a wider entry into the esses than he did. Carrying more speed in a different line I almost tee-boned him and had to brake to avoid a collision. That one thing cost me several bike lengths as he began accelerating away and I was unable to catch him again.

The 4th session just kept going and going. I believe they decided they were running a little ahead of schedule so they'd just let us have more track time. As each lap passed I kept watching the guy who ordinarily held the checkered flag to see if he was ever going to bring it out. I was getting tired and my lap times started going up. The guy who I had originally passed earlier in the session went back around me before the session ended. Later, when they had us go to the classroom to get our completion certificates, he came up to me and we talked for a few minutes about the session. I offered an apology for the aggressive line I took in that one turn trying to get around him and he waved it off, saying it was no problem. He said he enjoyed the ride. He also said he could tell when I got tired. "I said to myself, 'Big guy's getting tired! -- I might be able to re-pass him!'. And of course he was able to.

When I came back to the pit after the 4th session Dewayne told me that his day was "over" (at least on the SV650). I came over to see what he was talking about. Turns out his exhaust pipe had separated again. This time it separated at the start of the cone at the front of the muffler. He definitely wasn't going to be able to effect a repair to that, at least not today.

But I had an idea... I talked him into taking "the Beast" out during the next Novice session. So he did, and when he got back to the pit he definitely sounded like he'd had a blast enjoying the massive power available with the twist of the wrist.

The last session of the day I got out there and passed my buddy on the 954 bike again, and passed a few others. Then all of a sudden as I entered the back straight I reached down to shift to 3rd gear and there was no shift leaver! I tried again and there still wasn't a lever so I realized something was wrong. I held my hand up and slowed down to sub-warp speed. I rode slowly through the chicane as the 954 machine went around me, then rode around the sweeper to pit-in. When I got safely off the track I checked and discovered that a bolt had come out that held my shifter knuckle together. My day was over. I managed to get the bike rolling without having to shift it all the way to 1st gear, rode it back to the pit and dismounted.

The next day I found a replacement bolt. It cost 45 cents to effect repairs to my bike for this mechanical. But this time I safety wired the bolt in place.

Most important lesson learned during this track day: Check everything occasionally. Look for loose bolts. The next lost bolt may be something really important.


Back to my RC51 Page