George McConnel's RC51 BLOG
Date:
June 28-29, 2008
Track:
Road Atlanta (Atlanta, GA)
Bike:
2002 Honda RVT1000 (RC51)
Weather:
Mostly Sunny, Highs near 85f, occasional afternoon thunderstorms
Sponsor:
LearnToRide.Org
Conducted By:
WERA

Track Diagram

Road Atlanta is a 2.5 mile track with many elevation changes. The highest point on the track is turn 11, which is 75 feet above the start/finish line. The lowest point is at the end of the "Esses", right about that last kink before turn 5. That point is 40 feet below the start/finish line. The back straight (which has two minor bends in it labeled 8 and 9) is almost 3/4 of a mile long, and it is not uncommon for race vehicles to approach 180 or more MPH on that section. From turn 9 to turn 10a you are going downhill. This makes for a challenging situation as racers must judge how to brake without running off the track while maintaining enough speed to keep other racers from passing them at that point. The good thing is there is a long runoff on the other side of turn 10 with lots of soft sand in case you make a mistake.
I drove down Friday morning, arriving at the track during the lunch break. Dewayne had saved a spot for me and I pitted between him and Karl Lemmer. Karl took the rider's school at Barber and was going to race in Atlanta to complete his Provisional Novice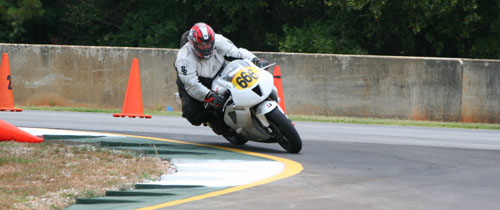 Friday practice, first session
entering the "Devil's Elbow"

status. Dewayne had not brought his SV650. He had brought Catt's EX500 and his Ninja 250, prefering to be able to race in the same event(s) as Karl, who had purchased an old Suzuki GS500 twin. The GS500 had problems all weekend, but we all pitched in to help Karl get the thing back on the track.

I unhooked my trailer and drove over to the tower to register for practice that afternoon.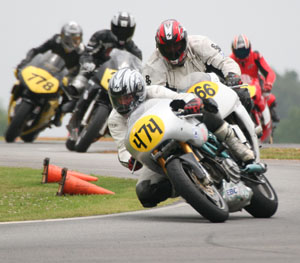 HWT SB - Rob Turner, me, Kurt
Kessler and Brad Johnson

I got to take practice for only $75 because I had missed the morning sessions, which was a good thing. During the morning practices they had been using the new turn 4 chicane, and people were going down all over the place trying to negotiate that chicane.

I got in on the first practice of the afternoon, where they still had the new chicane in the loop, but didn't have any problems with it myself. When they took the chicane out for the second session (after yet another ambulance run), things settled down and we all got a little more practice time in. My laptimes were not stellar, but they were better than I believe I would have turned at my skill level a year ago. With the chicane and the new turn 12, I turned a 1:58, only 3 seconds slower than my fastest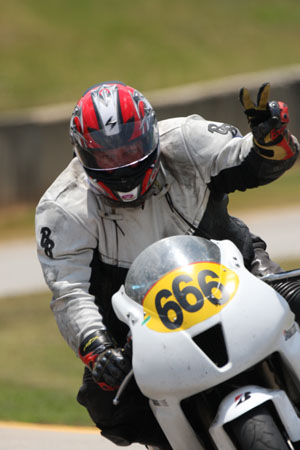 Giving Vicki Sulpy some love
She works hard for the money!

time a year before, when the chicane wasn't there and turn 12 was much higher speed.

During the 2nd session I turned a 1:53.035, more than a second better than the 1:54.400 best I had turned last year, and this with the disadvantage of the new, slower turn 12.

That's all the practice I got on Friday before they shut down. Saturday morning they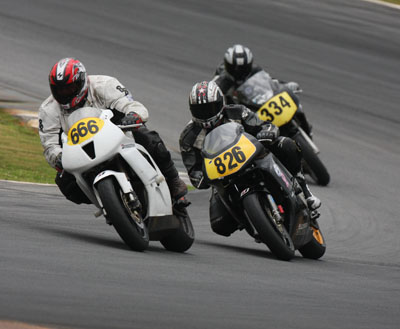 Keeping Kurt behind me on turn 10b...

gave us two practice sessions. I turned a 1:55 during the first session, but managed to squeeze off a 1:52.631 during the second session. Much better!

Sunday we only got one practice session because of the nearly interminable 2 hour "quiet time" imposed on us from 10:00 to 12:00. They gave us a slightly longer practice time (20 minutes, as opposed to 15 minutes), so I got a 10 lap practice in. During this practice I still stalled out at 1:52, but this time it was only 1:52.201, almost half a second faster than my previous best from the day before.

Kurt was there and taunting me to "bring it" for HWT SB. He couldn't race in SuperStock because he was running slicks. So I went to the tower and added HWT SuperBike to my raceday for an additional $60.

The SuperBike race was the first race for me, race 2 of the day. During race 1 I suited up and took a few deep breaths to calm back down. I pulled up next to Kurt on pit road and we touched fists before heading out for our warm-up lap. We were gridded on the 14th row of the grid with me on the right and Kurt in the center position.

The green flag flew and I was off to a good start. I managed to get ahead of several of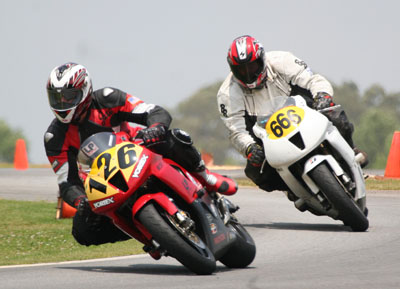 Jensen can outlaunch me but I'll soon pass him.

my peers into turn one but got passed back by Brad Johnson before making it to turn 5. After that things sort of settled down and I rode around the track putting 1:53's together with Kurt putting some 1:52's together and reeling me in. I didn't know how close he was to me, but during the 4th lap he says he almost ran into me as we took slightly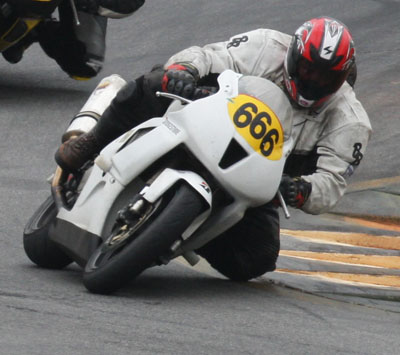 My first "knee down" photo. Woohoo!

different lines through turn 5.

Somehow I managed to keep Kurt behind me and finished this race with a 2 second margin of victory over Kurt. I finally beat him in a head-to-head. Felt good.

My second race of the day was race 9, Heavyweight Twins SuperStock. There were only five of us gridded for the race but my buddy Rob Turner decided for some reason to set that race out. This meant that all I had to do was stay in front of Jeff Jensen and I'd get a podium finish. Jeff is getting quicker but he's still way slower than me, especially at Road Atlanta. I turned three laps that were in the 1:50's during that race, not quite able to bust down into the 1:49's. But on average my laptimes were roughly ten seconds quicker than Jeff's, so I had an easy 3rd place finish.

I was also getting a knee down on Road Atlanta in turn 10a. Vicki Sulpy got a good shot of me touching the knee down there. Since this is the first photo evidence of me with a knee down it definitely gets included in this blog entry.

Most important lesson learned during this race day: I'm still making progress. My lackluster performance at Talladega and Barber earlier this season don't mean anything.


Back to my RC51 Page