George McConnel's RC51 BLOG
Date:
May 3-4, 2008
Track:
Barber Motorsports Park
Bike:
2002 Honda RVT1000 (RC51)
Weather:
Partly to mostly cloudy, highs in the mid to upper 80's.
Sponsor:
LearnToRide.Org
Conducted By:
WERA

Track Diagram

Barber Motorsports Park is a beautiful, purpose built motorcycle racing. track built by George W. Barber, an avid automobile enthusiast who made his fortune in the dairy industry. It features 15 numbered turns, several of which are complexes. It also has many elevation changes. It can also be run as a "short track" wherein turn 5 empties out immediately into the back straight, bypassing nearly 50% of the track.

On the same campus as the track is the Barber Vintage Motorsports Museum, which began as Mr. Barber's private collection of vintage automobiles and motorcycles but now is a fully functional public museum.
This would be my first experience at Barber since crashing last year. Somehow I didn't feel very intimidated by the track although my laptimes suffered all weekend because of my tenuous handling of turn 2.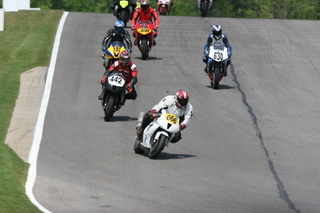 Heading into Charlotte's Web. Morris Foor is right behind me...


I pitted next to Dewayne and not far from Morris Foor. We compared notes but Morris is way faster than I am at Barber right now.

Saturday practice the transponder system wasn't working correctly and I didn't get my laptimes. Sunday my laptimes were only in the 1:55's.

I entered two races that day, Heavyweight Twins Superstock and Heavyweight Twins Superbike. The SuperStock race was the 2nd race of the day. Running 1:55's, I finished near the back of the pack, but my buddy Michael Wischmeyer crashed so I got to finish ahead of him. I also beat Jeff Jenson, a new rider on an RC51, but he's definitely getting faster each time out. Armando Diaz-Gill was also signed up for the race but he crashed in practice that morning so I didn't have a chance to beat him (which I surely would have). He went through the WERA Rider's School with me in June of 2006.

My second race of the day was SuperBike, mostly as a head-to-head race against Kurt Kesler. I was ahead of him when I crashed at Barber last year and needless to say he owned me during this race. I was still struggling to put up laptimes in the 1:55's, and he was riding a shade faster this year on his racing slicks. He ran off and left me. I congratulated him on winning this round, promising to have something for him next time we went out.

Most important lesson learned during this race day: Just keep working on it...


Back to my RC51 Page