George McConnel's RC51 BLOG
Date:
February 8-10, 2008
Track:
Talladega Gran Prix Raceway
Bike:
2002 Honda RVT1000 (RC51)
Weather:
Sunny and mild, highs around 60-65, lows near freezing.
Sponsor:
LearnToRide.Org
Conducted By:
WERA

Track Diagram

The Talladega Gran Prix Raceway is designed to be run either clockwise or counterclockwise. This weekend's events were conducted in a counterclockwise direction. The redesigned track has been run in clockwise direction once since the repaving, owing to safety concerns.
This was an incredibly great weekend for track riding. It would be difficult to pick better weather except that in the mornings it was a bit too cold each day.
After crashing at Barber back in September the bike was in need of serious attention over the winter break. The left exhaust can had a big hole in on one end (actually it was there all season, but was worse now). The gas tank had two big dents in it, the worse one being on the right side and resulting from the Barber crash. The plastics were all ruined (except the front fender). On the positive side, the radiators both survived the crash(es) without springing leaks. RC51's are notorious for their vulnerable radiators.
I managed to snag a great deal on a barely used Jardine full 2 into 1 exhaust system on Ebay. So over the winter the bike got a new exhaust system. That also resulted in my being able to adjust the OSF rearsets to their lowest positions, as the exhaust pipes no longer interfered with their position - an added bonus.
Although I managed to get a great deal on a fairly unblemished gas tank, the tank I got has a tiny leak. I knew this when I bought it. I ordered some Caswell plating to seal the tank with, but it didn't arrive in time, so I had to continue to use the old, ugly tank.
Around the middle of the season last year my right front fork developed a small leak. I went ahead and finished the season before trying to tackle that issue as well. It's always remotely possible that the oil leak was what put me on the ground at Barber. You never know.
But what made the week immediately prior to this first race weekend interesting was the fact that (apart from the exhaust issue) I had to deal with all these other issues inside the final week. I had put off working on most of that stuff until it was getting closer to the beginning of the race season, but I didn't count on getting a major cold (or possibly flu) the week before. I spent the entire week barely able to do anything, much less work on my bike. I wasn't feeling particularly good even by Sunday before race day, but it was really getting to be almost too late to get anything done.
I had ordered replacement fork seals from an online Ebay store, which in itself was a mistake. The seals turned out to be the wrong size and I was afraid nobody in Nashville would have any in stock. Fortunately I was able to get a replacement seal at Sloan's in Murfreesboro.
So between Monday evening and Thursday evening I managed to paint all the plastics, reassemble the fork with a new seal and dust wiper, reassemble the bike, adjust the rearsets, safety wire the new exhaust system (and everything else I'd had to disassemble during all the other goings-on), put the old gas tank back on the bike (yes, I had been bold enough to take the old tank off and give the new one a try just to see how bad the leak was), and of course load everything up so I could head out Friday morning. It was a busy, busy week. I'm still not sure I'd ever have gotten it done without the help of Dean Young and Rich Simmons, who both helped a lot with the fork.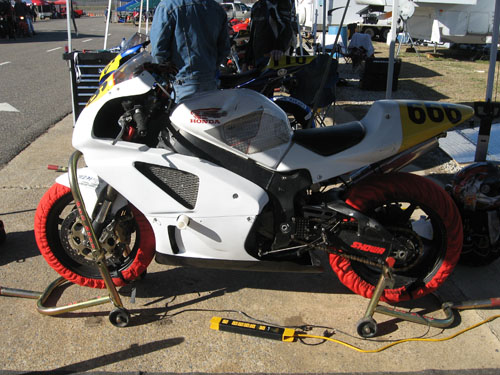 The "Beast", 2008 - Risen From The Barber Turn Two Gravel Trap

I'd also like to take this opportunity to thank Dean and Debra Young, owners of LearnToRide.Org for their very generous sponsorship in purchasing the plastic for my bike to replace that which I destroyed at Barber last year. I painted it myself. Not too shabby for a rattlecan job.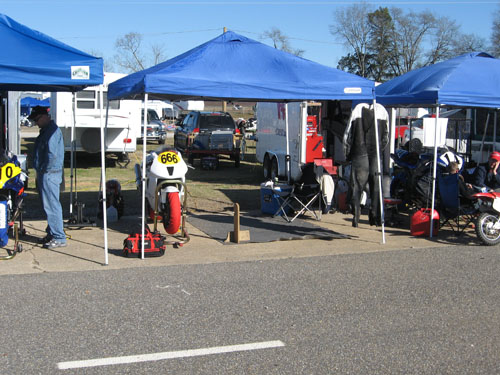 Pitted by myself

Although Dewayne and Catt were coming, I got there by myself on Friday with nobody to play with. Dewayne had a last-minute repair to make to his SV650 - the water pump was bad. Rather than come down and practice all day Friday he ended up working on his bike and getting there late. So I pitted by myself and got three decent practice sessions in on Friday afternoon before the sun went down. My times were in the 1:12 to 1:15 range. Far from my quickest laps during my August track session the last time I was at TGPR.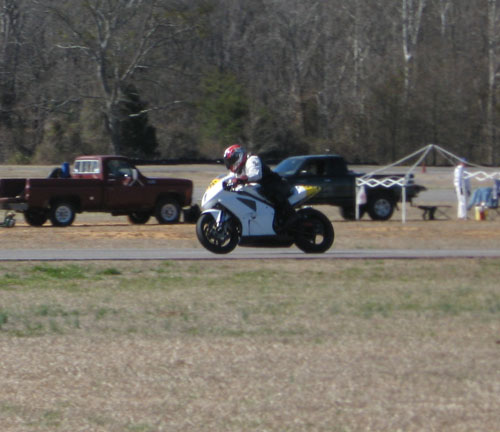 Rolling around the track

Saturday morning was actually pretty easy for me. The worst thing about it was that my group (750 and up Novices) was scheduled to be the first ones on the track for practice. I had preregistered, so registration was a breeze. Tech took longer, as there was a pretty good line when I got there. But I still had plenty of time to relax before my first practice session. With the cold track I took it easy and spun off some 1:16's and 1:15's with the occasional 1:14. I went a little harder during the second session, getting down into the 1:11's.

Saturday afternoon after my practice sessions were over I pulled off my rear wheel and took it over to the Michelin tent to have a new rear tire mounted. I had some Michelin contingency money left over from the 2007 season, so I used it for part of the cost of the new tire. It's the only time I've ever bought a race tire at the track. I'm planning on switching to Bridgestone this year and letting "Stickboy" change my tires for me though.

It was considerably colder Sunday morning than Saturday morning. When I went out for my first practice (which again was the first practice group of the morning), it was very cold and somewhat foggy. Chuck Edwards (the guy who flags the start/finish line) mimed a "freezing" pose to me as I headed out pit out. With the new rear tire and the cold I again put some slow laps together although I did manage to pass one or two people.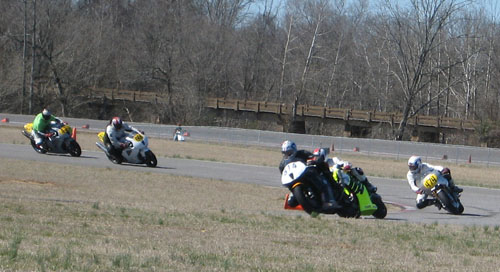 First race of the year for me

I got really lucky. I had signed up for only the one race (Heavyweight Twins Superstock), and as it turned out it was the second race of the day. (The first race was a "minis" race and was only a 6 lap race). I didn't have long to wait to get my race in. As I had more points from last year than any other returning novice, I was gridded in pole position. That's unfortunate in a way because it meant that I'd start in 1st place and finish near last place. But with the small grid I only ended up in 4th place (out of 5).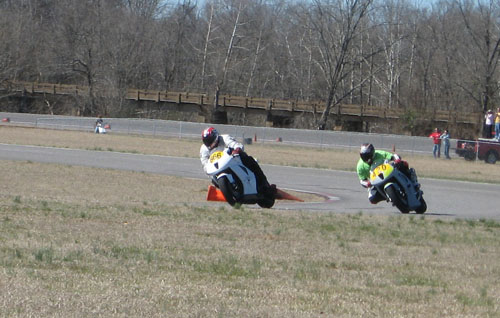 This provisional novice ain't got nothing for me...

Catt took a few pictures of me during this race. Dewayne told me that the provisional novice racer who was following me into the double 90's ended up going off track without crashing. I ended up beating only him in the race. My nearest competition was about 4 seconds a lap quicker than I was.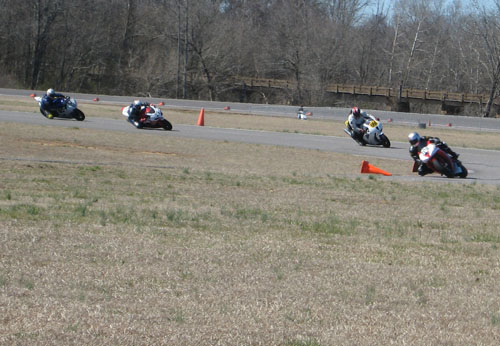 Make way for some real racers

These guys passing me in this picture were expert level C Superbike riders. This is not an excuse, but you can really lean a superbike over a lot further than you can lean a superstock machine. The racing slicks have considerably more traction, and they have a lot more money involved in those suspensions that are precisely set-up to the size and riding style of the rider. In spite of all that they sure were handing it to me as they went by. It's very impressive watching these guys pass you on the track.

Let's get ready to rumble!

Dewayne came up with a great idea to spice up the racing season this year. He, Kurt Kesler and maybe a few others are going to race each other on Ninja 250's for the "Sippy Cup". The winner gets to take home the Sippy Cup at the end of the race day. A young lady with a Provisional Novice shirt showed up to ride against them this time. Her name is Marie, but I don't know if I got her last name.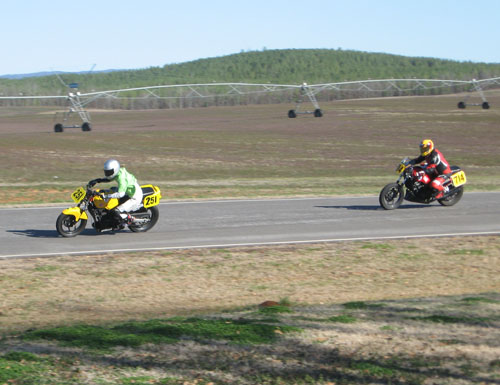 The competition is fierce!

Kurt checked out pretty quickly, but there was a tight race going the whole way through between Dewayne and Marie. In the end Dewayne pulled a little gap on Marie and took second place.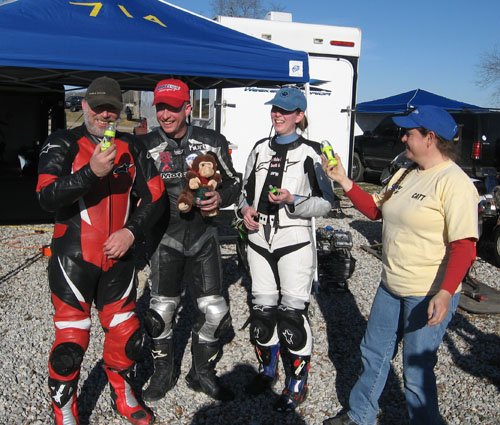 The first Sippy Cup Award Ceremony

Kurt ended up taking the monkey and the big sippy cup. Dewayne got a smaller sippy cup for his 2nd place finish, and Marie got a pacifier for her 3rd place podium finish.

It was a great weekend.

Most important lesson learned during this race day: Don't wait until the last minute to do work on your race bike!


Back to my RC51 Page