George McConnel's RC51 BLOG
Date:
September 22-23, 2007
Track:
Barber Motorsports Park
Bike:
2002 Honda RVT1000 (RC51)
Weather:
Cloudy with drizzle Saturday morning, otherwise partly cloudy, highs in the mid to upper 80's.
Sponsor:
N/A
Conducted By:
WERA

Track Diagram

Barber Motorsports Park is a beautiful, purpose built motorcycle racing. track built by George W. Barber, an avid automobile enthusiast who made his fortune in the dairy industry. It features 15 numbered turns, several of which are complexes. It also has many elevation changes. It can also be run as a "short track" wherein turn 5 empties out immediately into the back straight, bypassing nearly 50% of the track.

On the same campus as the track is the Barber Vintage Motorsports Museum, which began as Mr. Barber's private collection of vintage automobiles and motorcycles but now is a fully functional public museum.
This was only my second time to ride the Barber track. It remains my favorite track (so far). The nicely banked turns, elevation changes and well maintained pavement make this track a joy to ride.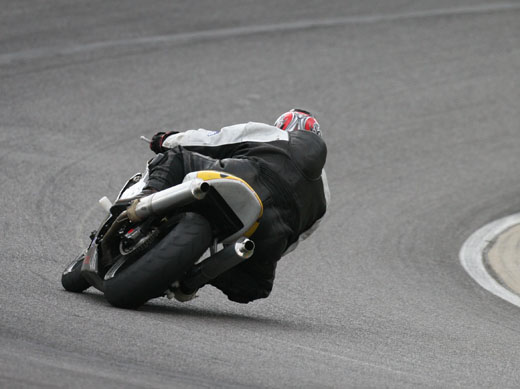 The view I wish everyone else always had

The weekend got off to a poor start. I was trying to take off work a couple of hours early to try to avoid rush hour and hopefully get to Barber before dark. It was my birthday. But work just wouldn't cooperate. There were several last minute problems that needed resolving, so I ended up working right up to quitting time. To make things worse I got caught in a major traffic jam about 50 miles South of Nashville due to a tractor-trailer overturning. When I finally got to the track all my buddies had long since left, but there was an open slot right next to Dewayne's tent where I could pull in and pit, which I did. I set up my tent, unloaded my bike and arranged my sleeping quarters. In order to save on expenses I've been "camping" at tracks where I can by sleeping in my SUV. It's worked out pretty well so far.

When I was unloading my bike and putting it in position under my tent I experienced a rare problem. Trying to put the Pit-Bull stand under my swingarm I managed to mess up somehow and the bike fell over on its side. Some folks in the next pit over helped me right the bike. It didn't hurt the bike or anything, but it was one of those dumb things that happen when you're trying to do stuff like that in the dark.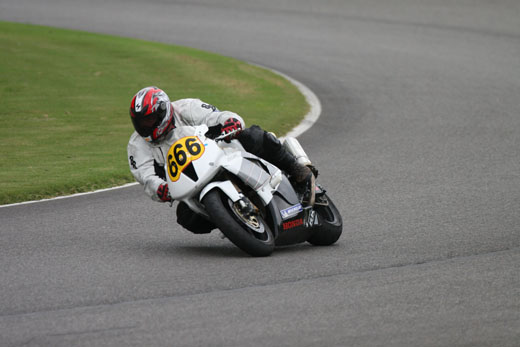 Trying to get faster going into turn 2.

There had been plenty of trash talk before this weekend after last week's showdown of the old farts at Nashville Super Speedway. This time, however, it wasn't just my old buddy Dewayne involved in the trash talk. I had also managed to entice Kurt Kesler into a showdown. I had met Kurt back in June when I did a track day at Talladega by myself that weekend. Kurt has an SV650 which he'd just had reworked before that track day. He pitted next to me and we became friends. He decided to go head to head with me at Barber in HWT SS, so the pressure was on. Not only did I want to beat Dewayne again, but this time I'd have Kurt out there gunning for me.

I signed up for the Solo 20 for that afternoon just for the practice time. I had preregistered for the weekend which let me take the quick route in the morning and get the practice sessions in without having to do a lot of standing in line on Saturday morning. So I went out and practiced, getting a little quicker on each session.

That afternoon the Solo 20 came up. It was a nice day to be riding the Barber track, not hot at all, and not raining. I started in 21st place and ended in 18th place. I actually did manage to pass one or two people during that race but I think that as it turned out I was probably still the last person to actually finish the race. Unless I'm wrong the other people either crashed, had mechanical issues or chose to get off the track before the race was complete. Heck, I was almost tempted to do that myself because riding that long on that track is very fatiguing for someone as out of shape as I am. But I managed to get through the whole race and enjoyed myself. The seat time did me well too, as my laptimes crept down into the low 1:52's. During my only other experience at Barber I had only managed to do consistent 1:58's, so I was definitely quicker around that track during this second experience.

Leading the pack around turn 2

Sunday morning was pretty much routine, as I did both my practice sessions. Still consistently in the 1:52's, I was enjoying myself and didn't feel like I was pushing too hard except for one brief moment when I thought it felt like perhaps the rear wheel slid a little on me. I was following someone else around turn 2 and staying with him. When I felt the slide I checked up a little and let him go.

That afternoon there were some showers mixed with periods of sun. When Dewayne, Kurt and I went out to take our warmup lap for the Heavyweight Twins race, it was sprinkling a bit. To make things even more interesting, there was a crash at the end of the previous race so they held us in the pit-out lane for awhile which gave our tires time to cool back down some. But eventually the whistle blew and we were released for our warmup lap.

Cresting over the very blind turn 10 at Barber

I gridded in 2nd place for this race. Gridded ahead of me was Travis Stauble, who had finished 1st in every HeavyWeight Twins race he had competed in this year and today was to be no different. To my right was my friend Kurt, and directly behind me in 5th place was Dewayne. It was to be a two wave start but our group was in the 1st wave. Behind us were the Vintage bikes. I was ready and when the green flag showed I launched like a bat out of hell. It was one of the best launches I'd had all season and I could see that I had entered and cleared the first complex of turns in 2nd place. I knew Travis had the jump on me but Kurt was nowhere in sight.

I completed an entire lap without getting passed. That was a new experience for me. After about the 6th or 7th turn in the 2nd lap a couple of guys passed me, but neither of them was wearing the number 334 (Kurt) or the 714 (Dewayne), which was all I cared about for this race. I also didn't think they were in the HWT SS class because they appeared to be vintage bikes. As the race wore on I got passed by some other bikes but for the most part they were wearing expert tags. I completed my 5th lap and as far as I knew I was still in 2nd place! It looked like I was going to finally podium in a competitive race! But as I entered turn 2 I guess I got a little too greedy with the throttle. It didn't feel any different but in retrospect I suppose I was pushing a little harder, trying to carry just a little more speed. At any rate I went down. The bike slid out from under me and I slid on the ground on my side over to the gravel pit. It didn't hurt at all, but the bike evidently flipped over in the gravel pit. Too bad nobody got any pictures.

And so ended my racing year for 2007. I finished in 3rd place in my Region in the points standings for Heavyweight Twins Superstock class. I've received a congratulatory letter from WERA documenting that I can move to Expert class next year, but I'm in the process of petitioning to stay Novice for another year. The only criteria WERA uses is that if you finish in 5th or better place in any class you get an automatic bump. But when I raced all year against grids consisting of 5 or 6 racers and at least one of them crashed out in every race it's hard not to finish 5th or better.

Most important lesson learned during this race day: Easy, tiger, just keep 'er on two wheels. You'll keep getting better if you keep practicing.


Back to my RC51 Page