George McConnel's RC51 BLOG
Date:
September 15-16, 2007
Track:
Nashville SuperSpeedway
Bike:
2002 Honda RVT1000 (RC51)
Weather:
Partly cloudy, a few sprinkles of rain, highs of 75 (Saturday) and 85 (Sunday).
Sponsor:
N/A
Conducted By:
WERA

Track Diagram

The Nashville SuperSpeedway is a combination track. NASCAR racers use the outer oval, basically just a large concrete track with a back straight, two ends and a tri-oval front "straight".

The road course drops off the tri-oval into the infield, winds through turns 1-6, then exits briefly onto part of the back straight before dipping back into the infield for turns 7-10. Turn 10 is a long non-banked sweeper that exits back onto the front straight. There are transitional seams at each of the four places where the infield road course joins the NASCAR oval. At these points you have to be careful to choose a line that avoids too sudden a transition or you end up getting jarred really hard.
Back to Nashville in September. It was here a year ago that I was rudely awakened regarding the many ways to get hurt in this unforgiving sport. A crash in turn 2 and a crash in turn 10 left a bad taste in my mouth. For a long time I was afraid to get out there and have fun.
Things are different now. I'm still painfully aware of how easy it is to get in over your head and try to ride within my limits, but I'm back to exploring those limits with the best equipment I can afford to buy.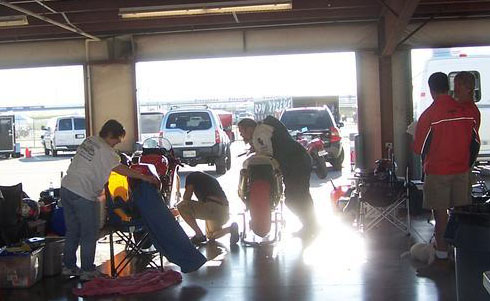 Saturday morning. My first practice will start in a few minutes. I'm trying to keep the butterflies at bay by making small talk with Tom.

For an old fart like me, a successful weekend is measured in simple achievements. I don't expect to ride competitively with the likes of professional racers, nor is that necessary in order to get a great deal of enjoyment from this sport. But the little accomplishments, like the first time I felt my knee slider dragging across the road surface during a corner a few weeks ago make this experience new and exciting each time I go out.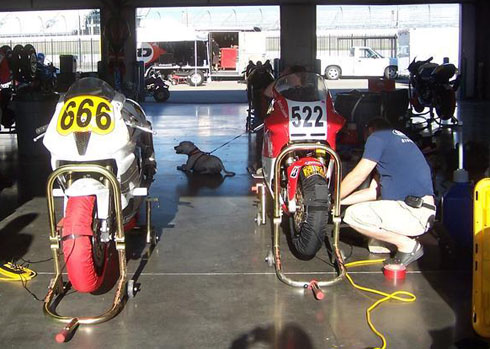 Mine and Tom's bikes await the weekend's activities. Tom is getting his ready to go.

I barely slept Friday night, eager with anticipation of getting back out on my "home" track. Nashville SuperSpeedway has been a companion since my first few track days on the 'Busa and through my (thus far) brief racing career. It is a place where I've had lots of fun and it's a place where I've crashed hard and nearly considered giving up on this dangerous sport. You never know what a weekend is going to bring.

I arrived at the track at about 7:00 in the morning. By the time Catt and Dewayne had arrived I had already gone through registration (I was pre-registered and for the first time bringing my own transponder, so it was quick and painless). I had even been through 'tech' and was reassembling my bike for the day's riding.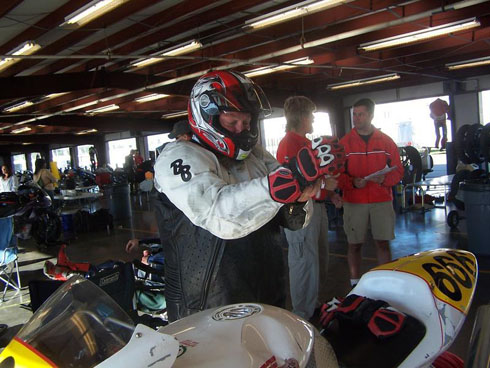 "Showtime!"

With little fanfare I pulled on my gloves, yanked off the tire warmers and took to the track as soon as they called "final call" for my practice group. My first lap came in at just over 1:21. After that I strung together about five or six "eighteens". Not bad for the first time I'd been on that track since May.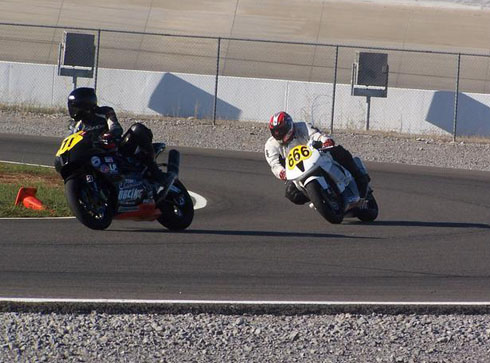 First practice session, Saturday morning.

It was a cool morning. It had gotten down to about 52 degrees the night before. The brisk air felt invigorating as I worked the corners and started loosening up.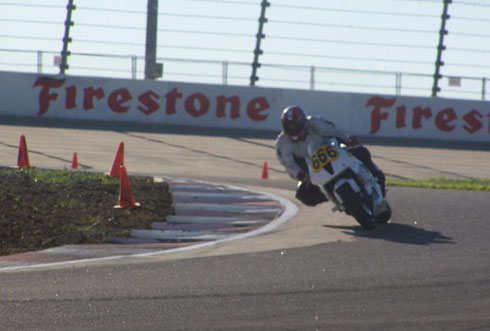 Check out the 'gator' strips. Don't want to get too far inside on this corner.


The track now has some serious "rumble strips" at strategic locations, especially on the chicane. As you can see from the picture above, you do not want to get on top of that stuff coming around that corner on a motorcycle.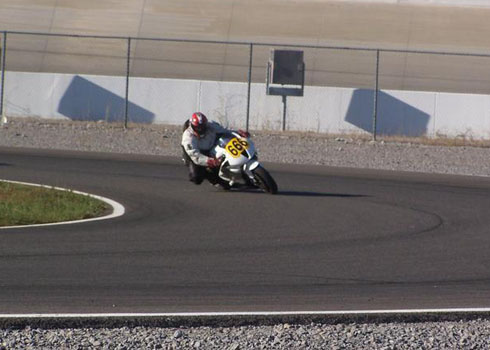 Get down!


As the practice continued I started really trying to explore the limits of my tires. I never felt a slide from them except for one time when I crossed a tar strip under power. And that was just a little slide.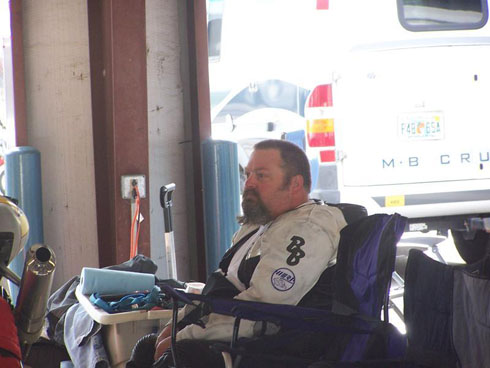 Sunday Morning. Just relax... my first practice will be in a few minutes.


I finished both practices Saturday morning without incident, posting a single lap that dipped down into the low seventeens. 1:17.085, to be exact. Less than a tenth second from being into the 16's again, which would be the first time since ... well, since the crash that I had at Nashville back in September of last year, the last time I did a sixteen on Nashville Superspeedway. Would I be back into the 16's this weekend?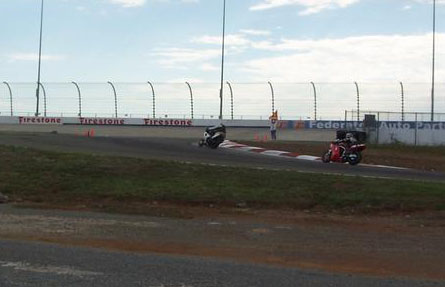 Rain? No Way!


During my first practice session I was back up into the 18's. But the good news is that I was consistent, stringing together quite a few in a row with no problem. Unfortunately, when I was about to start my second practice session it started raining. For a few minutes it was raining pretty steadily, but you could see that the rain cloud was thin and there was blue sky on each side of it. Incredibly, even with the sprinkles on the track I didn't get spooked, and managed to put together several good laps consistent with my first practice session that morning.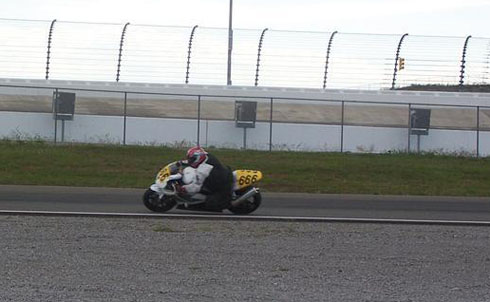 Get down I say!


During this practice session I managed to get down into the 17's and stay there just about every lap. I was starting to feel pretty good.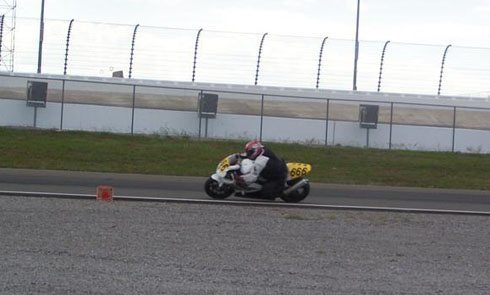 Trying to hide the scratches on the left side of the gas tank with my body.


Probably every race has a little "race inside the race". This weekend was very special to me because for the first time ever I would be competing directly against my good friend Dewayne Henson. Dewayne had graciously signed up for Heavyweight Twins Superstock so he could pit his lightweight twin Suzuki SV650 against my heavyweight twin Honda RC51. I'd have a 50 (or more) horsepower advantage, but he'd have the advantages of weighing considerably less than I do plus a lot more recent practice on that track than I have had. In addition he was going to run three more races that afternoon before we went head to head.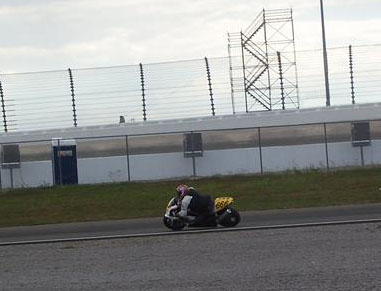 Why don't you just reach down and grind that knee slider a little, son?


During practice Friday and Saturday Dewayne had posted lap times in the low 20's. Some were even lower than that, but I felt pretty good that he wasn't going to give me a serious challenge since I still had what amounted to about a 4 to 5 second-per-lap advantage over him. But as the day wore on he got faster and faster. During his last race before our common sprint he even posted some 18's. Things were getting a little too close for comfort for me, especially after all the trash talk we'd done all weekend.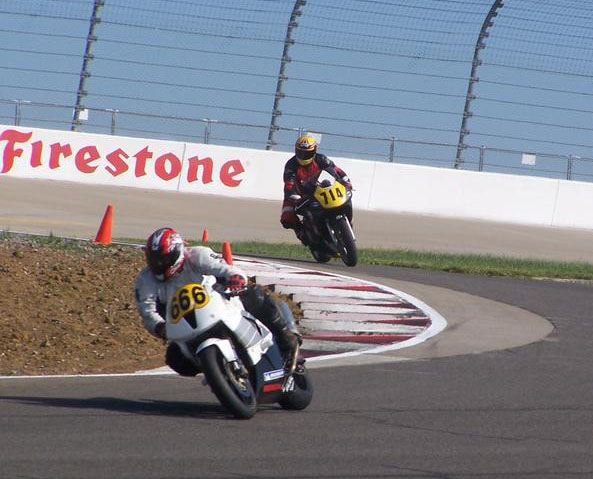 Lap 1 of 10. Dewayne has me on his scope.


The Heavyweight Twins Superstock Novice race had six entrants. Since I had quite a few points in that class I got a front row start (although I was starting 3rd on the grid). Dewayne had to take a seat in the second row for our class. We'd be taking off in the first wave. Dewayne gridded up directly behind me (except he moved over to the side a bit so he'd have room to get around me in case he got a better launch than I did).

I got a poor launch but kept Dewayne behind me somehow. He later told me that he almost managed to show me a wheel during the first turn but wasn't quite close enough. I knew he'd be close behind me during that first lap or so, so I was giving it all I had to keep from letting him sneak around me on a corner. I waited a little late to brake for turn 3 during the first lap and had to run it a bit wide, which also gave him a chance to try to do something, but again he wasn't quite close enough to make it happen.

Dewayne stayed with me during the infield complex on lap one. Catt took the picture above during that first lap and it shows just how close Dewayne was to me.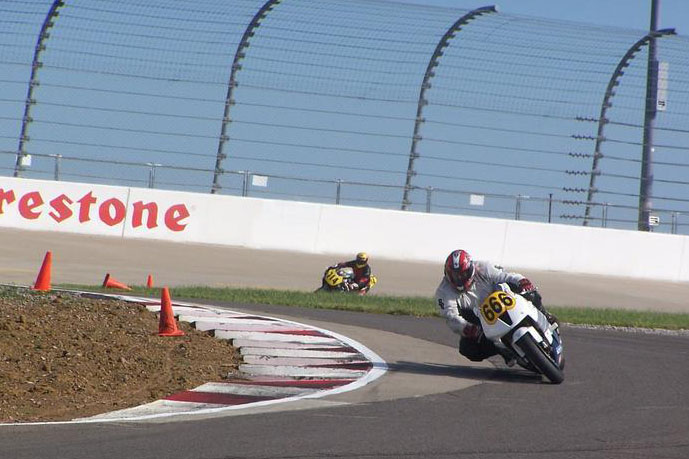 50 extra ponies can be a wonderful thing.


Dewayne said that he held me in check until we started exiting the big sweeper turn right before the front straight. When we both started opening up the throttles on the front straight though, it was pretty much over. Dewayne described how in just a few seconds I went from being just a few meters in front of him to quite a few bike lengths on that front straight. We tightened up a bit under braking coming into the hairpin, and as you can see in the picture above during the 2nd lap, Dewayne still had me in his sights.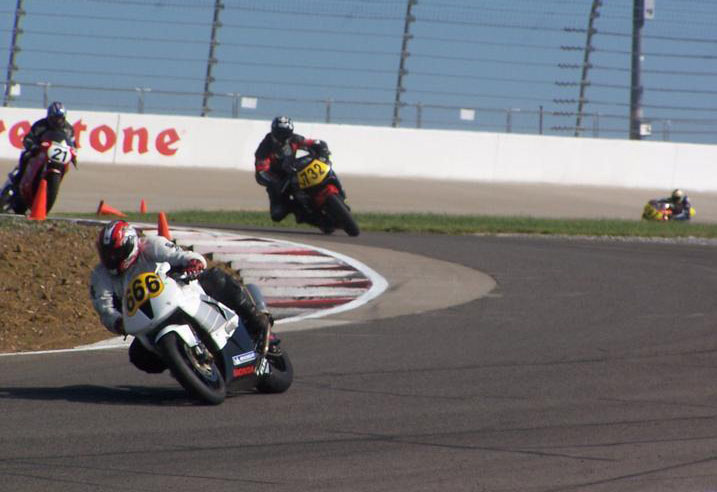 Car 54 Where Are You?!?


But with each lap my horsepower advantage separated us further and further. By about lap six or so I was getting lapped by the leaders of both the Novice and Expert Heavyweight Twins grids, and Dewayne could no longer keep me in sight.

I ended up taking 3rd place in that race (beating Dewayne and two other people). Dewayne took 4th place, which means he beat two people as well. Another milestone reached: My first "podium" finish where I actually beat someone else to get the trophy. Well, in this case it wasn't a trophy, it was just a plaque. But it's still pretty cool!

It's also worth noting that I managed to post a 16 during that race. 1:16.571 to be precise. Back into the 16's. And this time "without the oops".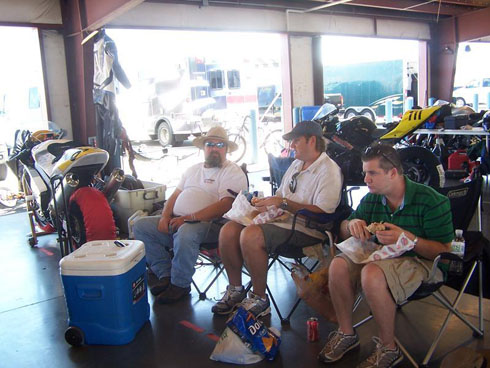 Relaxing in the pits with Scott Dedo and his cousin Drew.


So after all the trash talk was done and the game was finally played I managed to retain my title as "undefeated champion in the old slow fart category". I know it's only a matter of time until Dewayne manages to beat me. He's doing all the right things -- working out, building stamina, practicing a lot and even taking refresher courses with Ed Bargy. As for me I'm still slugging around overweight and not getting enough exercise, let alone enough practice. Yes, one day Dewayne will beat me.

But NOT TODAY!!! Heh heh heh! Whozyerdaddy, Dewayne?!?

Most important lesson learned during this race day: It's fun to talk smack and just enjoy things!


Back to my RC51 Page