George McConnel's RC51 BLOG
Date:
May 5-6, 2007
Track:
Barber Motorsports Park
Bike:
2002 Honda RVT1000 (RC51)
Weather:
Cloudy with drizzle Saturday morning, otherwise partly cloudy, highs in the mid to upper 80's.
Sponsor:
N/A
Conducted By:
WERA

Track Diagram

Barber Motorsports Park is a beautiful, purpose built motorcycle racing. track built by George W. Barber, an avid automobile enthusiast who made his fortune in the dairy industry. It features 15 numbered turns, several of which are complexes. It also has many elevation changes. It can also be run as a "short track" wherein turn 5 empties out immediately into the back straight, bypassing nearly 50% of the track.

On the same campus as the track is the Barber Vintage Motorsports Museum, which began as Mr. Barber's private collection of vintage automobiles and motorcycles but now is a fully functional public museum.
This was the first time I have ridden on the Barber track. It is easily the most enjoyable track I have ridden yet, in spite of the elevation changes. Road Atlanta's elevation changes were frightening, but Barber's (after a couple of laps) were just beautiful. Actually, it's not completely accurate to say that this is the first time I had ever ridden on the track. I rode the track a year ago during the AMA races at a slow pace during the lunch time "Parade Laps" on my Hayabusa. Riding it at race speed is a huge difference.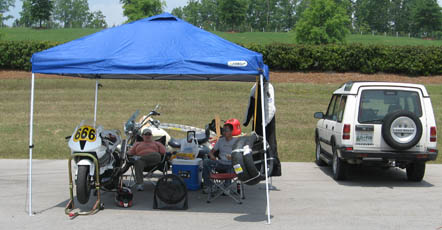 Pitted all by myself...

There were a lot of "firsts" for me this weekend. Not only was it the first time I rode the Barber track, but it was also the first time I've ever ridden in a Nationals event. Every WERA event up to this point that I have ridden has been either a Sportsman Series Sprint or a Solo 20. It was also the first time I've gone to a race without friends to pit with. I brought my own Pop-Up tent for the first time and set up my own pit.

It's only about a 200 mile drive from Nashville, TN to Leeds, AL where the Barber track is. I arrived in Leeds at around 7:30 in the afternoon. We went directly to the motel I had reserved and checked in for the evening. I never even set an alarm because I always wake up around 6:30 in the morning, and this was no exception. By around 7:30 or so I was at the track unloading my bike. It was a little annoying because when I got there and unloaded my stuff one of the WERA officials came over and told me I couldn't set up there. There was nothing there to indicate that I was in an invalid pitting area, and no explanation was given as to why I couldn't pit there. I even asked where I could pit and didn't really get a straight answer. I don't know what was going on but I have a feeling someone with 'pull' just didn't want me in that spot.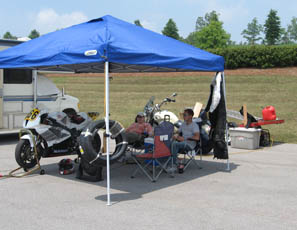 Same pit, different angle. That's Ronnie Irwin's RV in the background...

So I moved to a different place, not far from where I was to begin with. I set up shop and was really trying to hustle to get everything ready so I could participate in Saturday morning practice. Since I had pre-registered it was simply a matter of checking the tire pressure, riding to the registration area and getting my paperwork and tech form, filling it out and presenting it along with my bike to Tech. The bike teched out just fine and I was ready.

Scarcely had I managed to get my leathers on before they were calling my practice group. In fact I ended up missing the first couple of minutes of my practice because I wasn't quite ready after all the snafus. I hadn't even had a chance to put on the tire warmers, so I just took it real easy for the first couple of laps to let the tires get up to temperature.

This was my first time riding the Barber track. I eased onto Turn 2 out of the pit area, cautious about riders that might be entering the turn pretty hot. Nobody was there. I began accelerating gently around turn 3 and up the hill. The crest of turn 3 is very frightening the first time through. You can't tell if that's where you should apex the turn or if it's suddenly going to straighten up just over the crest, or any number of other possibilities. Actually there are several such crests on the Barber track, but after a few laps you get a feel for them.

I was going really slow those first couple of laps, but gradually began pushing harder as my session went on. My first laps were 2:04. By the 8th lap I did a 1:58+. Decent progress for my first session. I sort of figured that as the weekend went on I'd maybe be able to shave off another 4 seconds.

That was pretty much it for my riding on Saturday. I got back to my pit, shucked off the leathers and got casual again. That afternoon I had an opportunity to watch my first ever Endurance race. It was a great and competitive 4 hour race, marred by the fact that on lap 6 a rider had a pretty serious crash. The Vesrah Suzuki came in 1st place, as it always does.

Sunday morning I got there at about 7:30 but this time things were much more relaxed. There was plenty of time to sit back and chill before putting my leathers on. As they did on Saturday they were doing just one long practice per class rather than 2 short ones. That's a good thing. When they called my group I went out and pushed a little harder from the get-go. I'd had my tires on the warmers all morning and they were feeling pretty sticky. I checked my lap times eagerly after the session only to discover to my disappointment that I still was only doing 1:58 laps. Well, I had done one lap at 1:57.999.

During the morning I got to be friends with the guy who was pitted next to me. He and I had a lot in common. Both of us are large men. He's three years older than me, placing us both squarely in the "Senior" category. He's riding a 1000cc V Twin (A Suzuki SV1000). And he's not a whole lot faster than I am. His name is Ronnie Erving. I'll look forward to more opportunites to race with him in the future. He happens to be the same guy (in expert class) that I had passed at the race start in Nashville the previous weekend.

My race was the 4th of the afternoon (not counting the minis race, which would be only a 4 lap race on the short course). Ronnie was going to be in the same race, but he was racing in the expert class rather than the novice class (which I was in). At around 2:00 it was time for us to hit the track. I headed out before he did, telling him I was going to pass him again on the launch.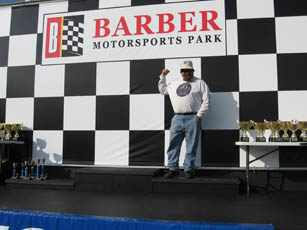 Do I get to stand on the podium this weekend?

I took my warmup lap and came around to my grid position, which was 9th row, right side. It was to be a one wave start. I looked over and noticed that only one other person had shown up for my race (HWT SS Novice) and he was on an SV650. For a moment I entertained delusions that I'd out-launch the 650 and lead my race for at least a minute. Never happened. As soon as the green flag waved he was off like a shot and I just did the best I could. As it turned out I did manage to pass Ronnie on turn 1 and stayed in front of him for a few corners, but he passed me back soon enough.

I pushed as hard as I dared during the race, thinking I just had to be setting better lap times than I had set that morning. But when I checked the results after the race I was disappointed once again to discover that I had raced consistent 1:58's the entire race.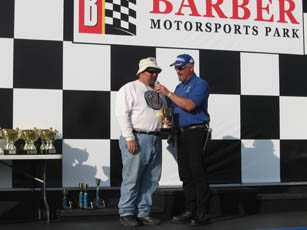 Why yes... yes I do!

The good news, however was that since only 2 of us had shown up for the race I got the Second Place Trophy. My racing resume now says that I started in 3rd place and finished in 2nd place on that race. I got to step up on the podium, thank my "sponsors" and act like a real racer for a minute. Woohoo!

I just couldn't stop grinning at the end of the day. It was a really fun weekend.

Most important lesson learned during this race day: It's cool to podium!


Back to my RC51 Page