George McConnel's RC51 BLOG
Date:
April 28-29, 2007
Track:
Nashville SuperSpeedway
Bike:
2002 Honda RVT1000 (RC51)
Weather:
Sunny, highs in the lower 80's each day.
Sponsor:
N/A
Conducted By:
WERA

Track Diagram

The Nashville SuperSpeedway is a combination track. NASCAR racers use the outer oval, basically just a large concrete track with a back straight, two ends and a tri-oval front "straight".

The road course drops off the tri-oval into the infield, winds through turns 1-6, then exits briefly onto part of the back straight before dipping back into the infield for turns 7-10. Turn 10 is a long non-banked sweeper that exits back onto the front straight. There are transitional seams at each of the four places where the infield road course joins the NASCAR oval. At these points you have to be careful to choose a line that avoids too sudden a transition or you end up getting jarred really hard.
Actually I only rode on Sunday this time, although I did arrive at the track late Saturday afternoon in order to drop off my bike and get set up in the paddock. The Music City Marathon was going on that same weekend and I was able to make a little extra racing money by hauling a photographer around on the back of my Gold Wing for a few hours Saturday morning.
I pitted with Dewayne. Tom Lees was going to be there the next morning, so we left plenty of room for him to pit in the same garage. Sunday morning I arrived very early and then proceeded to stand in line for a long time waiting for a chance to register. Registration went pretty quickly once they opened the line (at 8:00). By 8:10 I was back in the paddock filling out the tech form. The bike passed tech easily. In spite of these easy developments I was still just a bit hurried to try to get everything ready for my first practice session.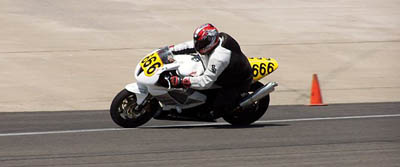 Heading towards the high speed transition onto the Tri-Oval...

I only had a chance to put the tire warmers on for maybe 15 or so minutes before they issued first call for my practice group. I tried to leave them on as long as I could. Finally they called my group and off the warmers came. I headed out of the paddock and onto the track, taking it easy during the first lap to try to heat up the tires a bit before starting to push. Unfortunately, just as I was starting my second lap a rider went down in front of me. He slid way up the banking on the back straight so he was well out of my way. I entered the chicane with a little more speed but just as soon as I could see around the entrance to the chicane I saw a red flag waving. My practice had already been red flagged in less than 2 laps.

They promised they'd try to give our group a more time during our second practice to make up for the early red flag but as nearly as I can tell that never happened. We did get our second practice in but I believe they just gave us the normal 15 or so minutes of track time. No matter, I was still a little tenuous on that track that I had wiped out on twice in one weekend scarcely 7 months ago.

For some reason the guy who usually drives the crash truck ("Fuzzy") wasn't able to remain at the track during the afternoon. Jeff (Mr. Microphone) asked if anyone had a small trailer they could use for a crash truck during the afternoon. I happened to be standing nearby when the announcement was made, so I walked over and offered the services of my Land Rover and the snazzy little red trailer I had bought at Harbor Freight recently. My offer was accepted, and suddenly my truck got to be "crash truck for a day". Unfortunately it got a lot of action as the afternoon wore on.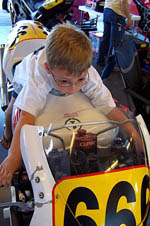 My "nephew" Jackson sitting on my bike

For the first time, my "great nephew" Jackson came to the track. Awhile back we got him an official looking tee shirt to wear whenever he can come to the track. He posed for several cute shots on my bike in the pit.

Once again I signed up for just one race, Heavyweight Twins Superstock Novice. It was the fourth race of the afternoon, so my day was going to be over pretty early. I felt strangely calm as my race approached. I had checked the grids and I was in the first wave, gridded in 2nd place (which for us Novices meant lining up on the 7th row), as the experts were gridded beginning in the 1st row.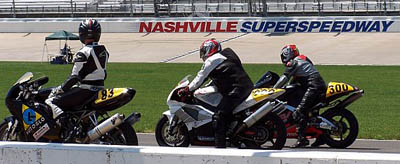 Gridded up for HWT SS Novice...


The green flag came out and I actually got a pretty decent start. In fact I passed one of the expert riders during the start and stayed ahead of him for about three laps. Of course eventually the other riders managed to get in front of me (I'm still a pretty slow rider, relatively speaking) and I ended up with a 4th place finish. That sounds good, but there were only four riders in my class.

I finished the race just fine and was grinning at the end of the day. My best lap time on NSS this time was in the low 1:18's, which is still 2 seconds slower than I was going before I crashed the first time, but I was a lot more comfortable and having fun out there this weekend. For now I am officially cured from the crash.

More pictures of Jackson...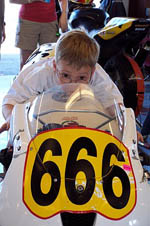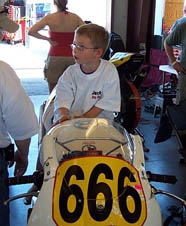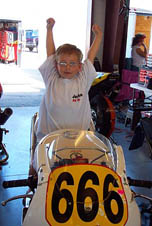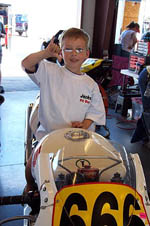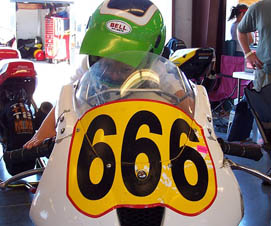 Most important lesson learned during this race day: Racing is fun again!
Back to my RC51 Page