George McConnel's RC51 BLOG
Date:
April 7-8, 2007
Track:
Talladega Gran Prix Raceway
Bike:
2002 Honda RVT1000 (RC51)
Weather:
Sunny but cold, highs around 45-55.
Sponsor:
Just me
Conducted By:
WERA

Track Diagram

The Talladega Gran Prix Raceway is designed to be run either clockwise or counterclockwise. This weekend's events were conducted in a counterclockwise direction. The redesigned track has been run in clockwise direction once since the repaving, owing to safety concerns.
We'd had some really warm weather right up until about two days before this event. Then, as if someone had flipped a switch, winter returned with a vengeance. There were snow flurries in Nashville that weekend, but I was a bit further South. Saturday night the low was 23 degrees farenheit. New record lows were set all over the Southeast. This, of course, meant the track was cold in the mornings, but unlike my previous trip to Talladega in February I was not fazed by the cold weather. I gave it my best each time I was on the track.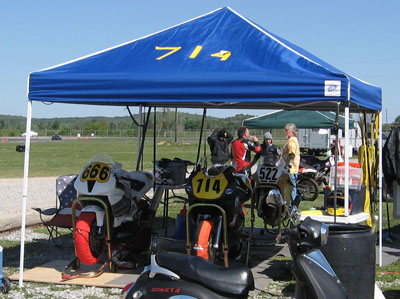 Pitted with Dewayne Henson and Tom Lees

I had already talked with Dewayne about just pitting with him this weekend, so I didn't bother with trying to get set up with my own tent. A female racer (Rebecca) was pitted just beyond us. In the picture above Dewayne and Tom are conversing with her.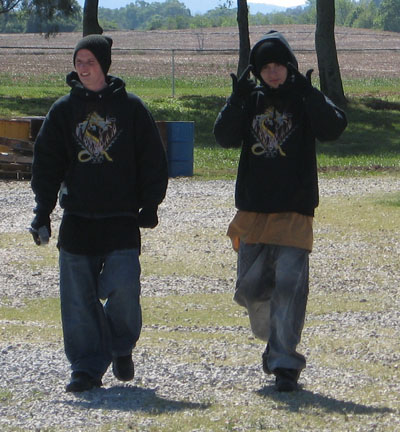 Joe and Cody

For the first time ever, my son Joe accompanied me to the racetrack. His friend and roommate Cody also came and stayed with us over the weekend.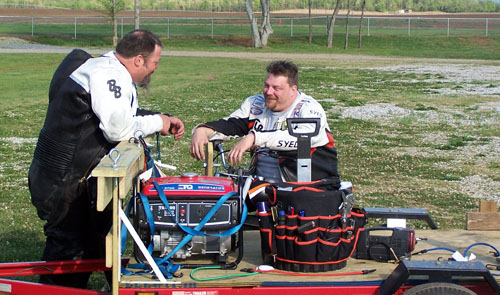 Dave Arkle apologizes for a close pass

I didn't realize until Thursday of that week that it was easter weekend and I was going to get "Good Friday" off work. I had already pre-registered for the WERA race event but once I knew that I didn't have to work on Friday it became a top priority to try to get to the race track early enough on Friday to do some practice sessions. I hustled on down there on Friday morning and arrived during the lunch break. I was able to register for the afternoon practice sessions, which turned out to be a great bargain. I got to ride during the best part of the day.

During one of the practice sessions Dave Arkle and a couple of other riders had gotten a bit competitive. At the end of the session during the cooldown lap I was just putting around the track when the three of them went whizzing past me as hard as they could tear. Two of them passed me on the left, which caused me to react and start moving a bit towards the right. Dave went whizzing past me on the right, almost hitting me. Fortunately everything came out okay.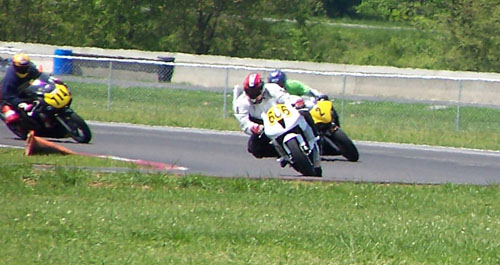 Dewayne, me and a provisional novice on the 90's

During my first practice session that day, Dewayne Henson passed me just after the bowl turn (turn 3). Although I wasn't necessarily trying to pass him back he braked way early for the next turn (the first of the double 90's) and I just eased on back around him. After that I rode a little more aggressively and he never passed me again although he was right on my tail looking for a chance. Let's just say I was real "wide" in the corners.


The Beast manages to stay just ahead of the Babe Ruth Tribute Machine

Catt got some really good pictures, including me and Dewayne in the same shot a couple of times. I also took some decent video. Joe even worked my video camera for awhile and took videos of me during practice and while racing.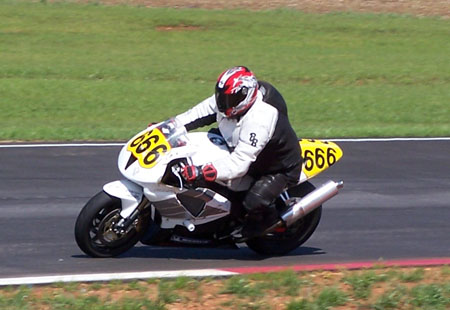 Coming around turn 6 at Talledega

During my first practice session Friday I wasn't using the lap timer. The only thing I'm sure about is that my lap times were under 1:20 or thereabout. Dewayne was running his lap timer and I was staying ahead of him. He ran at least a couple of laps that were under 1:15.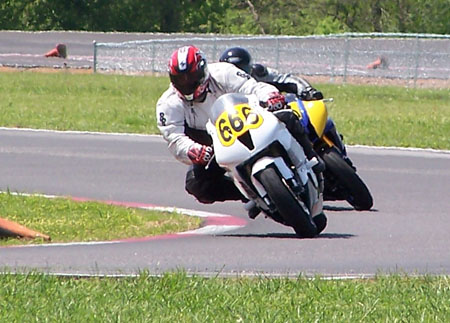 Go fast, turn right.

I had signed up for two race events for this weekend. On Saturday afternoon I had signed up for the Heavyweight Solo 20, a 20 lap race for large displacement bikes. Although they pay money to the winners and some of the top finishers in a solo race, I wasn't doing this event in hopes of getting money. I was just getting some more practice in. There were 6 riders signed up for this event. I was gridded in 3rd place but as soon as the race started I was already in last place after the launch. As it turned out only 5 racers participated, so I finished in 5th place.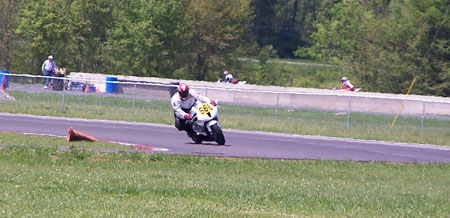 All alone on the 90's

Sunday morning I rode both practice sessions, during which I posted a 1:12 lap. That's the best lap I've run since the crash in September. More importantly I'm feeling better -- minus the fear that was getting inside my head. Sunday afternoon I raced in my other event, the one I'm planning on riding for points all year, Heavyweight Twins Superstock. Once again I finished the race in last place (which was also 5th place), but hey, I'm picking up points and more importanly I'm picking up speed and confidence.

Most important lesson learned during this race day: Michelin Pilot Power Race tires Rock!


Back to my RC51 Page