George McConnel's RC51 BLOG
Date:
November 4, 2006
Track:
Nashville SuperSpeedway
Bike:
2002 Honda RVT1000 (RC51)
Weather:
Sunny, high around 60.
Sponsor:
Minnie Pearl Cancer Foundation
Conducted By:
Phil Wick

Track Diagram

The Nashville SuperSpeedway is a combination track. NASCAR racers use the outer oval, basically just a large concrete track with a back straight, two ends and a tri-oval front "straight".

The road course drops off the tri-oval into the infield, winds through turns 1-6, then exits briefly onto part of the back straight before dipping back into the infield for turns 7-10. Turn 10 is a long non-banked sweeper that exits back onto the front straight. There are transitional seams at each of the four places where the infield road course joins the NASCAR oval. At these points you have to be careful to choose a line that avoids too sudden a transition or you end up getting jarred really hard.
I arrived early Saturday morning and grabbed a spot in Dewayne and Catt's pit. This was my first chance to ride the bike after crashing twice in one weekend on the same track back in September.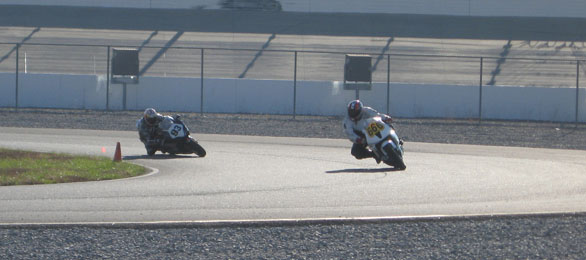 Nowhere near as cocky as I once was...

Our first practice session was at 9:30 in the morning. The temperature was still in the low 40's and the track was arguably still very cold. On the other hand I had my new tire warmers and had plugged them in before things got started. I had just purchased as new set of Pirelli Diablo Corsas from my friend Billy Odom. The new tires should have inspired confidence but I still felt tentative on my bike, knowing how easily it slid out from under me on turn 10 a few weeks earlier.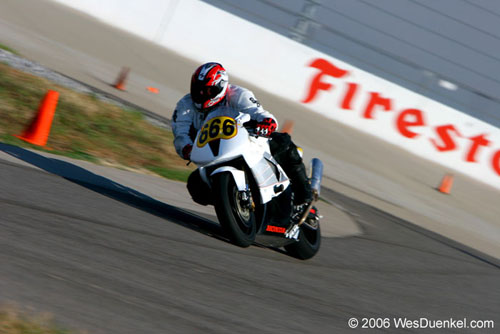 Credits to Wes Duenkel Motorsport Photography for this picture

As the day warmed up I think I got faster, but I know I wasn't approaching the 1:16 personal best time I had done before crashing my first time on NSS. On the front straight I was definitely holding back, rarely exceeding 145 MPH. Since there was no beacon running I couldn't use my lap timer to find out how fast I was going. Probably just as well though.

Most important lesson learned during this track day: Just be patient. Learning to be an artist (and racing is an artform) takes time and practice.


Back to my RC51 Page