George McConnel's RC51 BLOG
Date:
September 15-17, 2006
Track:
Nashville SuperSpeedway
Bike:
2002 Honda RVT1000 (RC51)
Weather:
Sunny, highs in the upper 80's each day.
Sponsor:
N/A
Conducted By:
WERA

Track Diagram

The Nashville SuperSpeedway is a combination track. NASCAR racers use the outer oval, basically just a large concrete track with a back straight, two ends and a tri-oval front "straight".

The road course drops off the tri-oval into the infield, winds through turns 1-6, then exits briefly onto part of the back straight before dipping back into the infield for turns 7-10. Turn 10 is a long non-banked sweeper that exits back onto the front straight. There are transitional seams at each of the four places where the infield road course joins the NASCAR oval. At these points you have to be careful to choose a line that avoids too sudden a transition or you end up getting jarred really hard.
I took Friday off work so I could go practice all day. But during the second practice session I crashed at turn 2. I spent most of the rest of the day unsure of whether I'd even continue, but eventually decided to give it a try.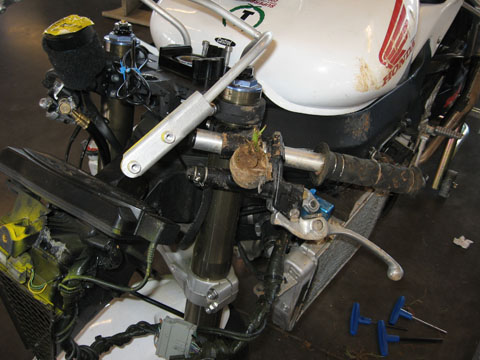 After the crash my clutch reservoir was full of dirt and badly damaged.

My bike had sustained damage to the clutch reservoir and the plastic was banged up on the left side.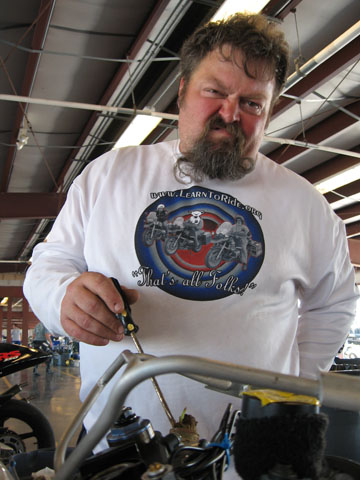 Here I am enjoying a little quality time repairing my damaged bike.
I managed to repair everything (with the help of some J-B weld and perserverence). By Saturday morning I had the bike back to where it would pass tech. Although I missed the first practice session on Saturday I managed to keep the bike upright through the second practice session. My best lap time during that practice was 1:24. Crashing had added 6 seconds to my lap times mostly because of lack of confidence.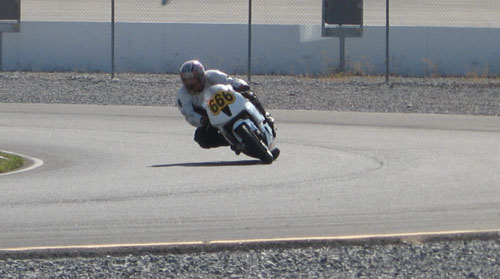 Turn 3 at NSS, looking very timid after crashing the day before.


I managed to struggle through the Solo 20 I had signed up for on Saturday afternoon.

Sunday morning I arrived with a fresh outlook although I was still a bit sore from going down on Friday. But during the first practice session Sunday morning disaster struck as I crashed again! This time I crashed on turn 10, accelerating on the long sweeper.

After that second crash I decided to just give up on racing altogether. I cancelled my trip to Barber the next weekend and sunk into a big depression for several weeks.

But eventually I got over it as my sore body recovered from the second crash and I managed to effect ugly but functional repairs to the bike.

After due consideration I decided to try again next year. I've decided that the poor judgment I used in pairing a Metzler Racetek with a Michelin Street tire, and continuing to use those two tires after riding them as hard as I did in Talladega in July was in large part responsible for both crashes.

Most important lesson learned during this race day: Don't skimp on tires!


Back to my RC51 Page