George McConnel's RC51 BLOG
Date:
July 30, 2006
Track:
Talladega Gran Prix Racetrack
Bike:
2002 Honda RVT1000 (RC51)
Weather:
Cloudy with scattered showers in the morning, mostly sunny with a high near 91f in the afternoon. Occasional breezes
Sponsor:
Ed Bargy Racing School
Conducted By:
Ed Bargy Racing School

Track Diagram
This was just an open track day hosted by Ed Bargy Racing School. Proceeds from the track day went to the repaving fund for the track.
On Saturday they ran a track day in a clockwise direction. In retrospect I should have gone ahead and paid 'em $50 for a chance to ride the track clockwise for a few laps. But hindsight is better than foresight. We got there about 2:00 or so Saturday afternoon and watched the last couple of sessions after we got the tent set up.
Sunday they ran a track day in a counter clockwise direction, which is the direction I ran my races there back in June. I paid the $100 entry fee, got my bike teched out (which was no trouble at all) and was ready for my first session. They were running four groups pretty much all day, 15 minutes per session.
I had changed the tires the week before. My rear tire at this point was a brand new Michelin Pilot Power and the front tire was a Metzler Racetek. Probably not wise to mix brands but it's what I had and it's what I ran.
During the first session the bike felt a bit odd in the corners, as if it was oscillating whenever I'd try to lean it into a corner. The sensation went away later, so I'm guessing it may have been where I was scuffing the tires in. Who knows. I think everyone on the track probably passed me during the first session.
During my second session I started feeling smoother and began riding harder. Nowhere near as many folks passed me during that session and I passed one or two riders during that session. It began raining during that session but rained much harder on the group that went out right after that session was complete.
They broke for lunch after the second round of sessions. Lunch was from 11:00 to 12:00.
After lunch the sun started to come out. It began to get hot too.
We did four sessions during the afternoon. During each session I definitely got faster. I borrowed Dewayne's lap timer during my fourth session and was running somewhere in the 1:10's or better. Unfortunately he had the lap timer configured so that it was only scoring every other lap. I had some 2:20's which meant I averaged 1:10 for two consecutive laps. It's too bad, because it's always possible I might have had a 1:08 or something in there.
And I got faster during the last two practice sessions. During my last session I was definitely passing nearly everyone out there, except for this one guy who was on an R1. As he had at least a 30 horsepower advantage on me I feel like I was doing okay for a fairly new guy.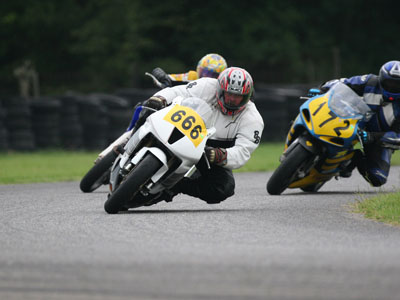 On the "Skidpad" at TGPR.
I'm really starting to look comfortable on the corners.


It was very enjoyable, but after spending one and a half hours on the track I was extremely sore and stiff the next day or so. But as the day progressed I also found myself doing a better job of looking further through turns and down the track. This resulted in me not working nearly as hard. The net result was that I wasn't as exhausted after the last several rides as I was during the first couple.

Most important lesson learned during this track day: Ride smarter and you don't have to work as hard.


Back to my RC51 Page