George McConnel's RC51 BLOG
Date:
July 1, 2006
Track:
Road Atlanta (Atlanta, GA)
Bike:
2002 Honda RVT1000 (RC51)
Weather:
Partly Cloudy, High near 91f, occasional breezes
Sponsor:
N/A
Conducted By:
WERA

Track Diagram

Road Atlanta is a 2.5 mile track with many elevation changes. The highest point on the track is turn 11, which is 75 feet above the start/finish line. The lowest point is at the end of the "Esses", right about that last kink before turn 5. That point is 40 feet below the start/finish line. The back straight (which has two minor bends in it labeled 8 and 9) is almost 3/4 of a mile long, and it is not uncommon for race vehicles to approach 180 or more MPH on that section. From turn 9 to turn 10a you are going downhill. This makes for a challenging situation as racers must judge how to brake without running off the track while maintaining enough speed to keep other racers from passing them at that point. The good thing is there is a long runoff on the other side of turn 10 with lots of soft sand in case you make a mistake.
My friends Dewayne Henson and Catt Moss were at Road Atlanta when I arrived. Dewayne had taken off work so he could be there for all day practice on Thursday. Tom Lees, Charlie Hassel and Steve Webster were some of my other friends who were there.
Cycle Jam at Road Atlanta is a mixed event, combining three RoadRacing series in a single long weekend. Thursday was an all-day practice along with qualifying for some of the Nationals events. On Friday they ran endurance races all day. On Saturday they held the Sportsman Challenge events (which were the only ones I could race in, still being a provisional novice). On Sunday they were having the Nationals events.
I signed up for two races: Heavyweight Twins Superstock and Heavyweight Twins Superbike. Fortunately for me, both of these races were completed early in the afternoon, so I could get done and relax.
It was my original intention to change my tires before this event but there was still so much tread on each tire that I decided not to do so. This was probably unwise but in the long run it turned out to be probably for the best. Unfortunately the fatigued tires were not gripping as well as new ones would have, so I experienced a little sliding a time or two, especially coming out of turn 10-B. I may have been crossing a seam there as well, I don't know.
I was gridded almost dead last place on each event, but because of my limited experience at Talladega I was actually gridded in front of a few people who hadn't been to an event yet.
My first practice session got red flagged because a rider went down during the 3rd lap, so I only got to ride just over 2 laps before having to slow to red-flag speed and exit the track. My second practice session did not involve any red flags, so I had a total of about 8 practice laps before racing on the track.
We had the obligatory rider's meeting at 11:10 then broke for lunch. It was really getting hot by now and I was doing everything I could to conserve my energy, keep cool as possible and stay hydrated.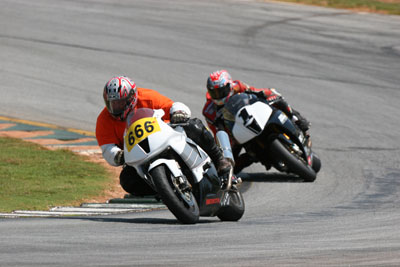 Here I am working my way around Turn 1 at Road Atlanta
Brian Stokes is about to lap me. He's on an Aprilla RSV Mille.


My first sprint was going to be HeavyWeight Twins Superstock. It was the 3rd event of the afternoon, so I got geared up while the senior superbike event was running. I found Road Atlanta to be a very intimidating track for a number of reasons. There are many blind curves and elevation changes followed by curves that make it difficult to find a rhythm with the very limited practice time I had gotten. There are also several sections of the track that are paved with cement that have a glossy looking rubber coating on top. As you're approaching that it looks wet and slippery, which just destroys any confidence I have in the traction available. I started 13th and finished 13th in my class.

My second (and last) sprint of the day was HeavyWeight Twins Superbike. It was the 9th event of the afternoon. I actually rode slower during my two race sprints than I did during practice, but I believe it was because I was starting to really feel some wheel spin coming out of some of the corners.

At any rate, I was one of the slowest riders (for my class) all day. The best lap I ran, which was during the second practice, was 1:56. Decent (average) riders were running about 10 seconds per lap faster than me, and the best riders in my class were running about 20 seconds faster than me.

But there are good things. I enjoyed myself, I got through the weekend without crashing so I can become a full Novice, and I became a better rider through practice.

I did manage to pass the occasional rider, but there is no doubt that I got passed many more times than I passed. No problem, I was just out there having some fun.

Most important lesson learned during this race day: Some tracks are very scary to ride.


Back to my RC51 Page