George McConnel's RC51 BLOG
Date:
June 17, 2006
Track:
Talladega Gran Prix Racetrack
Bike:
2002 Honda RVT1000 (RC51)
Weather:
Mostly Sunny, High near 94f, occasional breezes
Sponsor:
N/A
Conducted By:
David Harmon

Track Diagram
I arrived at the track at 6:30 in the morning, eager to get started. Charlie Hassel got there a few minutes after I arrived. Charlie was a big player in the fun I had doing my second track day.
After unloading the bike I went to register, a process that took almost an hour. I didn't know how to register, so I had wasted a bunch of time filling out a registration form that had to be tossed. The only thing I could do was the "Riding School" which meant that I had to check "Other" and write in "Riding School". After paying the tuition, buying a racing license and teching my bike I went upstairs for my first classroom session.
Our instructor was David Harmon, a seasoned WERA racer. The first thing he did was to hand us the orange tee shirts we'd be wearing over our leathers until we advanced to "Novice". To do this we'd have to participate in at least one race over two different weekends without crashing. He went over the track rules, flags, etc., then took us out for our first track experience. We donned our leathers, pulled the orange tee shirts over us and followed David around the track once in a slow parade lap. David then motioned all of us by. He'd told us that we were free to pass each other if we wanted to once we were in front of him.


Lined up for our first track session.
I'm in the back.


During that first session we only had three riders. One was a young (14 year old) kid (Josh) who was the son of respected racer Mike Smith. Josh easily oiled the rest of us on his Motard style bike.

Later in the day two other Rider School participants joined us. David graciously caught them up on the portion of classroom stuff they had missed and allowed them to continue in the class.

For the benefit of the entire class David then turned his attention to this track itself, going over the technical problems presented by it. This track was designed to be a teaching track more than a racing track, so it presents several different types of curves. The first one is called the "kink" because it starts with a zig to the right and then a longer sweeper (turn 2) to the left. Turn 3 is called the "Sweeper" because it is a longer, faster corner. Turn 4 is just a little adjustment you make on the back straight to the right. Turn 5 is called the "Bowl" because it is pretty much a 180 degree turn with a bank. Turn 6 is just a little kink in the track as you set up for the "Double 90" (turns 7 and 8, which are essentially two 90 degree turns). Turn 9 is called the "Skidpad". It's about a 270 degree circle with very little banking at all. Turn 10 is a bend back to the right to set up for the front straight, where it all starts over.

We went through technical details of some of the turns. David drew our attention to some of the places where crowns were in the surface that caused handling problems as the bike wanted to launch under acceleration while crossing the crown.

Our second track session felt better for me for sure. I was getting into the lines a little better and some of the techniques David had shared with us helped greatly.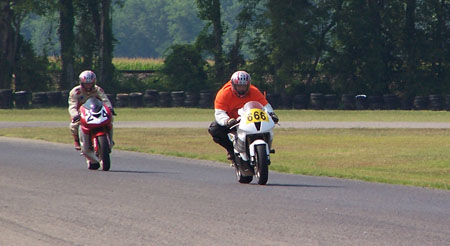 David follows me down the front straight.
He evaluates each of us as riders.
At the end of the day we had our third and final track session. This session was called the "mock race". David picked grid assignments for us. Oddly, he put me in the pole position, which wasn't going to last long. The mock race is run as if it were a real race, complete with starting flags, middle of race flags, white flag and checkered flag. Hopefully we don't see any other flags during the race but they were subject to come out if needed.
During the mock race I felt a little tire slide on one corner and thought for a second I might go down. But the bike picked me up quite nicely and there were no other problems. Josh got the hole shot and was out front before any of us even launched. I started off pretty well but forgot to put my face shield down, which caused me to slow down enough right before turn 3 to give the 3rd place rider a chance to pass me. After that everything pretty much settled down and the race ended after 5 laps with everyone in pretty much that order. The two late comers finished in the last two spots. Everyone seemed to have a good time and nobody went down, which was the only real important part of that event.
Back to my RC51 Page