George McConnel's Motorcycle Racing Blog
Dates:
August 22-24, 2014
Track:
Talladega Gran Prix Raceway
Bikes:
2001 Suzuki SV650
Weather:
Hot and humid with isolated strong storms on Sunday.
Sponsor:
LearnToRide.Org
Conducted By:
WERA

Track Diagram

The Talladega Gran Prix Raceway is designed to be run either clockwise or counterclockwise. This weekend's events were conducted in a counterclockwise direction. The redesigned track has been run in clockwise direction once since the repaving, owing to safety concerns.
I wasn't going to go to the Talladega round this year for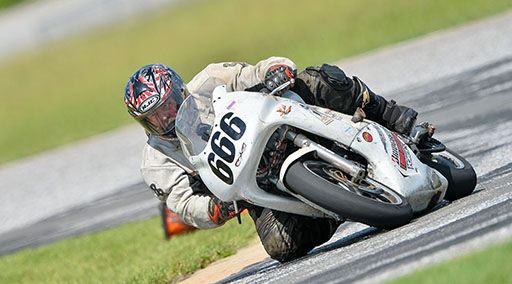 Chasing Steve Webster around the 90's in practice.
I eventually passed him :-)

several reasons. But about 3 weeks before the event Morris Foor contacted me to say he was planning racing that weekend and would love to have me on the track with him. I decided to get out and race with my old friend after all.

Stephen Greene then contacted me with about a week to go and as it turned out his truck was disabled and he really could use a lift to the races himself. So we ended up loading together and making the trip. Logan also piggybacked his bike in the bed of my pickup truck. This would be Logan's first race event in well over a year.

We arrived late Friday night around 9:10 PM. Karl Lemmer had already picked us out some pit space, this time an RV spot. Jan hustled us all around to get things organized so the rest of them could get out the gate and head back to their hotel rooms before the gate was locked at 10:00. Morris pulled in next to us when he arrived. Kurt Kessler was pitted just on the other side of Morris's spot and he came by as well. He and I ended up visiting for awhile with some folks before I decided it was time to hit the sack. I had also brought Rossi, my traveling companion.

Saturday morning everyone was running late except of course me. I got up at 6:30, got registered, took the bike through tech and was pretty much ready to go before anyone else arrived. There was a flurry of activity though as Jan organized the pit area and I wasn't able to get my tire warmers on until she was satisfied things were in order. This caused a bit of inconvenience for me, as I like to get the temperatures up and the tire pressures checked before that first practice.

Logan and Katie also didn't arrive until later in the morning, far too late for Logan to run in the first practice session. His group was the first group anyway. I ended up getting sucked into their self-inflicted crisis and as it turned out all this was happening while I was trying to get ready for my first practice session. I finally realized what I was doing and abandoned trying to help them in favor of getting myself ready to go ride. I barely had time to get all my gear on and get the tire warmers back off before my session started, in spite of the fact that I had deliberately started my day early unlike everyone else. I don't like that feeling of frantic activity immediately before the first practice session. I vastly prefer to go out really calm.

But once I got on track and took a couple of breaths I calmed back down. Twisting the throttle down the long straight before turn 2 at Talladega for the first time of a race weekend never gets old. And I have to say that being the biggest bike in Lightweight practice is an ego-stroking position. You're out there weaving your way through traffic, passing people right and left, and it feels good. But it's not just that. As often as not I find myself carrying more corner speed than many of the smaller bikes.

However, I desperately need to get back on my diet/exercise regimen and lose the extra pounds I've managed to gain recently. It showed in my stamina and in my laptimes. I was never able to get under the 1:09 mark the entire weekend. For a guy who has put up 1:07's at Talladega on the same bike, that extra second-plus per lap is a mocking reminder that I have failed to keep that weight off.

During second practice I started catching up with Steve Webster and had the opportunity to pass by about the 5th lap. I tried to set up a pass two or three times, but my best opportunity came in the double-90's, where we had a slower rider in front of us. Steve got held up behind him while I dove underneath, but then the rider prepared to make the 2nd right and I could see he was going to come in tight and collide with me if I didn't back off. I did, and sure enough he took the exact line I thought he was going to take. I honestly wonder if he even knew I was there. I didn't want to find out the hard way.

So I had to back off and lost a lot of drive coming out of that turn. Steve ended up with quite a few bike lengths on me, but then I managed to close the gap again within a couple of laps. This time I caught him again on the 90's and we had clear track in front of us. I effected a nice block pass and opened up a pretty good gap on him before he recovered and started riding quicker. His final lap before the end of the session was actually quicker (by a few hundredths) than my quickest lap of the session. I knew he could go faster, but it still felt pretty cool to be out there dicing with him again. Reminded me of our adventures at Nashville Superspeedway before my ornery crash in September, 2010.

I signed up for nothing but the Saturday Solo for the whole weekend. There were four of us entered in the class, Bryan Gripp, Morris Foor, me, and Joshus Jovi. Joshua is a young fellow on a Ninja 250, so he wasn't going to be a major factor in the race (although he's pretty quick for the size bike he's on -- he can run 12's at Talladega).

But when we gridded up I looked back to the 2nd row and Joshua wasn't there. It was just Morris on the left, Gripp in the middle and me on the outside. The number board turned sideways and the green flag waved. Gripp got a lackluster start. Morris and I had a little drag race into turn 1 and entered it side by side. But he had the inside line and a bit better engine under him so he started pulling a bit of a gap on me on the exit. I heard his quickshifter work its magic as I shifted my bike into 4th the old fashioned way. But the true test would come on turn 2, where we would see who could outbrake the other. I won that battle and led the entire pack around turn 2. Yes, that was me in the lead!

I ended up enjoying the lead for about 5 laps, but I knew in my heart that it wasn't going to last. Gripp is far too good a rider for me to be able to entertain notions of keeping him behind me for 20 laps. Sure enough during the 4th lap into the farmhouse turn I could hear him back there. But I held him off for most of the next lap until he powered past me on the back straight and into the farmhouse turn. I stayed with him for a lap or so after that but then he slowly began to pull away. He was getting quicker each lap and I was (if anything) slowing down a bit due to my lack of stamina.

But it's all good. I ended up with an "earned" 2nd place and the pride of knowing I had led the entire field for at least a few minutes. I was passed by one novice as well, a particularly quick one who really should be riding in expert class.


Back to my Motorcycle Racing Pages