George McConnel's Motorcycle Racing Blog
Dates:
February 21-23, 2014
Track:
Talladega Gran Prix Raceway
Bikes:
2001 Suzuki SV650
Weather:
Cold at night but highs of 75-78 each day!
Sponsor:
LearnToRide.Org
Conducted By:
WERA

Track Diagram

The Talladega Gran Prix Raceway is designed to be run either clockwise or counterclockwise. This weekend's events were conducted in a counterclockwise direction. The redesigned track has been run in clockwise direction once since the repaving, owing to safety concerns.
This was possibly the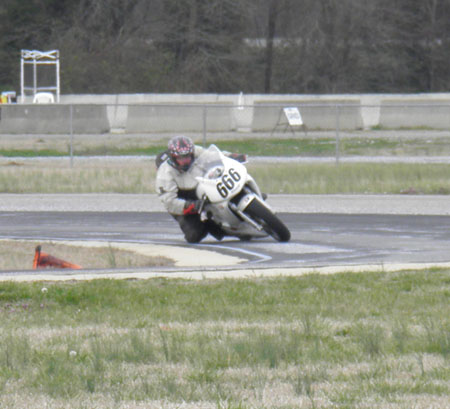 My obligatory double-90's pose.

best weather I've had for an opener

at Talladega yet. I went down by myself (which is really nice for a change. All I had to pack was my own stuff and it really doesn't take nearly as long to pack when you're just packing for yourself and have most everything already in the trailer. The bike, the tool bucket and a few other miscellaneous odds and ends and I was ready to go. I did forget a few things, but nothing I couldn't do without.

There was one snafu though, as I was loading the bike I managed to grab the rear wheel by the valve stem and broke it off in my hands. This meant that before I could do anything at the track I'd have to get that repaired.

I got to the track at about 8:30, paid the guy at the gate for a wrist band and drove on in. Fortunately there was still some prime paved paddock space still available so I pulled right in there. The track manager came over to ask if I wanted electricity and to warn me that all the nearby plugs were already taken. I told him I had a 100' extension cord so it didn't have to be that nearby. He sold me one of the plugs on the side of the paddock building and I was in business. Once again the generator was not needed.

Stephen, Jan, Catt and Dewayne had come down as well and pulled into the pit about the same time as I did. We hauled out pop-up canopies and set up two side by side on the paved paddock, then not long afterwards Karl showed up with Nancy and his two bikes that Stephen would be riding over the course of the weekend.

We got the pit set up and I pulled the rear wheel off my bike in preparation for taking it over to Stickboy for repair in the morning. Everyone else disappeared for hotel rooms while I bedded down in the back of my trailer.

I didn't sleep particularly well Friday night but I managed to sleep enough I suppose. When 6:30 came around I got up and took the wheel over to Stickboy's trailer. He stopped what he was doing and went ahead and put a new valve stem in right then and there. I gave him a generous tip for his efforts, took the wheel back and re-mounted it. I then headed over to registration which was an extremely long line. It had been a long time since I had not pre-registered for a race, but I was okay with it.

Looking the schedule over I noticed that the Formula-2 race was Sunday morning while the LWT SS and LWT SB races were among the last of the day. I let that be my guide and signed up for Formula-2 on Sunday and the normal Lightweight Solo 20 on Saturday.

Getting back to the pit I put the lower back on and took the bike over to Tech. I'd forgotten to put the lock pin back into the castle nut on the rear axle when I'd reinstalled the rear wheel. The tech inspector tried to slip it in on the spot and couldn't get it to go but I promised him I'd take care of it when I got back to pit if he'd be willing to trust me for it. He of course was, and I was on my way.

Fortunately we were in the 4th practice group, so I had plenty of time to get my leathers on and still make it out there for first practice. It didn't take more than a lap before I was back in form, pressing my normal braking markers. I think I ended up putting up a 1:10 for the first practice session, but was able to get down to a more respectable 1:08 by the end of the second one in spite of having a hard time getting a clean lap with all the slower, small displacement bikes in our practice group that I had to work through nearly every lap.

But boy was I wore out after each practice session. I was definitely out of shape and my leathers were fitting so tightly that it was a little bit hard to breathe effectively when I needed more air. I decided that I'd just do the best I could during the solo later that day and maybe pull in after lap 10 or whenever I saw the half-way flags.

But as it turned out I got a really good launch from 5th on the grid and found myself in 3rd position as we started around turn 1. The kid on the outside of me got a better drive out of 1 and was a better rider anyway so by turn 2 I was in 4th place. That still wasn't bad out of 9 on the grid, so armed with that situation I began putting my head down and pressing a bit. One of the other expert riders passed me by the end of the first lap so I knew I was back in 5th. However, about the 4th lap or so one of those riders ended up going down. I was back in 4th place with a possibility of a podium in a field of 9 expert riders. This was a position I was not used to being in.

So I kept up with the lap count as I continued hitting my marks. I knew exactly when I was going to see the halfway flags before I rounded the farmhouse turn, and sure enough I was right. I felt good enough to continue, so continue I did. On lap 19 I saw a yellow waving flag in turn 2. I looked over and sure enough it was one of the other expert riders who had been ahead of me. He looked to be okay, but he was off the track without enough time to re-tech and beat me for sure. All I had to do now was nurse it for the remaining two laps and I'd get another podium finish. I made it to the checker flag, went through post-tech and savored the ride back to the pit.

Sunday was (as usual) much more leisurely. I was able to get up, take care of my morning rituals and get my leathers on in relative peace and quiet. It was cool enough that wearing the leathers during the day was not a problem. I did both of the practice sessions, then settled in to await the race. I was in race 6, gridded in the final position (9th). Once again I managed to get a really good launch, and this time I learned a little about being better positioned when I got to turn 1. I set up on the outside of turn 1 and managed to slot into 4th place behind the usual suspects. I got passed on about lap 5 by this guy riding a GSXR-600 that he claims was de-stroked to a 535. That guy was riding dangerously slow the previous day, but it's very possible that was his first track experience at Talladega. I was still quite surprised to see him improve that much in a single day, but that's how it goes. At any rate I ended up finishing 5th in that race. But I had a great time over the weekend and enjoyed a much needed break from old man Winter. I'm now looking forward to trying to make it to New Orleans for the April endurance round.


Back to my Motorcycle Racing Pages