George McConnel's Racing BLOG
Date:
October 24-27, 2013
Track:
Barber Motorsports Park
Bike:
2001 Suzuki SV650
Weather:
Cool during the days, very cool at night.
Sponsor:
LearnToRide.Org
Conducted By:
WERA

Track Diagram

Barber Motorsports Park is a beautiful, purpose built motorcycle racing. track built by George W. Barber, an avid automobile enthusiast who made his fortune in the dairy industry. It features 15 numbered turns, several of which are complexes. It also has many elevation changes. It can also be run as a "short track" wherein turn 5 empties out immediately into the back straight, bypassing nearly 50% of the track.

On the same campus as the track is the Barber Vintage Motorsports Museum, which began as Mr. Barber's private collection of vintage automobiles and motorcycles but now is a fully functional public museum.
Pete wasn't able to make it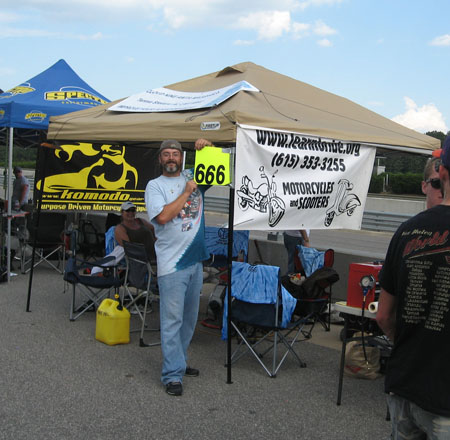 Peace Beast Racing is open for business.

to Barber this time,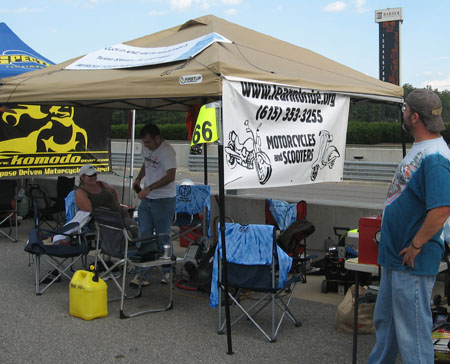 Proudly sponsored by LearnToRide.org and Cloud 9 Sport Massages

so I checked and Stephen wanted to go but had trouble with his truck. I invited him to stash his bike in my trailer and I'd haul his stuff down, giving him and Jan the ability to just drive down in a car unencumbered by all the other stuff. That's what they did.

I got there really late in the day, got electricity and got setup.

Stephen and Jan obviously pitted with me all weekend. I had brought the fire ring so we could use it at night and it really helped with knocking the chill off. Not to mention that it just made for much better ambiance.

The endurance race was on Thursday for this GNF event, so we got our business out of the way very early.

I set up the hot-pit about 3 from the end and got us set up. We let Stephen take my bike out while I tried taking Stephen's bike out for a ride just to see what all the complaints were about. Stephen had a point. His bike had a great engine in it but it really was scary to try to corner with it. I couldn't put my finger on exactly why, but I knew something was fundamentally wrong with the bike to make it that difficult to tip into the turns. The first time I got to Charlotte's Web I thought I was going to run off the track trying to get that bike to tip into the turn. Things got a little better as I continued to practice on it, and I was eventually able to get a knee down in some of the turns, but it just did not inspire any confidence at all.

Tuna felt the same way when he tried out Stephen's bike.

Be that as it may, we ran our event as best we could. About 3 laps into the event the red flags came out. Tuna rode to a position over on the rider's right side of the track where we put a rear stand under the bike and backed away from it as per the rules. That was the harbinger of many more red flags to come. For some reason we were never able to have more than a few minutes at a time without a red flag. Eventually, Tuna still hadn't gotten more than about 40 minutes of ride time but nobody else had ridden at all and we were almost 2 hours into the event. I decided to take my stint on the next restart. I rode for no more than 10 minutes and pitted in, giving way to Adam Beer. He took his stint, then came in after 30 minutes, having had enough. The next rider was an older guy who was pitted next to my trailer but on the "back" side of it. He had never been to Barber before and I invited him to join my endurance team in a one-off event just to get some more laps. He was elated to have that opportunity.

So he took his turn. We gave him about 45 minutes and then brought him in so Stephen could take a turn. If all went well Stephen would have about 45 minutes of ride time. All didn't go well though, because about 20 minutes into his turn the red flags came out again. Since this was a red flag inside the last 30 minutes of the event the rules are that the event is considered complete. Stephen was fine with it though, as he'd about had enough.

So ended my 2013 racing season. No wins, no (personal) crashes, no real problems.