George McConnel's Motorcycle Racing Blog
Date:
July 27, 2013
Track:
Talladega Gran Prix Raceway
Bikes:
2001 Suzuki SV650
Weather:
Morning drizzle, clear and hot in the afternoon.
Sponsor:
LearnToRide.Org
Conducted By:
SportBikeTrackTime.com

Track Diagram

The Talladega Gran Prix Raceway is designed to be run either clockwise or counterclockwise. This weekend's events were conducted in a counterclockwise direction. The redesigned track has been run in clockwise direction once since the repaving, owing to safety concerns.
When it comes to time on the track there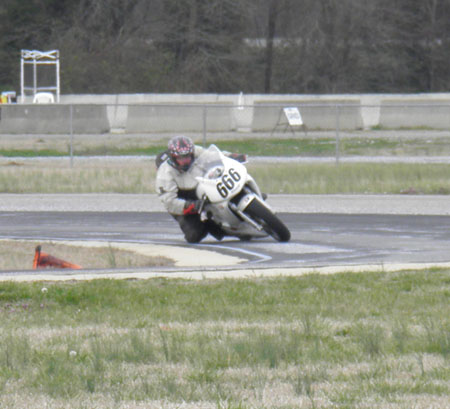 My obligatory double-90's pose.

Is just no substitute for a track day.

This is what I told Pete Ready as he was considering the paltry amount of time he'd had to study the tracks at the racing events he had attended, and particularly to work on his ability to work his way around the track quickly.

I'd been jogging and losing weight again and was in relatively decent shape. I went to pick up Pete at his place early in the afternoon, figuring this would work out quite well. We'd get prime paddock space and electricity for our efforts.

I was wrong. When I arrived at Pete's place it was obvious that something was wrong with my truck. The driver side rear brake caliper had seized up and was overheating. To make a long story short it took us about 4 hours to repair the brake caliper and get rolling again. By then we didn't even make it to the track early enough to get in the gate and had to settle for a motel room.

By the time we got to the track all the electrical connections were taken on the good side of the paddock as were all the paved paddock spots. We pitted on the back side of the paddock in the grass. I managed to get my bike out there for first practice without warmers, but when I got back in it was drizzling a little bit and Pete had inadvertently broken the tab off the generator's fuel supply valve attempting to figure out why the generator wouldn't start. I figured we'd just end up having to do without electricity the rest of the day, but I noticed that we weren't really that far away from an array of hookups on the other side of the pit road. I grabbed one of those and paid for it, and suddenly things didn't look so bad after all.

As the day went on I managed to get my lap times down into what for me were respectable 1:07's. More impressively to me I was able to do every session of the day without having to take a break. My stamina was good. It was a very enjoyable day. Pete also had a great time and made strides toward becoming a better track rider himself.


Back to my Motorcycle Racing Pages