George McConnel's Motorcycle Racing Blog
Dates:
June 6-9, 2013
Track:
Road Atlanta (Braselton, GA)
Bikes:
2001 Suzuki SV650
Weather:
Mostly hot with some clouds.
Sponsor:
LearnToRide.Org
Conducted By:
WERA

Track Diagram

Road Atlanta is a 2.5 mile track with many elevation changes. The highest point on the track is turn 11, which is 75 feet above the start/finish line. The lowest point is at the end of the "Esses", right about that last kink before turn 5. That point is 40 feet below the start/finish line. The back straight (which has two minor bends in it labeled 8 and 9) is almost 3/4 of a mile long, and it is not uncommon for race vehicles to approach 180 or more MPH on that section. From turn 9 to turn 10a you are going downhill. This makes for a challenging situation as racers must judge how to brake without running off the track while maintaining enough speed to keep other racers from passing them at that point. The good thing is there is a long runoff on the other side of turn 10 with lots of soft gravel in case you make a mistake.
Pete Readey came to this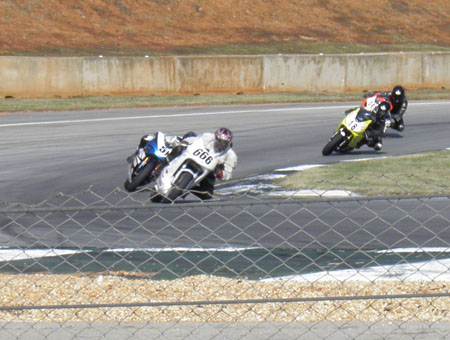 During practice I power out of turn 5.

event to participate for the first time on my endurance team.

I had been flown to Boston for work that week and had to arrange with the boss to fly directly to Atlanta to be able to make it to the racing action that weekend. Pete and Jim drove my truck down to Atlanta with my bike, so that worked out pretty well. I was kind of like a rock star with an entourage taking care of my stuff.

We got set up about 3 pits down from the opening. Going through practice everything went about as smoothly as it could. We sent Brian (Tuna) Mullins out for the first stint and were really enjoying a great battle between him and Jamie Murray on Randy's bike when disaster struck. Tuna and Jamie got tangled up coming into turn 2 at the top of the hill. We got the bike back into the pit and Tuna seemed to be in fine shape to ride some more but I insisted he sit out and let me go out if we could get the bike back ready to ride. If time permitted we'd put him back on towards the end of the race.

The faring stay had been buggered up pretty bad, so we spent a considerable amount of time using whatever we could find to splint it back up. The left footpeg was a total loss, so we cannibalized the footpeg off of Stephen's bike to use. The faring lower had been split in half down the front, so Pete applied duct tape to hold that part together. We had to do some creative work on the left clip-on as well and use one of Stephen's clutch levers, but we managed to get the bike back to where it would pass a tech inspection. I geared up and started out for my stint.

I'm not sure just how far I got from the pit when I realized that we had managed to put the shift knuckle on upside down, and the bike was now running GP shift. I thought about just coming back in and getting it changed but once I made it around the track in GP shift mode I decided to hang out there and give it a go. I'd always been interested in trying GP shift, but had never really given myself the opportunity. Now here I was with little else besides an opportunity, so I took it.

I did okay with it although I did manage to mess up a few shifts, shifting in the wrong direction. But into my stint less than 30 minutes the faring upper began shaking dangerously every time I'd hit the back straight. I pitted in the 2nd time this happened and we spent a few minutes bolstering the left side of the faring stay to address this issue. With that resolved I warned Adam Beer that the bike was now running in GP shift mode and sent him on his way. Adam is a switch hitter when it comes to that sort of thing but prefers GP shift so he was happy. When it came time to put Pete Ready back on the bike we reverted to Standard Shift.

Pete was running just slow enough that the powers-that-be decided they felt like we needed to get him to pit back in after about 20 or so minutes. We got him to come back in and sent Tuna back out to finish things up.

I went over and talked with Randy about the situation, expressing my sorrow that things had turned out as they did. I was concerned because he hadn't bothered trying to put his bike back on the track after the event. He said that after mulling it over he realized he could save a lot of money and resources that would have gone towards a losing effort in the endurance race and apply that to more productive sprint events for the remainder of the weekend.

I can't remember how we ended up in the standings but it was way down there for obvious reasons. But that was beside the point. We once again had a great adventure, rose together as a team to battle against adversity and managed to overcome it.


Back to my Motorcycle Racing Pages