George McConnel's Racing BLOG
Date:
May 10-12, 2013
Track:
Barber Motorsports Park
Bike:
2001 Suzuki SV650
Weather:
Partly sunny, highs around 85. Very nice weekend.
Sponsor:
LearnToRide.Org
Conducted By:
WERA

Track Diagram

Barber Motorsports Park is a beautiful, purpose built motorcycle racing. track built by George W. Barber, an avid automobile enthusiast who made his fortune in the dairy industry. It features 15 numbered turns, several of which are complexes. It also has many elevation changes. It can also be run as a "short track" wherein turn 5 empties out immediately into the back straight, bypassing nearly 50% of the track.

On the same campus as the track is the Barber Vintage Motorsports Museum, which began as Mr. Barber's private collection of vintage automobiles and motorcycles but now is a fully functional public museum.
Back to Barber,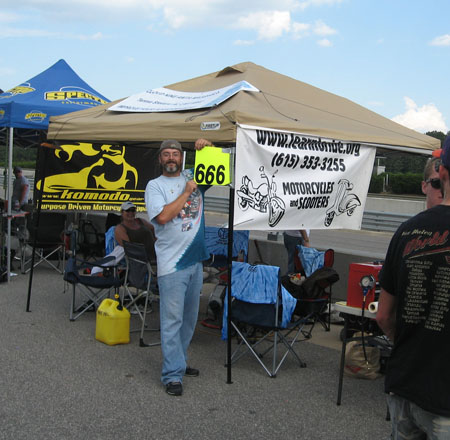 Peace Beast Racing is open for business.

This time with Pete.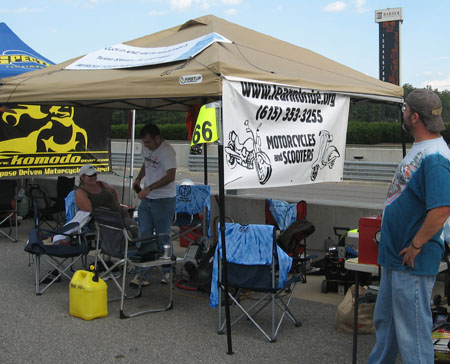 Proudly sponsored by LearnToRide.org and Cloud 9 Sport Massages

Pete brought his daughter in law, Katie to Barber this time, which was helpeful because he was very good at helping him with getting his bike on and off the stand as well as other ancilliary tasks.

We got there and picked a spot on the 2nd tier, paying the camping fee as well. As it turned out Steve Webster invited Pete and Katie to sleep in his RV so the sleeping arrangements couldn't have been better.

I had pre-registered for my usual rides, Lightweight Solo on Saturday and LWTSS on Sunday.

During the first practice I struggled to get down out of the 1:50's, but during the 2nd session I was already into the 1:48's and running a much more respectable pace. During my Solo I managed to grab a 2nd place podium position mostly due to a battle of attrition. Two riders didn't make the grid and two more didn't finish the race. I still managed to put together some 1:47's, which is my best pace on the SV at Barber. During this race I lost ground to Kenny Duvall but as the race went on I managed to catch back up and re-pass him. That was an interesting and unusual experience.

However, there was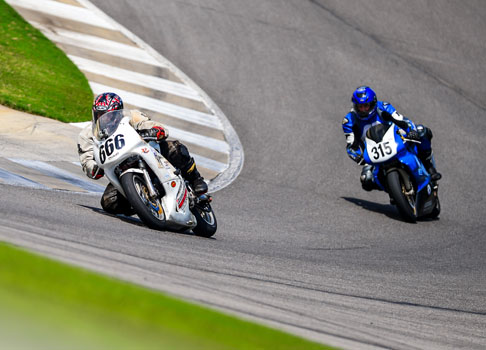 Can you believe it?!?
I'm passing Kenny!
a bit of trouble in paradise. Towards the end of the race I started noticing that my engine was cutting out. As the laps clicked down I had to run slower and slower laps because the engine could not produce full power when the throttle was full on. I ended up limping across the finish line and pulled into post-tech.
Somehow I managed to get back to the pit where I could begin decyphering what, exactly, was wrong with my machine. As it turned out the voltage regulator that had fallen off my bike a year before when I was at Barber had bitten the dust. A new (used) voltage regulator from eBay and things were back ship-shape. Unfortunately since I had not been able to diagnose the actual problem before Sunday I was unable to continue that weekend. I missed my practices and racing on Sunday for that event.