George McConnel's Motorcycle Racing Blog
Date:
June 29-July 1, 2012
Track:
New Orleans Motorsports Park (NOLA)
Bike:
2001 Suzuki SV650
Weather:
Hot. Humid. Highs around 100+ each day.
Sponsor:
LearnToRide.Org
Conducted By:
WERA

Track Diagram

The New Orleans Motor Park North Track is quite flat. It can only be run in one direction due to the gator strips being conducive only to clockwise riding. Many of the turns are decreasing radius turns, and several of them are designed to make it difficult on you if you enter a series of turns improperly. It is difficult to get back on the race line under that circumstance.

The facilities are nice, with a massive paved paddock area and excellent sound from the P.A. system. On the negative side it lacks electrical or water hookups.

Pit out (and pit in for that matter) is very poorly designed at present. Hopefully they will work out better means of accomplishing both.
This would be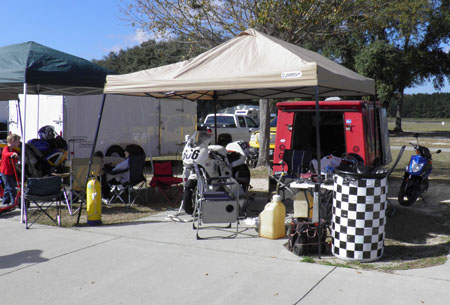 Pit, sweet pit. What wonderful weather!

my first ever visit to this track,

but it was also the first ever race event held at that track. The staff at the track seemed genuinely excited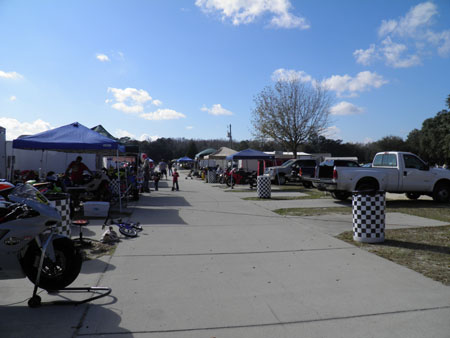 The view down pit row.

that actual racing (not just testing/tuning/trackday activity) was going on.

I drove the truck down by myself this time. Logan and Katie used my Vstrom to get there eventually but spent Friday and Saturday enjoying some time at the beach in Bilouxi Mississippi. I had taken Friday off work to use as a pure travel day, and I had planned to leave a bit early on Thursday in order to get a head start on the travel, but it wasn't meant to be. I didn't end up pulling out of Nashville until around 5:30 on Thursday evening. I made it as far as Meridian, MS before finding a motel room for the night. That may have been the most expensive 5 hours of sleep I've ever had. Over $70 for a room, and I never even took a shower.

I woke up around 6:30 unable to sleep anymore, so I got up and finished the drive. I got to the track about mid-morning and briefly entertained notions of possibly getting on track for the afternoon sessions. But after getting unpacked in the stifling heat I thought better of it. Instead I kicked back and tried to hydrate as much as I could. I went over to registration and got my paperwork, took the bike through tech, then called it a day. It was pretty much too hot to try to do anything else at that point.

I got up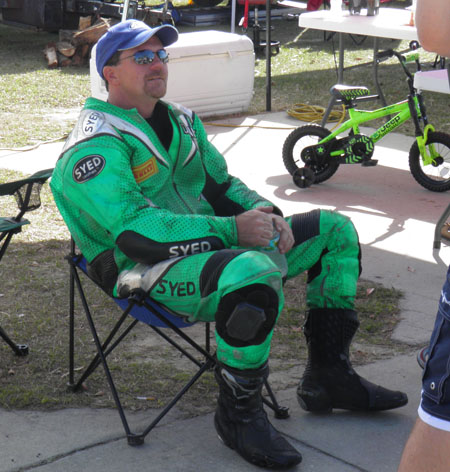 Donny Wright answers a couple of questions
about the event.

around dawn the next morning and had a very leisurely time getting prepped. I'd already gone through registration and tech the day before, so basically it was a matter of waiting until they called first practice. I was in the first practice group, which was a good thing since it meant getting on the track during the coolest part of the miserably hot day it would turn out to be. For some reason they only did one practice session per group, a very long one. My first lap around the track was about a 2:20 and I quickly worked my way down to about 2:12, and before the session was over I managed a high 2:09.

That was pretty much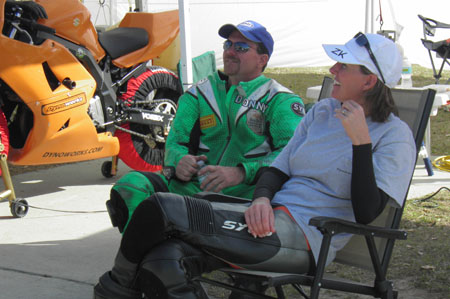 Donny Wright and his wife.
Our hosts for the weekend.

it for practice. My next chance to ride the track that afternoon would be in an actual race.

When my first race came up (I was in race # 4) I went to my grid position but someone was sitting in it. He had taken my spot instead of his, which was supposed to be towards the right. After he vacated my spot I pulled in and we got ready for the start. I got a good reaction time on the launch but as usual everyone did much better on their launch and soon I was looking at the ass-ends of nearly everyone in my class.

Didn't matter, I was painfully slow anyway. Every second that passed the group got further away from me until after a lap or so I was pretty much just riding around looking at an empty track.

I did not get lapped during that 6 lap race,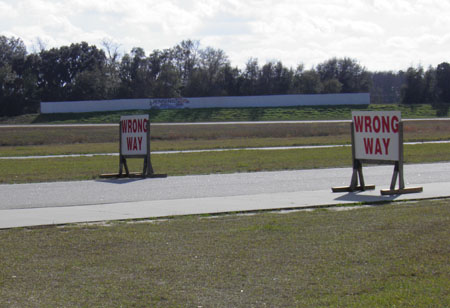 Ordinarily you'd hang a right onto pit out.
Not this weekend...

which in itself was a surprise, considering how slow I was going. I did manage to put up a slightly better "best lap" of the session, a 2:08 in the 2nd lap, but pretty much ran between 2:09 and 2:11 the other 5 laps.

It was nice just


Here's how I used to look going through T1 on the RC51.

getting that race out of the way. I finished in 9th position, only beating folks who crashed or were in lower classes than I was. What's humiliating as I look back at it is that Jay Newton, on a Ninja 250 put up laptimes that matched mine. Well to be fair they weren't exactly as good as mine, but they were awfully close. If we'd started side-by-side I suspect He'd have passed me on the corners every lap and I would have passed him back on the 3/4 mile straight.

I was hoping for better things on Sunday. I did manage to put up a 2:07.013 during morning practice, and low 2:08's were getting to be a dime a dozen for me, so I suppose that's progress, but it wasn't nearly as much progress as I had hoped for.

I was hoping for better things on Sunday. I did manage to put up a 2:07.013 during morning practice, and low 2:08's were getting to be a dime a dozen for me, so I suppose that's progress, but it wasn't nearly as much progress as I had hoped for.

Similarly, during the race the only progress I made was that 2:07s were commonplace and my "slow" laps were 2:08's for the most part. I was disappointed that I didn't make it into the 2:06's by that time, which is sort of sad in a way, as 2:06 is still a very slow laptime on that track on comparable equipment.

I suppose that with more time and experience I could cut down those laptimes significantly. One of the biggest problems I have is my fear of turns 5-7. This is a sequence of three right-handers. It is very difficult to see the track at that point, so planning how fast to go is something I just never felt like I had mastered. I was also failing to manage my line through the final two turns onto the front straight most of the time. Finally, I suppose there's just no substitute for the way my big old ass slows a bike down on a long straight such as NOLA has. People who couldn't pass me on the twisty parts of the track easily drove past me on the straight and continued to pull away all the way down it.

Although I like the track I don't know how often I'll be going back. It's unlikely that WERA will be running an endurance event down there anytime soon. Maybe I could do a track day there during the winter when it's not so hot and that would be enjoyable. Who knows.

Most important lesson learned during this race weekend: Patience. Learning a new track is not something I'm very quick at.


Back to my racing pages