George McConnel's Motorcycle Racing Blog
Dates:
February, 18-19, 2012
Track:
Talladega Gran Prix Raceway
Bikes:
2001 Suzuki SV650
Weather:
Cool and rainy. Highs around 45.
Sponsor:
LearnToRide.Org
Conducted By:
WERA

Track Diagram

The Talladega Gran Prix Raceway is designed to be run either clockwise or counterclockwise. This weekend's events were conducted in a counterclockwise direction. The redesigned track has been run in clockwise direction once since the repaving, owing to safety concerns.
To me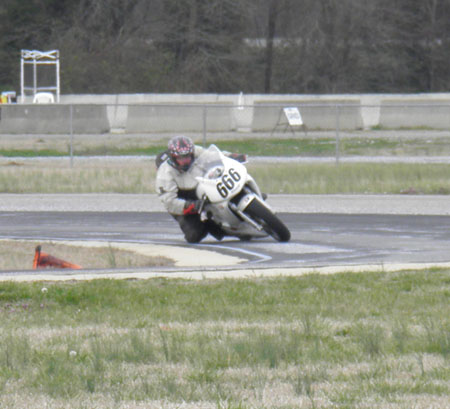 My obligatory double-90's pose.

this was the "start"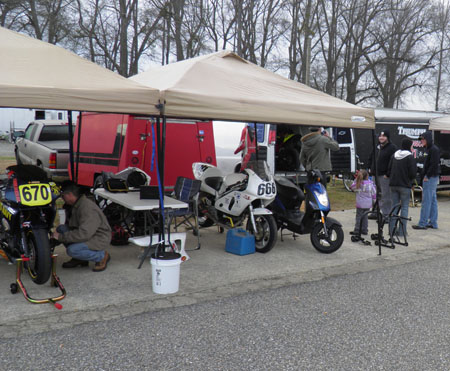 Pit row included Randy, me, Brian
Mullins and Brad Johnson

of the WERA Southeast regional season. They held an event on Sunday, January 29, but it was more of a track day than a race weekend. It only included a solo for each of the three major classes (HW / MW / LW), otherwise practice sessions. With no points accumulation or purse money being given for solo events it's sort of a pointless class now. Not that I'm not going to ride one occasionally, of course, but there's a lot of merit behind the old saying, "There's a reason they keep score." They don't for the current solo classes.

Randy got a much earlier start than I did, as I had to work all day Friday. At the crack of 4:30 I hopped in my truck and hit the road. For the first time in a long time I was driving to a race weekend all by myself. Once I was on the road I pretty much stayed on-task, stopping only once for gas / bathroom. I got there around 8:45. Randy had reserved pit space for me, Brad Johnson and Brian Mullins. I pulled in alongside Randy's rig, unloaded enough to clear out trailer space and made it an early night. For the first time since getting the enclosed trailer I slept in it. It was great, especially compared to the much more claustrophobic confines of the "Hotel Silverado."

Saturday morning I got up, changed out the coolant for plain water, checked a few other things on the bike, then proceeded to registration and tech. Everything went smoothly. With all that resolved I had awhile before my first session, as I was in practice group 5 this time. I decided some breakfast would be good but didn't want anything too filling. I preferred the idea of maybe some oatmeal, but I didn't have oatmeal or a microwave at this point. I went to the concession stand to see if they had any of those "Grandma's Oatmeal Raisin Cookies" on the counter but they didn't. I was disappointed. Instead, I had a sandwich with ham and cheese for breakfast. Not that bad, but hardly the energy content I was hoping for.

During the first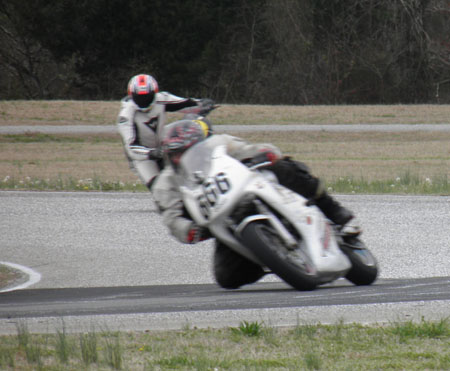 Another angle on the 90's

practice session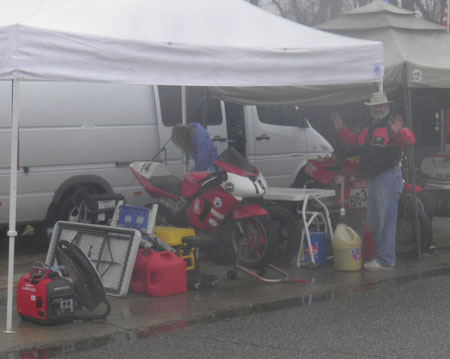 Morris tries to keep dry.

Saturday morning I actually had an opportunity to get into a good battle for track position with a kid on a mini named Palmer Kling. He's probably going to be really quick one day. Could possibly be the next Jake Lewis for all I know. I hope to be able to look back and remember the day I outbraked Palmer consistently into T2 at Tally, sliding in underneath him only to lose the position under acceleration out of T3. We went back and forth several times during that session. It was really fun. I wish I had mounted the GoPro camera for that session but that's how it goes. My best lap during that session was a 1:10, nothing spectacular.

The next session was the last dry session I ran all weekend. I bettered my laptimes, putting up some 1:08's, but didn't enjoy any battles. Mostly I just passed the ninja 250's and the occasional mini. I did run the GoPro during this session.

I had signed up for a Solo 20 on Saturday afternoon. For only the 2nd time ever I went onto the track wearing rain tires. I still had Dewayne's set of Pirelli rains that I had taken to the GNF in case they were needed. I was amazed at how much traction the rain tires afforded me in the rain and did, indeed, manage to gain the confidence to get my knee down in several of the corners. The bike would occasionally slide a bit, but it was always a gentle slide, more of a warning than anything else. It was very managable.

During the solo I got off to a very slow start, not at all comfortable with how much traction was available with the rains. As my confidence grew though I began to reel in the guy ahead of me. There were only 5 of us in the race. Palmer Kling ran away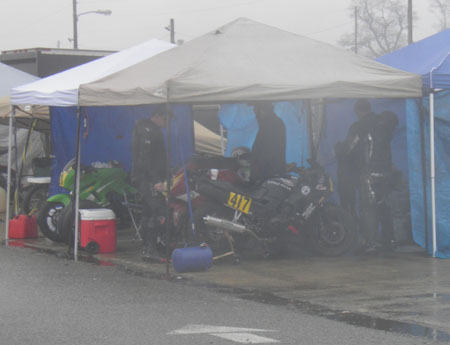 Karl, Stephen and James try to keep dry and warm...

with the win, posting a best lap of 1:10. Brian Mullins came in 2nd. Chris Lane was the guy ahead of me at first, but I saw him "coming back" to me about mid-way through the race and I knew I had plenty of time to get him if all else stayed equal. Sure enough I caught him and effected a pass. I never saw him again during the race. He evidently gave up after I passed him and came in. I never found out what happened, but since he was out there Sunday it must not have been too serious.

Saturday evening we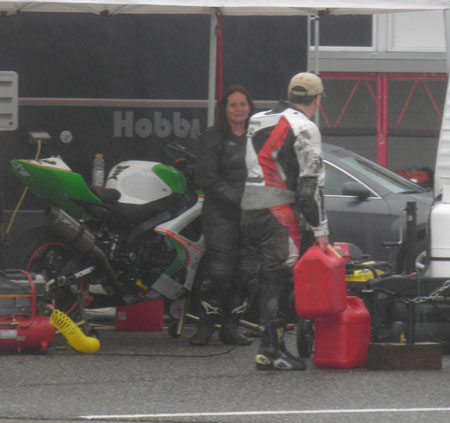 Dawn and Mark prepare to go play in the rain.

all went to Outback for a steak. It was great. When we finally made it back I once again hit the sack early. This time it was much colder than it had been on Friday night.

When I got up the next morning it was raining and I had no intention of going out to practice in that mess. Instead I just took my wheels off and got Stickboy to mount my DOT's that I had bought way back at Cycle Jam in VIR. They only had maybe two or three practice sessions on them and were still practically brand new.

When I went to my pit the first time though I noticed something strange. On the seat of my motorcycle was an oatmeal raisin cookie with a note scribbled on a napkin underneath. The note simply read, "Not a grandma's cookie... but good morning!!"

I wondered at first if one of the people at the concession stand had done this. But it didn't make any sense. They would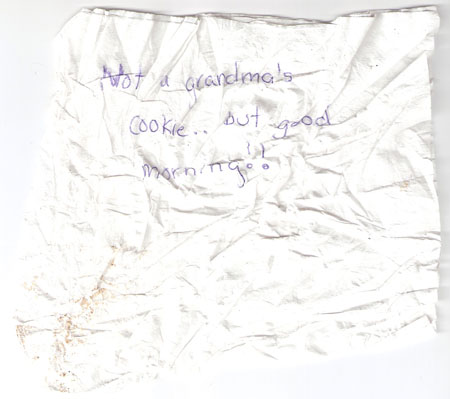 What a nice thing to do!

have been unlikely to know who I was to begin with, or where I was pitted. Sure, I'm a recognizable-enough person, being an older, overweight guy in the game, but still. It didn't make sense.

Eventually I discovered that it was Brian Mullins' girlfriend who had done this. I told her it was very sweet, which it was.

The weather forecast kept saying the rain would move out around noon. That's when the race day was scheduled to start. I was in race 5. Believing that the rain would cease and a dry line would appear I mounted my DOT's. That turned out to be the wrong move although it was based on the best information I had available at the time. I ended up finishing 4th, with a best time of 1:15. Unfortunately I let up right at the end and Chris Lane managed to ease past me at the finish line. If I'd had any idea he was that close to me I would have pressed a bit harder and gotten another podium.

Most important lesson learned during this race weekend: Dag nabbit, don't let up unless you're absolutely certain you've got an insurmountable lead.


Back to my Motorcycle Racing Pages