George McConnel's Motorcycle Racing Blog
Dates:
October 27-30, 2011
Track:
Road Atlanta (Braselton, GA)
Bikes:
2001 Suzuki SV650
Weather:
Mixed weather: some clear, some rain, some cloudy. Cool with highs around 60-70 each day.
Sponsor:
LearnToRide.Org
Conducted By:
WERA

Track Diagram

Road Atlanta is a 2.5 mile track with many elevation changes. The highest point on the track is turn 11, which is 75 feet above the start/finish line. The lowest point is at the end of the "Esses", right about that last kink before turn 5. That point is 40 feet below the start/finish line. The back straight (which has two minor bends in it labeled 8 and 9) is almost 3/4 of a mile long, and it is not uncommon for race vehicles to approach 180 or more MPH on that section. From turn 9 to turn 10a you are going downhill. This makes for a challenging situation as racers must judge how to brake without running off the track while maintaining enough speed to keep other racers from passing them at that point. The good thing is there is a long runoff on the other side of turn 10 with lots of soft gravel in case you make a mistake.
I'd arranged for some time off from work so I could leave on Wednesday afternoon. Randy and Susan had left earlier in the day but they weren't able to secure pit space enough to reserve us something alongside their pit. By the time we got there Randy and Susan had already left to spend the night at Jeff (Mr. Microphone)'s house. I didn't know where they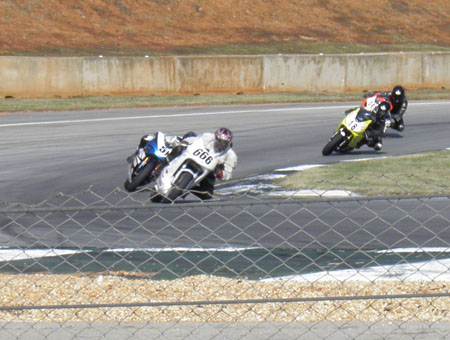 During practice I power out of turn 5.

had pitted for sure but cruised around until I found an open slot. As it turned out that slot was near Randy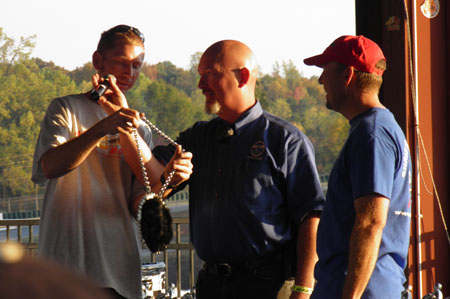 During vintage awards Stickboy awards
a medal made from an old rear sprocket.

and Susan, just on the other side of the lane and with one pair of pits separating us.

The plan this time was to get there, get unpacked and get some sleep on Wednesday night so I could practice on Thursday. This actually ended up working out quite well, as I was in practice group 5 and was able to have a rather leisurely morning getting ready for a change. Much better than the experience during Cycle Jam at VIR.

The registration line was almost non-existent, but I had preregistered anyway. I filled out a sign-up form to add Thursday practice to my agenda, went straight to Evelyn Clarke's pre-registration line, got my endurance registration and paid for the practice sessions. Tech was equally quick and painless. In minutes I was kicked back, ready to go with a lubed chain, tire warmers doing their thing and the pressure gage out on my seat to remind me to check the tire pressures in about 45 minutes.

Logan got up about that time and while we were standing around talking he asked if I had enough fuel. I hadn't checked the fuel tank, so I was glad he had asked. However, the tank was still nnearly full from the VIR round, as the race got red-flagged with about 10 minutes left. Randy hadn't been on the bike more than about 10 minutes by that time because Quentin had come back in and we re-filled before Randy went back out half-way into the final hour.

My session came up and I headed out onto the track. The tires were already warm and the track had been conditioned with

rubber by this time so my confidence was pretty good. I took a lap to get loosened up, then began dragging my knee sliders around the corners. The track was familiar and it was as if I had just been practicing on it a few days ago. In reality I hadn't been on this track in 15 months. I didn't even think about that until much later.

My laptimes were fairly comparable to the last time I was on the track, although I was just a bit slower overall. During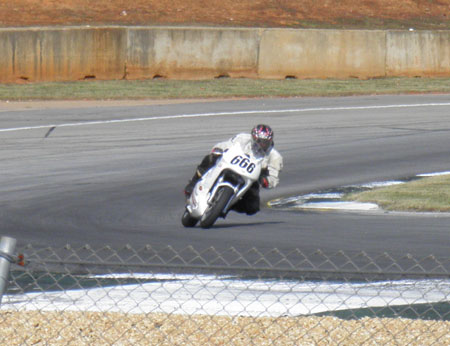 My first lap coming through turn 5.

my last trip to Road Atlanta in June of 2010 I put up some 1:52's. The best laptime I put up this past weekend was a 1:53.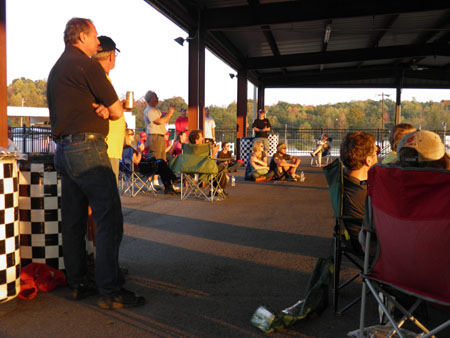 A group of folks watch vintage awards as
the sun goes down.

Still, it isn't that bad, considering that the previous laps were before my big crash at Nashville. I definitely ride just a bit more cautiously now than I did then. Overall I'm not disappointed. I think with more practice I would have been able to get back into the 52's.

After the problems I had dealt with during our last enurance race at VIR I was bound and determined that this time I would be prepared better. I was absolutely not going to have to wait for a trip to Stickboy for a tire change during lunch time this time around. I contacted both Dewayne and Kurt and ended up with two spare sets of wheels. Dewayne's wheels had good rain tires mounted, so if I used them with slicks I'd have to have the rains re-mounted before returning them. Kurt's tires had old rain tires that he was fully prepared to toss, so it made better sense to mount the new set of slicks on Kurt's set of wheels rather than putting them on Dewayne's. That way Kurt could keep the slicks and use them for practice if he wanted to. Meanwhile, we'd have a complete set of slicks pre-mounted and ready to go so that during the lunch break all we'd have to do is change the wheels. Best laid plans...

I had four practice sessions on Thursday, after which I decided that was plenty for the time being. I told Randy, Kurt, Logan and Brad that they were welcome to share the practice sessions for Friday morning before endurance. Logan took the bike out during the LW practice session. Brad took it out during the first half of the endurance practice, then pitted in and traded off to Randy. Randy took the bike out during the second half of endurance practice and ended up crashing in turn 10A on what would have been his last complete lap of the practice session.

Regretably, Randy's crash put us into a bit of a panic as we tried to get the bike prepared for the race. Running against the clock we changed out a broken clip-on, found replacement parts for a broken clutch lever and gear shift lever, and effected other necessary tweaking of bodywork, frame sliders, etc., in order to get ready to re-tech. We also did a tire change once we were comfortable that all the other issues had been resolved. A tech official came over to re-tech us in the pit which saved us some precious time. He discovered a loose footpeg and we had to re-fasten it. He also pointed out looseness in the exhaust can which I could see was becoming an issue again as it had in the past at Roebling (and that one time when it actually came apart at Talladega). I'll have to re-rivet the rear cap on the exhaust can yet again. The good news is I have all winter to get it done now.

Somehow in the confusion none of us thought to wrap the new tires with warmers and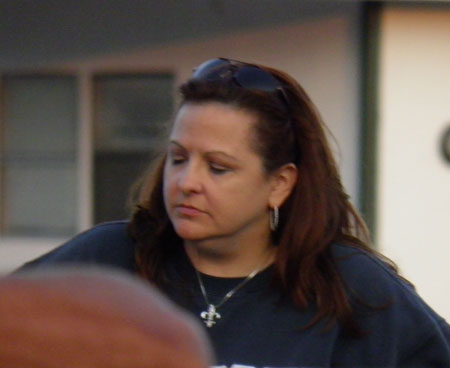 Susan Woodward blinks just as I snap.

have them warming wile we worked on the bike.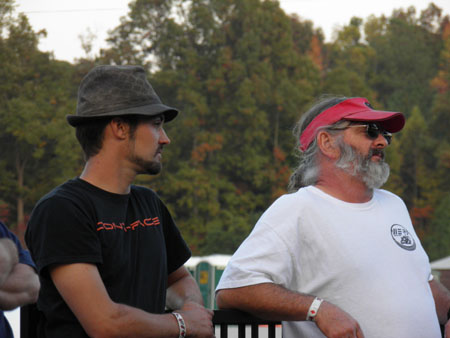 My friends Brian Mullins (left) and Morris Foor

This would have been the sensible thing to do. Since we didn't do it Kurt ended up having to take to the grid once again on cold tires. To make matters worse none of us had thought to go get our grid position, but it didn't matter. Kurt lined up in back of the grid, just as he had done at Roebling. Good news was that we didn't have to wait for Stickboy to mount the tires with everything else going on. Bad news is that we completely blew away any advantage we were going to have by scurrying around to get the bike back on the grid before the three minute board went up. At least Kurt got a sighting lap each time it happened to him. I wasn't so lucky at VIR.

So Kurt mounted up and attempted to start the bike. It wouldn't start. We frantically checked around to make sure everything was okay. Randy said, "The engine was still running when I was on the ground... I had to shut it off." I suggested let's just push start the bike. The bike push-started just fine. About that time I realized that I had noticed the clutch switch cable was unplugged. I reached under and plugged it back in, confident that when Kurt pitted in the bike would start back up just fine for Brad.

At precisely 11:30 AM the green flag fell. The start was uneventful. Kurt ran his normal pace, one that belies his sensible reluctance to push hard on someone else's equipment. His laptimes were roughly 1-1.5 seconds slower than nearly everyone else's. He came in after 30 minutes to give way to Brad.

We had a good looking pitstop. I fueled while Logan held the fire extinguisher and Randy checked the tire pressures, backing them down to 31/31. They were a bit high. Unfortunately the bike still wouldn't start with the electric starter, so we had to push-start Brad again. No problem, a quick shove and he was off.

Brad was planning on running a 50 minute session. As soon as he went out I announced that I was going to take the fuel cans to a gas station and re-fill them. I was also going to stop at a parts house to get some hose clamps to try to fix the problem with the muffler. I stopped at the Advance Auto Parts house in Gainesville, GA and there was only one guy working the counter. He was busy talking to this customer, walking all over the store and getting stuff for the guy, whose two children were constantly running around and distracting both of them. He finally made his way back to the counter where I had been standing for probably 10 minutes with what I needed to purchase. He said, "Let me get this guy taken care of..." and rang me up (thankfully) before continuing his marathon session with the other customer. Needless to say as I was walking out the door the other two employees came walking back in.

This became an issue for me as when I finally did make it back to the track I discovered that Brad had evidently not been able to last out his entire session. Randy was already preparing to mount up and they were filling the tank. I parked the truck as near-by as I could and ran with the hose clamps to the pit, barely getting there in time to keep Randy from taking off. We clamped the hose clamp around the back of the muffler and cinched it down real tight. The can snugged back up nicely and felt solid.

We pushed Randy off and he ran his entire 55 minute session. While he was out the skies really started to darken considerably. The forecast was that it would begin raining somewhere around 2:30 or 3:00 PM. Since we had left Dewayne's rain tires mounted we had the luxury of being able to switch to rains if it looked like it was a sensible thing to do. I figured that we would do so if it started raining with at least 45 minutes left in the race. Any less than that and it wouldn't be worthwhile to do the tire change in my opinion. Logan was willing to continue circulating on the slicks if that happened, and the difference in laps wouldn't be great enough to justify the time it would take to complete the tire change.

The rain continued to hold out. Randy pitted in right at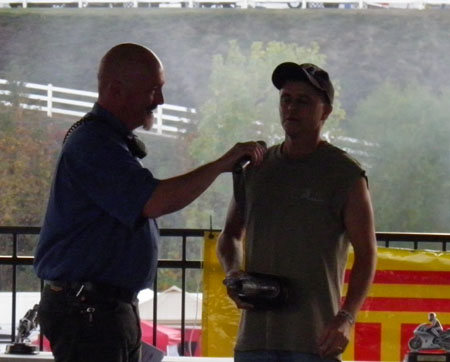 Randy takes a vintage award!

1:55 PM. This left us with 95 minutes to split between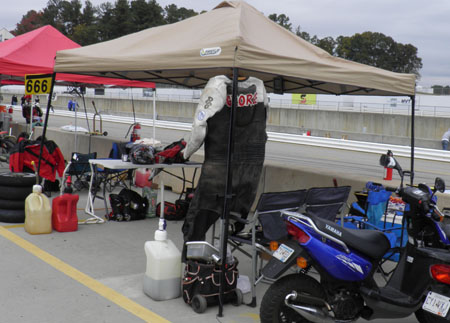 Endurance pit is set up and ready for business

me and Logan. I told Logan I was going to ride until 2:30 and pit in. This would leave him around 1 hour of riding time. If he needed to come in before that we could send Randy back out. He figured he'd not have a problem handling an hour.

So they pushed me off and I began circulating. I wasn't pushing hard, just running a marathon pace. About 20 minutes into my stint the red flag came out. I pitted in, parking the bike on the far side of pit lane, where Randy put a rear stand under it and I walked back to the pit. Endurance rules prohibit anyone from touching the bike during a red flag.

We waited out the red flag, which put us just past 3:30. I told Logan I'd like to ride another 10 minutes then I'd pit in and hand him the rest of it. We'd need a refuel stop anyway, so this would work out just fine.

I ended up getting a pretty decent launch and was right in the thick of the pack as we tipped into turn 1 and headed up the hill. I held my own for awhile as things got sorted out, then noticed that I was catching up with the "Jolly Roger" bike (#13).

As I reeled the 13 bike in I effected a bit of a block pass around turn 7 but he managed to pass me back on the back straight. We ended up with a bit of a battle for position for awhile as I kept catching him but not being able to make a pass stick for his superior drive on the straights. Unfortunately this little race within the race had to end early because my 10 minutes were up. I pitted in and gave the balance of the time to Logan.

We pushed Logan off and he circulated around the track at what turned out to be the best times any of us had run all day. As his session continued and he got more comfortable he managed to put up some 1:49's, almost making it into the 1:48's. Very respectable!

Somehow the rain managed to hold off until after the endurance race was complete. Kurt and Brad were both racing later so we were unable to get a group picture at the end of the event as we have done in the past. Still yet it was a great event and we all enjoyed ourselves.

As soon as the endurance race was over I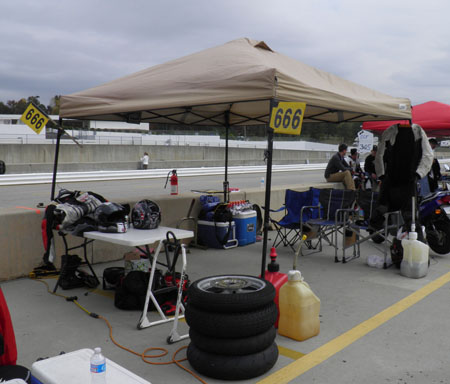 Endurance setup from the other side.

officially became a spectator. Good thing too, because there was plenty to spectate. Even after the endurance race was over there were 5 more sprints to watch. I was busy tearing down the endurance pit for most of that time, but I did still manage to watch Brad race with the Heavyweight Twins class.

During the awards presentation on Friday afternoon Brad took a championship in Heavyweight Twins. That evening it sprinkled a time or two and then the bottom fell out of both the temperature and the clouds. Karl Lemmer and I enjoyed some time sitting under the canopy with a few beers and cigars but it just kept getting more and more unpleasant. Eventually he offered to let me come over to his place to sleep, an offer I gladly accepted.

Saturday provided some great race action as the finals of the regionals took place. The clouds blew out, leaving things a bit chilly in the morning but quite sunny. We watched a lot of race action from the turn 5 "spectator hill". That evening was the night of the halloween trick-or- treat for the kids, then a more grown-up party across the track in the chalet. I ended up not going to the party as it was once again unpleasantly cold and I was pretty tired. Karl and I packed up and headed back over to his place for a good night's sleep. I fell asleep almost as soon as I lay down on the couch in his living room.

Sunday morning was fairly uneventful. More racing to watch, a really good stunt show by a guy on a Hyosung 650 in the Turn 7 spectator area (the skid pad), and it was also enjoyable watching the kids race around the go-cart track on the mini's for awhile.

John MacDonald showed up as I was packing my pit and Logan and Katie were out watching some races. We talked for awhile and he explained that he had been busy and out of town for much of the weekend, which is why he hadn't been there. It was good seeing him again.

Well, all good things must end, and such it was with the 2011 racing season. We got the rig loaded up and headed out about 1:30 or so in the afternoon. The trip back was marred by a clogged fuel filter around Murfreesboro. I got under the truck, removed the fuel filter and blew it out to empty whatever was contaminating it, reassembled and we were on our way again. We got back home around 6:30 PM.

I'm still tired two days later, but it was a great weekend.

Most important lesson learned during this race weekend: I still need to figure out how to get more acceleration out of the SV650!


Back to my Motorcycle Racing Pages