George McConnel's Racing BLOG
Date:
August 3-7, 2011
Track:
Virginia International Raceway
Bike:
2001 Suzuki SV650
Weather:
Mostly sunny, highs around 100. Occasional heavy thunderstorms
Sponsor:
LearnToRide.Org
Conducted By:
WERA

Track Diagram

The Virginia International Raceway is designed so that it can be run in no less than 5 different configurations. WERA (and AMA for that matter) uses only the North Course. The North Course is a 2.25 mile track featuring a series of 17 numbered turns that include many elevation changes. The course is very challenging to learn because of many blind turns and general lack of reference markers. Braking markers are clearly laid out for turns 1 and 7, but other than that the rider is pretty much left to discover reference points on his own. Generally there is good runoff in the event of an off-track excursion. One big exception to that is turn 4 which is not far from an embankment protected only by a tire wall. Not a good place for a crash. All configurations run in a clockwise direction.
For years I've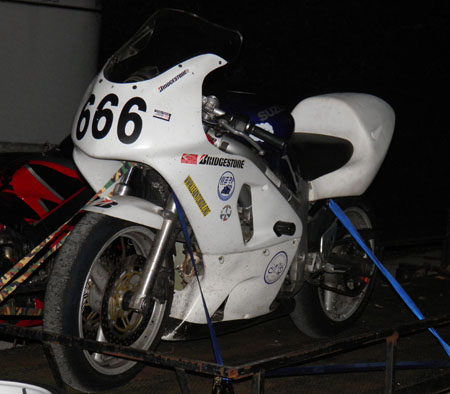 The Peace Beast before the makeover.

wanted to ride VIR myself. I've watched the AMA professionals ride this track many times in the past and thought it looked to be a very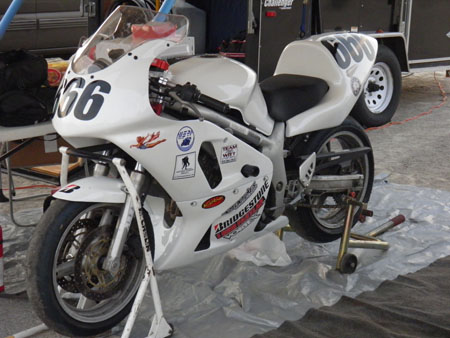 After the makeover!

narrow track with many challenging aspects. I was certainly correct about that as I discovered when I finally made it to this grand facility.

However, there is some prelude that must be addressed before the adventure is to be told. There were modifications made to the bike between the last event and the VIR round. The first modification was the 'new' shock. It was a used shock purchased from eBay formerly on an '03 Kawasaki ZX636. Before fitting it on the SV650 I replaced the spring on it with the stronger 750 pound spring Dave Arkle used to use, but which I have now. This modification raised the ride height slightly on my bike. It was also necessary as part of this modification to tend to the battery tray. The battery had to be moved back a bit to make room for the oil reservoir of the new shock. I fabricated a bracket, using sticky felt pads to provide a soft coushion for the battery itself. The bracket also provided a much better support for the undertail.

The second modification was the tail section on my bike. I had been using the tail section that originally came to me with my RC51 when I first started racing it. Since the bodywork was for an RC51 it did not fit the SV650 properly, but it did fit after a fashion. That bodywork had suffered damage in a crash in turn 2 at Barber back in 2007, so it was somewhat ugly. I finally purchased a tail section for the SV650 off eBay. It is not exactly for the SV650 but it's close. It originally fit a '98 GSXR750. I was surprised at how oversized it looked on the SV650, but it did reach around under the seat and mesh well with the edges of the frame / subframe joints, so it looks much better than what was on the bike before.

Finally there was the paint job. My ugly old SV650 had languished with the rattlecan paint Logan had applied on it since I had started racing it in 2008.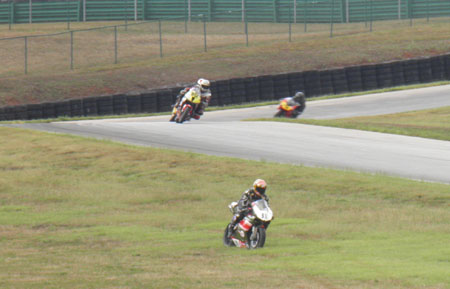 A rider takes an off-track excursion around T14

Randy had made several offers to repaint the bike. It was an offer I was certainly willing to accept, but neither of us had really done much to make it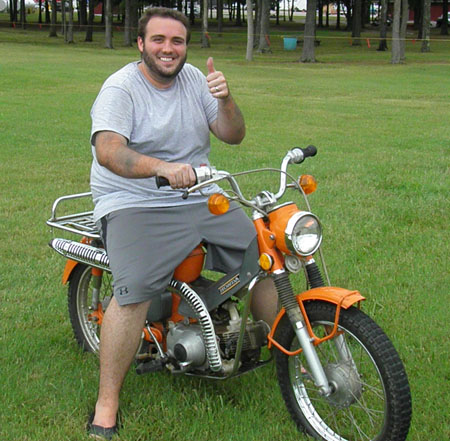 Adam Beer spectates during practice

happen. On Monday, July 25 Randy came over to my place with his trailer. This happened also to be the deadline for fax registration for the VIR Endurance event (well, all Cycle-Jam events for that matter), so I got him to sign the registration form and faxed it in to the WERA office.

I snapped a few "Before" pictures for comparison. We then loaded my SV650 on Randy's trailer and off it went for a face lift. I was eager to see the results, but Randy was determined not to let me see anything until the whole project was completed. I felt like a kid on Christmas morning when the big day finally came. I was not disappointed, either. The bike turned out more beautiful than I had imagined, and I had imagined a lot.

So the big adventure began on Wednesday, August 3. We got off to a very slow start on the day because Randy had gotten pushed for time on completing the paint job on the bike. We ended up not pulling out of Nashville until close to noon even though we had planned on a 7:30 morning start. No matter, it was worth the wait because of how splendid the bike looked.

We got there well after dark. It didn't take long to locate Rob Turner and we set up pit just across the paddock road from his trailer. Concentrating on getting our sleeping arrangements completed we got to bed as soon as I could get my "Hotel Silverado" setup and Randy could get his trailer setup with the air mattress.

I woke early Thursday morning and took care of registration for practice. My bike teched out quickly and I reassembled for my first track session. Annoyingly, I found myself once again in the first practice group of the morning, which seriously cut into my prep-time for the morning. Working all by myself it was a bit rushed to get everything done so I could get out on track for the first session but I really wanted to be out there for as much track time as possible.

Riding around a brand new track on cold, worn-out slicks wasn't the most confidence inspiring way to start the weekend, but I knew that my first order of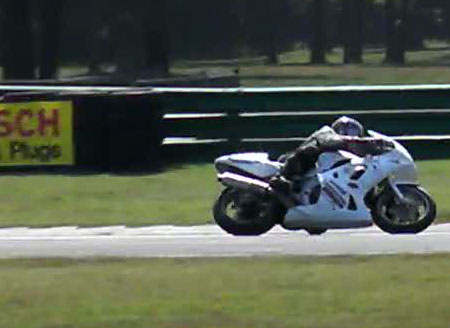 My third lap around turn 3...

business was to get familiar with the track itself. It didn't take me long to discover that there were hardly any reference cones on the track. My first ever recorded laptime on VIR was a 2:11.9. My next 2 laps were 2:01's, after which I did a 1:59, a 1:58 and a 1:57. Things were looking better already.

During my second practice session I did a series of 1:53's followed by a 1:52 at the end. For some reason I was not able to better that time near the end of the afternoon when I did my 3rd practice session on fresh, warm tires. Similarly, my next practice session the next morning offered no better results, with a quickest laptime of 1:52.7. Because of the odd schedule they have for Cycle Jam you just don't get much practice on the Thursday practice day.

Randy was really dragging pretty good by Thursday afternoon. The lack of sleep combined with not much to eat and lots of activity over the last several days had both of us running low on spare energy, but it was really showing with him. He needed something to eat, and soon. There was a lack of communication with the people running the event. They gave us the impression we would be able to setup our endurance pit as soon as the qualfying session for C Superstock was completed, but it turned out that this was incorrect. Dog-tired, Randy and I tossed the tent and other stuff on the back of the pickup to take it over and set it up only to get turned away at the gate to hot-pit. However, an interesting thing happened while I was at hot-pit waiting to see what the deal was.

None other than Kevin Schwantz was standing nearby talking to some people. I walked over and asked if he would mind letting me get a picture next to him.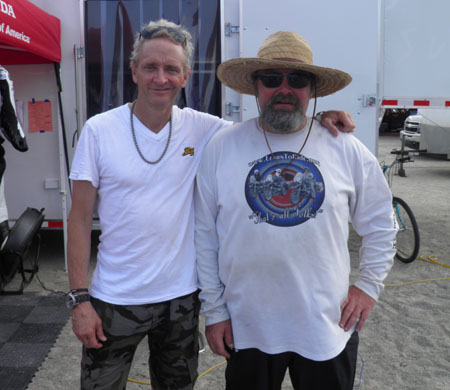 Schmoozing with Kevin Schwantz!

He obliged. It was really cool standing next to the man himself.

We finally got everything settled down, grabbed some food and made an early night of it. We were exhausted.

Friday morning was the day of the endurance race. Each group got one round of practice, then there was a 30 minute "Endurance" practice session. We finally put the GoPro camera on the SV650 and gave Randy a turn on the bike to get the hang of it. Randy started out around 2:08 but quickly dropped his laptimes down to the low 1:52 range. Then over the course of the 30 minute endurance practice he slowly improved to a session best of 1:50.7.

Tim Ivanoff came over and volunteered to help us with our pit duties. We sure needed the help, and it was very much appreciated.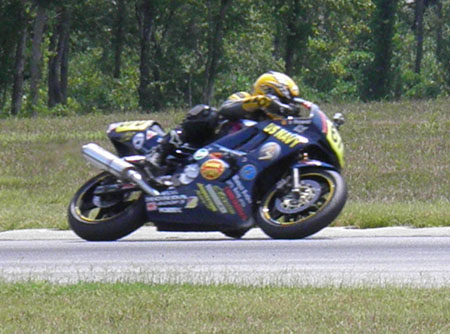 Randy races up T10

During the race he stayed mostly over near pit wall running a stopwatch. During refueling stops he held the fire extinguisher. He's pictured with us in the group picture.

Now it was "go" time. We pulled the wheels off the bike and took them to Stickboy for fresh slicks. Then everyone disappeared while I retrieved the wheels and began reassembling. I put the rear on by myself and was nearly finished installing the front when they started making first call for the race. I still didn't even have my leathers on and was still working all by myself. I realized during this time that I really have to make sure everyone has an understanding that "lunch time" for an endurance team doesn't come until after the bike is on the track. The only rider who gets to relax during the lunch break is whoever is going to take the bike out first. Ironically that was the rider who was doing all the work.

Randy finally showed up and told me to go get dressed while he finished assembling. While putting my leathers on (frantically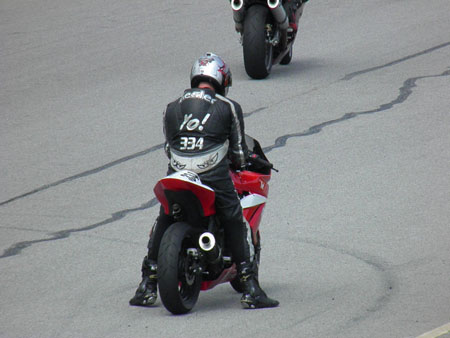 Kurt grids up for ESS Saturday afternoon

at this point, as they were already up to 2nd call) it occurred to me that we hadn't even refueled the bike. Suddenly they were on 3rd call and I was still pulling my helmet on and wrestling with my gloves. As I walked over to the bike I saw the boys there fueling the bike, so at least someone else thought of that while I was away. Unfortunately it took us so long to finish up that I missed my warm-up lap. Cold tires, unknown tire pressure and having to start without a sighting lap. This was really starting to suck.

For the first time ever I had to ride counter-race to my grid position. Lining up on my grid position I waited calmly for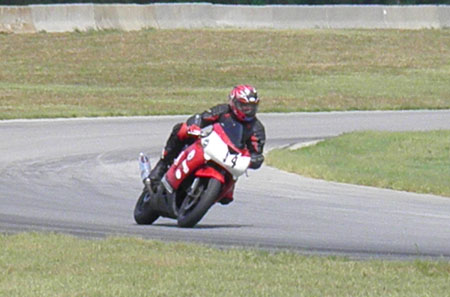 Morris in ESS around T3

the green flag, then took off like I was taking grandma to church. Letting everyone by I eased into the back of the group and accelerated hard to try to heat up the rear tire, then braked hard into turn 1 to heat up the front. The first lap I watched the entire group slide away into the distance as I accelerated as hard as I could in a straight line and braked as hard as I could for the turns, tipping gingerly into the corners. As the 2nd lap began I started pushing a bit more.

I settled into a marathon rhythm, not pushing too hard, saving my energy. I hadn't had anything to eat that morning and probably nowhere near enough to drink either, although I had tried to drink plenty of water and a few gatorades before the event started. My mouth got really dry though during the session, which tells me I could have used better hydration.

As the session progressed I managed to get down into the low 1:50's, turning a personal best of 1:50.8.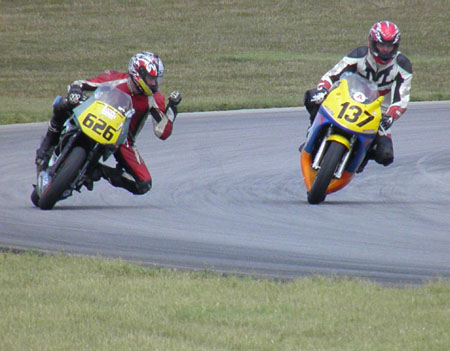 Brian (Kanatuna) Mullins brandishes a (good natured)
fist at his oblivious friend Quentin (RedTailRacing)
Fitzcharles while effecting an outside T3 pass

This would turn out to be my best lap of the weekend as I didn't ride any more after finishing my endurance stint. I rode for right at 1 hour before getting the "N" pit board from my crew. I came in on the next lap, having completed 31 laps in one hour. I had noticed that the rear tire felt a bit slippery in certain areas during my session and made a mental note to make sure we checked the tire pressures before sending Randy out. The other guys had thought of the same thing and were prepared, so we got the pressures down to more nominal settings. I think I had been running about 35 psi in the rear and 33 front.

During our pit stop I helped roll the bike back a bit so Randy could get to the front tire valve stem and check it. One of the track officials let us know that this was a technical violation of the rules as only 4 people could be "working" on the bike at a time (including the guy holding the fire extinguisher), and I made a 5th person in that scenario. He said we could be protested because of that. We thanked him for letting us know and assured him we were only about 75% serious and weren't worried about getting protested.

Randy took the bike out for the second stint of the race. He improved his laptimes during his session to 1:47.8. We gave him an extra 5 minutes because Kurt wasn't that worried about getting right out there. During his leg of the race he completed 34 laps. He ran off track one time, resulting in a 1:53 laptime. By far he was the most productive team member, running the most laps and the quickest ones.

We re-checked the tire pressures when Randy came in and everything seemed to be good. Kurt went out and started his session. Kurt was the slowest rider of the day for us, but he ran consistent laptimes and finished his session. When he came back in the had completed 27 laps, with a quickest lap of 2:00.7.

We gave Howard (Quentin) Fitzcharles a turn on the bike during this round. Quentin only managed to ride for about 25 minutes before his knees started giving him too much trouble to continue, but he ran 12 good laps during that period (for us), posting a best lap of 1:51.8.

Randy had stayed in his leathers and was ready to go back in, so he brought it home, delivering 16 more laps with a best time of 1:46.4. Excellent work!

Unfortunately the race was red-flagged due to the crash of Rob Turner and someone else. We were really worried about Rob but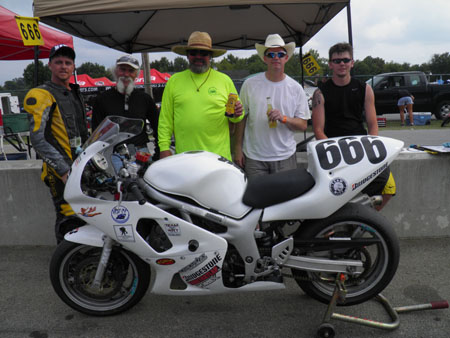 After a hard fought battle into last place it's Millah Tahm.

Left to Right: Randy Woodward, Tim Ivanoff, George McConnel,
Kurt Kesler, Howard (Quentin) Fitzcharles.

it looks like he's just fine, just got his bell rung pretty hard. His bike was torn up pretty bad though. They brought it back to the garage just laying on its side on the flatbed trailer.

Friday evening a group of us went out to eat at the local pizza / Italian restarount in Milton, VA. I had one of the best stromboli sandwiches I've ever had in my life.

Randy drove and I rode with him to Danville afterwards to go to Target and pick up a few supplies for the remainder of the weekend. Partially we needed more libations and other groceries, but I also grabbed myself a new pillow to use.

Several of us got together to enjoy basking in the afterglow of a very enjoyable day of racing. Afterwards we all retired early because everyone was tired.

Saturday morning Randy was going to be racing but I had the day off. It was my intention to spend the day enjoying watching some great racing action and using my new camera to take some pictures.

Unfortunately it was raining pretty hard Saturday morning. Randy ended up practicing in the rain on slicks just to get some track time. Kurt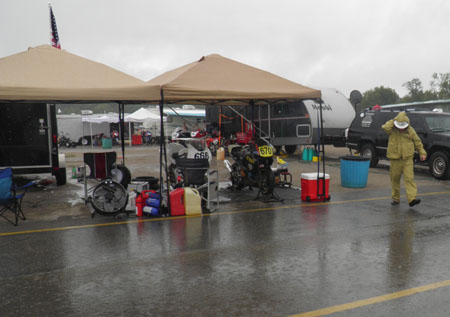 It was a tad bit moist Saturday morning.
Kurt Kesler dresses well for the occasion.

was not interested in getting out in the rain and chose to wait it out. A dry line developed during second practice though, so both of them went out for their respective sessions.

After the rain moved through it actually got sunny for awhile Saturday afternoon. Using Randy's scooter I rode around to various places on the track to take photos and videos. I mounted the GoPro on Randy's bike so he could take some video during his race events. It worked great except he couldn't figure out how to start the video recorder without me there during his final event of the day. That's unfortunate, but we did get two good recordings of entire sprints from the front of his bike. Great stuff.

Saturday evening there came another rain storm, this time with heavy lightning and high winds. Randy and I ended up ducking into his 6x10 trailer to weather out the storm, which trashed both of our pop-up tents. I managed to salvage a single tent frame from the two and saved both canopies. Randy had already decided he wanted a better tent anyway so he was ready to let go of the other one with no regrets.

Sunday morning we packed everything up for the long drive back. Driving from Alton, VA to Nashville, TN takes about 8.5 hours. That's just drive time. It's a long day. We got back with about an hour of sunlight left. That was just enough time to unload my bike at my place and take Randy's trailer back over to his place to drop it off.

Most important lesson learned during this race weekend: Lunch time for the endurance team is work time. Nobody takes off until the bike is ready to roll.


Back to my Racing Blog