George McConnel's Motorcycle Racing Blog
Dates:
April 10-11, 2011
Track:
Talladega Gran Prix Raceway
Bikes:
2001 Suzuki SV650
Weather:
Sunny and mild. Highs around 80.
Sponsor:
LearnToRide.Org
Conducted By:
WERA

Track Diagram

The Talladega Gran Prix Raceway is designed to be run either clockwise or counterclockwise. This weekend's events were conducted in a counterclockwise direction. The redesigned track has been run in clockwise direction once since the repaving, owing to safety concerns.
Round 2 of the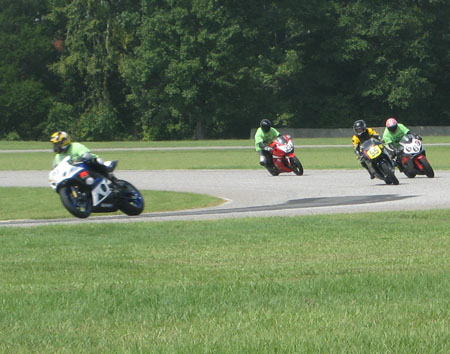 Randy's first time ever on a track
Ed Bargy's instructors are wearing the green shirts.

WERA Endurance series for 2011 would take us to the Talladega Grand Prix Raceway.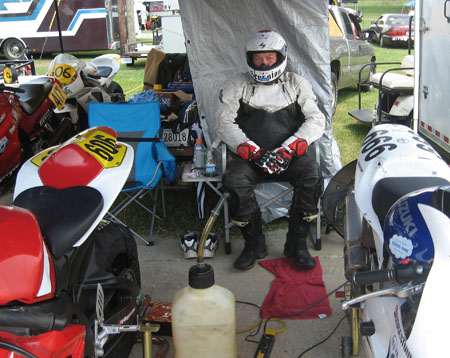 Ready to hit the track. Look at all those bikes!

Here was where Peace Beast Racing's endurance career began. It was a year later and the only person on the team for today who was there a year ago was yours truly. Only Randy and I would be racing this time, which meant that we would end up splitting the 4 hours down the middle -- two hours of riding each.

I took the SV out for practice Saturday morning, running laptimes that weren't all that impressive. The slicks on the bike were the leftovers from the previous round at Roebling. After endurance practice was completed I pitted in and we got to work doing a tire change. Once again we almost ran out of time and ended up having to start the event on (mostly) cold tires. They may have been on the warmers for 10 minutes before Randy went out for his warm-up lap.

In spite of this the race started smoothly enough. Randy ran good laptimes for about 55 minutes, then pitted in so I could take my first turn. We filled up with gas and I was off. About 45 minutes into my first stint I was beginning to get somewhat tired. At that point I was setting up for the farmhouse turn and starting to tip in when I contacted another rider. It was Tim Hunt trying to duck underneath me. I ended up getting punted off into the grass but maintained control of the bike, circled around and re-entered the track. In a way it was a good thing because that incident woke me back up and got the blood pumping. I finished my first stint as the fuel light came on and pitted in.

Randy went out for his second stint, which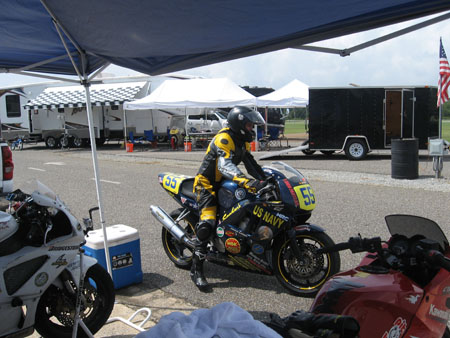 Randy prepares to head back out for more...

once again went pretty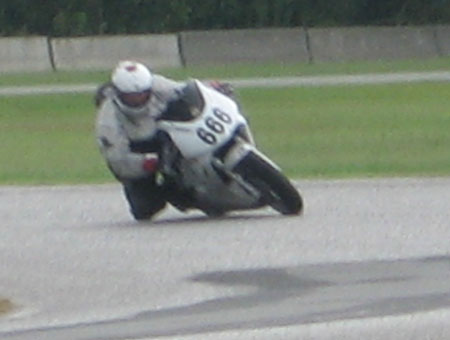 Joe took this picture of me on the 90's.

much without incident, but he was having trouble with cornering clearance. Specifically, he was leaning the bike over so far that the pegs and shifter were scraping the tarmac.

This resulted in a need for a new gear shift lever. About 30 minutes into my second stint I was finding it increasingly hard to shift gears, partly because of the mal-formed lever tab and partly because my muscles were starting to cramp. It took a couple of laps but I managed to settle into a shift pattern that only involved shifting up and down once per lap. This took a lot of stress off my left calf.

The last 20 minutes of my stint were a real challenge. I was battling my personal limits of stamina. Randy could tell I needed encouragement, so he started putting words of encouragement on the pit board. "Go, George, Go!", "Almost there!", etc. It really helped a lot too. Knowing he was pulling for me really helped perk me during those last, long minutes.

He gave me a "5 more minutes!" pit board as the session drew near a close, but the next lap I think it was I saw the checker flag. I was quite satisfied to see that flag at that point and did not in any way begrudge the remaining time I thought I'd be out there riding. I pulled into the pits exhausted and hot. Cold beverages and an opportunity to sit in front of the fan were in order.

Pushing my limits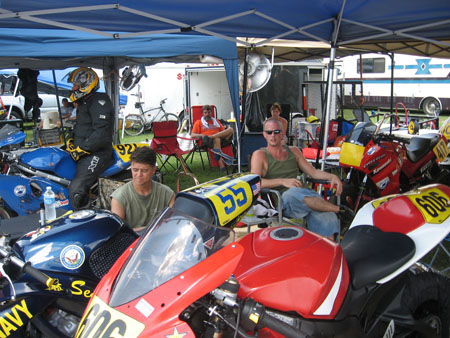 The gang in the tent.
Joe and Randy in foreground,
James is on his bike ready to go, Jan and Stephen in the background.

in this way was a real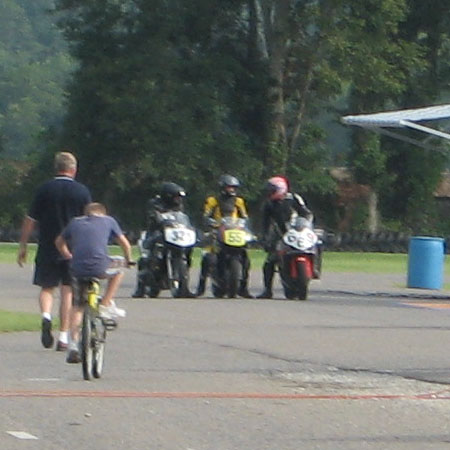 Randy and his instructors after the mock race.

challenge. I had trained for it and had to use my brain a little during the actual event to make it happen, but I did it. We did it.

Randy, too, was very much exhausted at the end of the event. I was surprised when he told me he felt about the same as he usually felt after running a 26 mile marathon.

Most important lesson learned during this race weekend: It's fun to keep meeting new challenges.


Back to my Motorcycle Racing Pages