George McConnel's Motorcycle Racing Blog
Dates:
March 18-20, 2011
Track:
Roebling Road Raceway
Bikes:
2001 Suzuki SV650
Weather:
Sunny and warm. Lows around 45, highs around 80.
Sponsor:
LearnToRide.Org
Conducted By:
WERA

Track Diagram

Roebling Road Raceway is a fast, sweeping track with no hairpins, chicanes or otherwise slow parts. The tightest turn on it (turn 5) still has a radius of about 271 feet for a 90 degree turn. The key to running this track is negotiating all the decreasing radius turns appropriately and of course getting a good drive out of the final corner before the straight. The front straight at this track is over 1/2 mile long and you're already carrying pretty good speed out of the wide turn prior to entering it. For this reason the high powered bikes are able to reach insane speeds before the braking zone for turn 1.
My crash in Nashville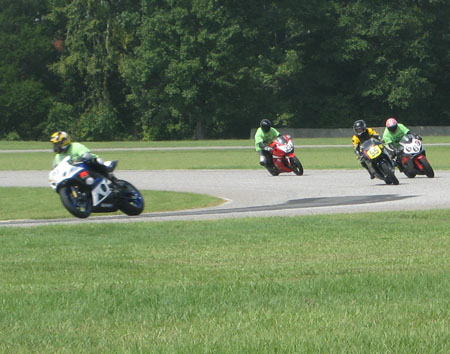 Randy's first time ever on a track
Ed Bargy's instructors are wearing the green shirts.

at the end of the season sidelined me for the entire winter. Since I started racing in '06 this was the first time I went all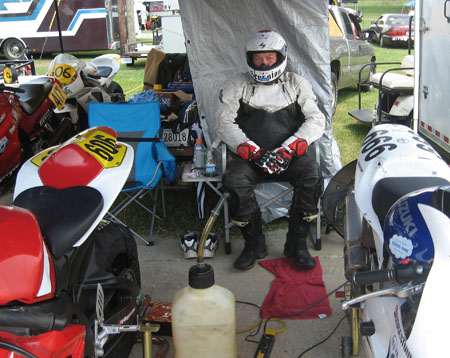 Ready to hit the track. Look at all those bikes!

winter without doing a single trackday anywhere. This is partly because the two main trackdays I would have done (Nashville with Minnie Pearl and Jennings with FLR) didn't happen. But it's also a reflection of the fact that I just wasn't ready to get back on the bike.

I had made a conscious decision to concentrate on endurance racing this year rather than try to make all the regional rounds. Although I went to the regional round at Talladega back in February I only went as a spectator, not a participant.

But it was finally time to get back on the horse. Logan and Joe loaded up the trailer and lit out Monday evening. Logan had an appointment with GMD to have his suspension worked over. I had to work all week but took Thursday off for a travel day and of course Friday for a practice day. I rode down with Randy on Thursday. We got to the track close to sunset, set up pit and hit the sack.

Roebling Road was well known for their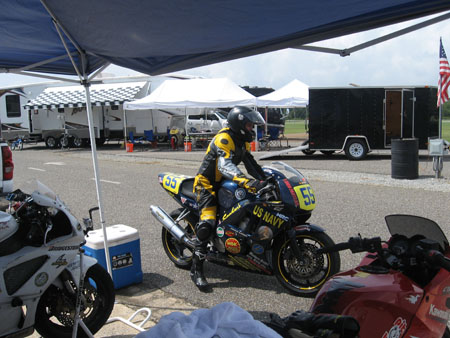 Randy prepares to head back out for more...

tendency to stick to trackside rules.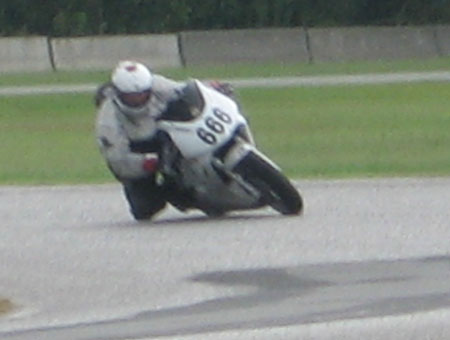 Joe took this picture of me on the 90's.

One such rule that had been in effect for many years was that no pit bikes were allowed. They had finally relaxed that rule for this weekend, but of course it would only take one idiot to ruin that privilege for everyone. I don't know if the person horsing around on a pit bike at 5:00 Saturday morning did it in, but people are sometimes just self-centered idiots, that's for sure.

At any rate, I slept in the "Hotel Silverado" Thursday night. It got a lot colder than I had expected it to based on the weather forecasts, but the track is actually in a rural area and it gets much colder there than it does in Savannah.

Friday morning I got up and prepped the bike for service. I went through tech and discovered that my front tire wasn't yet safety wired. The tech guy also told me they were going to need the other oil plug bolt safety wired, something they hadn't been insisting on before this year. I took care of the issues as pointed out and went on track for the first practice. I got meatballed after about 3 laps and came in to discover that I didn't have a tech sticker. I went back through tech and got my tech sticker, but it was too late to get any more laps in during that first session.

During my second session I felt very uncomfortable. I was on a new track and still trying to recover from the fear factor of having crashed and gotten injured during my previous track experience in Nashville back in the fall. I started finding places where my knee was touching down during that session, but it was obvious that I wasn't that comfortable.

The decreasing radius turns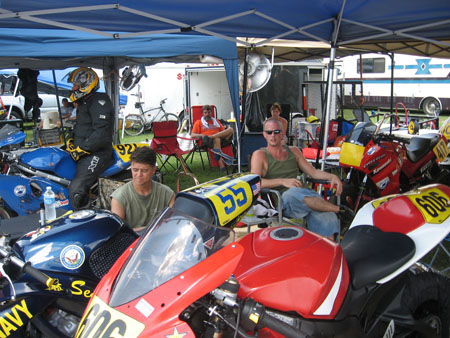 The gang in the tent.
Joe and Randy in foreground,
James is on his bike ready to go, Jan and Stephen in the background.

were messing with me just about every lap.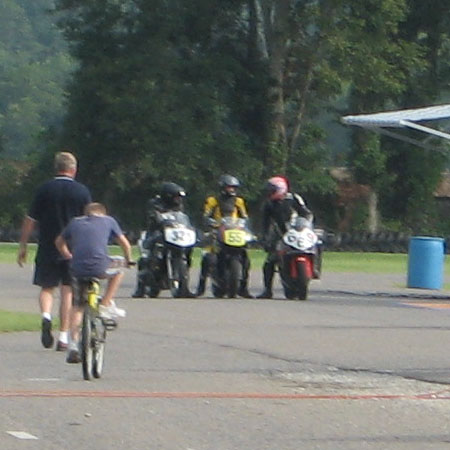 Randy and his instructors after the mock race.

Getting a rhythm for turning in at the right point was taking me longer than I remember it taking before. In reality this was not the case, as I had many laps in on other tracks before I felt comfortable on them. It had been over three years since I had to learn a new track. There is a specific skillset to learning a new track and I'm not particularly good at it.

Be that as it may, I completed the 2nd session and pitted in to discover that Randy was glowing about the fact that he had finally gotten his knee down in a turn. He proudly pointed to the fresh scuffs on one of his knee sliders evidencing this new facet of his riding. I shared the moment with him. Randy improved a lot as the day went on.

Joe and Logan had taken my truck to go to the beach while I practiced, and the truck had my transponder in it. I didn't know if there was a lap timer beacon out, and if there was I didn't know which side it would be on. I had no idea what my laptimes were.

During the 3rd practice session (after the lunch break) I started feeling a little more comfortable, but still found myself spending way too much time looking at what other riders were doing rather than using my own judgement on the track. This caused me to be looking way too short down the track and I was getting frustrated at my inability to make substantive improvement. Sometime during that session I realized I wasn't looking far enough ahead. I looking further ahead and began making some incremental improvements.

The last two sessions of the day were uneventful. I was getting quicker, that was for sure. But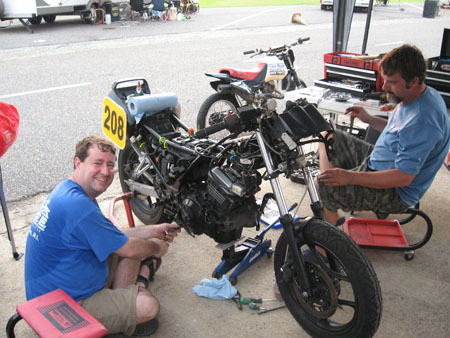 Karl and Stephen do a little maintenance...
Oh, just an engine swap...

I still felt like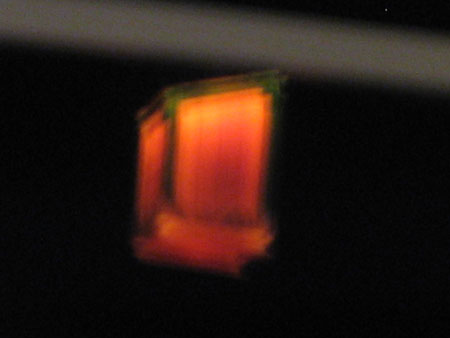 My new decorative "Outhouse and Toilet Paper" pit lights

There was a lot of room for improvement (even by my standards) by the end of the day. I let it go.

Sherry flew in from Nashville (via Charlotte) rather than driving down. This saved her a lot of time and still allowed her to get down to the track and enjoy the ambiance of Savannah in the spring.

With Sherry there we got a hotel room for the evening, so I got a much better night's sleep. The next morning we both got up before the alarm went off. We got ready and headed to the track. Even with our early start there was still a lot to do to prepare for the endurance race, not the least of which was making number plates for the tent (since somehow I had neglected to grab the ones I used last time). We moved the tent over to hot-pit and set up shop there. Carlton drove in around mid-morning and visited with us during the race.

I ran the endurance practice on my bike, asking for a "10" and an "N" pit signal (10 minutes and an "N" at 15 minutes) so I could get the hang of watching for pit signals. I came in at the "N" signal, got a quick drink of water and took back off. Kurt was mounted on his bike to follow me out as I went out for my 2nd part of the practice session. I went back out with Kurt in tow on his bike. I felt some rear tire slide during the first lap as I tipped it down for turn 6. This warning from the tires caused me to get cautious for the rest of the session.

Once the 30 minute endurance session was over I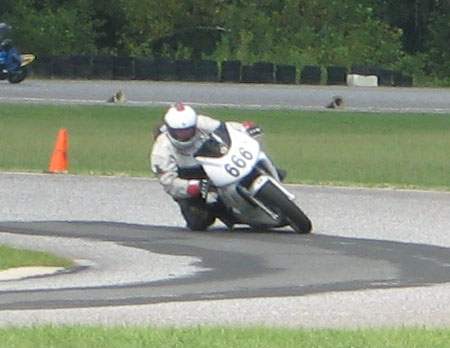 Sunday morning practice.

pitted in. Randy and Brad got busy changing tires while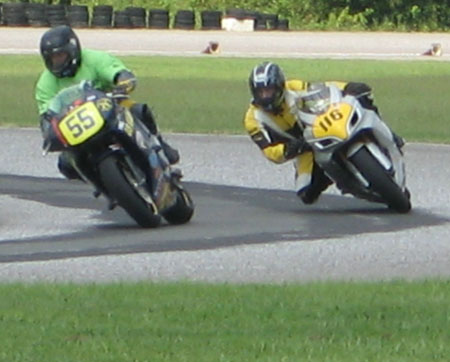 Randy during Sunday morning practice.

I did an inventory of what all we had ready and any last minute details we needed. It occurred to me that we might be low on gas, so I decided to run to the station for some more. Randy went with me. When we got back we heard "1st call" for the endurance race. We had no clue how close we were cutting it to being locked outside the gate for the endurance race. That would have really sucked.

But we managed to get inside just in time to help finish with safety wiring on the tires and get the bike ready to go out. That was cutting it way to close for sure. Kurt mounted the bike and took it for a warm-up lap on cold tires. He decided to start from the back of the grid since his tires were (at best) questionable. Probably a wise move. He got a great launch in spite of that. The first hour went uneventfully for us as Kurt reeled off a series of uninterrupted laps. Sherry displayed a pit signal every 10 minutes so he could know how long he'd been out there. At about 55 minutes he tapped his helmet and we got ready for him to come in. I had planned on riding 2nd shift, so I was all geared up and ready to go when Kurt pulled in.

The pitstop went well and I was back out quickly. I settled into an "endurance" rhythm quickly and found myself feeling more competent on the bike than I had all weekend. I kept braking well early for turn 1 and arguably carrying considerably less speed than I could have carried through turn 1, but the much tighter turn 2 kept me from being willing to take any chances with higher speeds without plenty of laps to get a sense of the timing.

About midway through my session the red flags came out. This red flag was caused by oil on the track. It was about a 20 minute down-time. I told everyone I'd ride until the half-way flag was displayed and come in immediately after that. The flaggers forgot to display the half-way flag, so I was just circulating with no signals from the pit and no idea whether or not we'd ever see the half-way flag. Finally my pit crew got smart and gave me an "N" signal. I pitted in at the end of that lap.

Randy went out for the 3rd leg of our race and ended up putting up the best laptime of the four of us - a 1:26.003. When we were filling up the WERA tech guys eyeballed the muffler on my bike. It seems the pop rivets were coming out of the back of the can this time. This can has had more trouble just holding together than any can I've ever had. They decided it looked like it should hold together for another hour.

Logan mounted the bike and finished the race, riding for approximately 55 minutes. When he pulled in the end of the can was visibly separating badly. But at least it did hold together. Obviously some work will have to be done on the can before I can take it back out on the track, which I plan to do at Talladega in a couple of weeks.

Logan and Randy raced on Sunday but Sherry and I went to Savannah and acted like tourists all day. It was a great weekend.

Most important lesson learned during this race weekend: Not much learning this time. Sorry.


Back to my Motorcycle Racing Pages