George McConnel's Racing BLOG
Date:
September 25-26, 2010
Track:
Nashville SuperSpeedway
Bikes:
2001 Suzuki SV650 and 2002 Honda RC51
Weather:
Warm and sunny, Highs in the upper 80's.
Sponsor:
LearnToRide.Org
Conducted By:
WERA

Track Diagram

The Nashville SuperSpeedway is a combination track. NASCAR racers use the outer oval, basically just a large concrete track with a back straight, two ends and a tri-oval front "straight".

The road course drops off the tri-oval into the infield, winds through turns 1-6, then exits briefly onto part of the back straight before dipping back into the infield for turns 7-10. Turn 10 is a long non-banked sweeper that exits back onto the front straight. There are transitional seams at each of the four places where the infield road course joins the NASCAR oval. At these points you have to be careful to choose a line that avoids too sudden a transition or you end up getting jarred really hard.

Much like Daytona, races are started from pit lane because the start/finish line is on a steep bank.
My final race weekend of 2010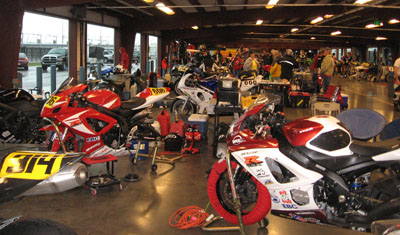 Our bikes are packed into the garages
NSS is really busy this weekend.

was a mixed bag for sure. A crash ended my 2010 campaign and nearly caused me to give up on the sport altogether.

Leading up to the weekend I was excited about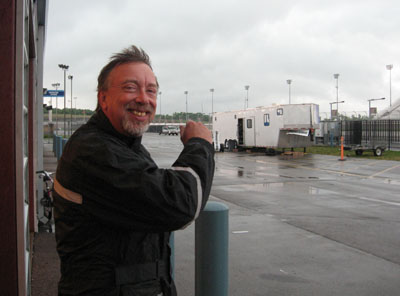 Dewayne surveys the wet paddock
prior to his Solo on Saturday.

the possibility of getting my RC51 back on the track again. It had been ridden some this year (including some track time I did at Talladega when it started acting up again), but I hadn't actually raced it all year. Brad Johnson managed to fix the nagging problem with the engine cutoff switch at Barber and the bike was running great. I bought a new chain slider and mounted it this time with some weather stripping adhesive to make sure it didn't come off as it did before. I also installed a brand new chain this time in case the chain slider issue was somehow related to a bad chain. Theoretically everything should have been perfect.

So I pre-registered for a Solo 20 on Saturday on the SV650 along with the venerable Heavyweight Twins Superstock on Sunday and Lightweight Twins Superstock. This would give me a good day's riding each day.

Saturday was great. I ran both practice sessions on the SV650 and put up decent numbers. I had the GoPro camera and the key fob cameras available for on-board video, and I was looking for plenty of other pictures from Sherry, Randy, Catt and anyone else wielding a camera while the track was hot.

Saturday afternoon came along and I gridded up for my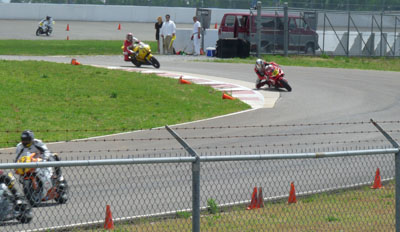 Logan and other novices in C Superbike

Lightweight Solo 20. As always I wasn't riding because I expected to win any money in the event. I just enjoy racing in it for the track time and the occasional battle. On the grid with me was Steve Webster on his SV650. The rest of the experts pretty much ran off and left us (I think there were three others). I got a poor launch with a couple of wheelies once again, and by the time I recovered Steve was in front of me. One of the novice riders was hot on my tail but did not manage to get around me. Instead I slowly reeled Steve back in and pulled a bit of a gap on the novice group. After about three laps I was right back on Steve's rear wheel and looking for a place to pass. I effected a pass as we entered turn 1. I figured I'd start gapping Steve because he didn't seem to have the pace I did. I was wrong about that. Steve passed me back a couple of laps later. From that point on we diced back and forth, me passing him in some places and him getting me back in others. It was a great battle.

But at some point in the race I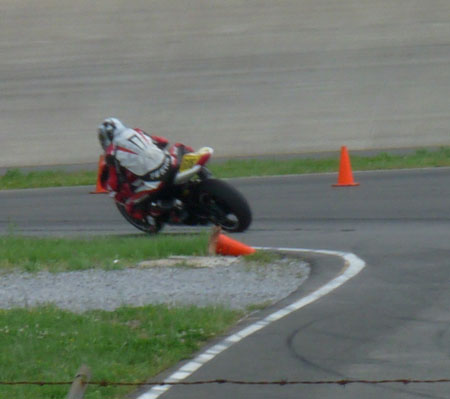 Logan exits the chicayne onto the apron turn

discovered that my left handgrip had almost come completely off. As I entered the back straight I tried to bang it back into place. Once I had done that I looked up and was surprised at how much time this cost me. Steve had a rather healthy gap on me at that point. I put my head down and tried to run some good laps and reel him back in but in the end we were running nearly identical lap times. After all that excitement I ended up having to settle for a "last" place in the event (although I did outpace all the novice riders).

Sunday, however, was a different story altogether.

Running two classes meant I was going to get 4 practice sessions in. Two in the lightweight category and two in the "750 & up" category on the RC51. During the first heavyweight practice session Brad Johnson and I weren't anywhere near each other. Actually, that's not quite true. Brad said he could see me at first but I was riding too fast for him. This was mostly because he had his TL1000 on the track for the first time since last year when he crashed it at Road Atlanta, and he was getting used to it again. During the 2nd practice session I went out behind him and followed him around for a few laps.

With each lap I was finding areas where I was definitely stronger than him, but I was having a hard time finding a place to effect a pass. I held off braking a little longer for turn 1 and came right up behind him. We settled into the apex of the turn and everything seemed okay. Suddenly and without warning the rear tire broke loose and I went down hard. I don't really know what kind of speed I carry through that corner, but it's probably somwehere between 80 and 100 mph. The bike ended up flipping and destroying the footpegs on both sides of the bike. The right side engine case also got busted and there was other considerable damage.

I slid briefly on my left side, then started rolling. When I reached the edge of the track and transitioned onto the grass things got real ugly. I was tumbling, flipping and the whole thing seemed to last for minutes. I don't know how many times I did face-plants during the crash, but when I finally came to a stop my face shield was gone, my mouth was full of dirt and I was seeing double.

I stood up to make sure I could. It was obvious that there was something wrong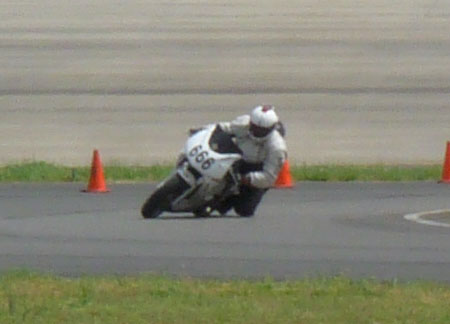 Here I come into the turn 2 hairpin.

with my right hand. My thumb looked like it was about 1 inch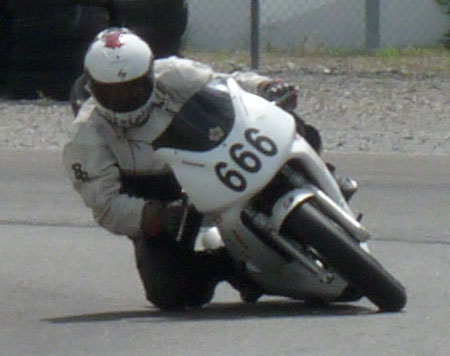 Here's a shot on the turn 2 horseshoe.

long. I figured I had broken my thumb, but as it turned out I had dislocated it.

My season ended abruptly. I told the corner worker to call for the ambulance. Out came the red flags. The ambulance ride was uneventful. Sherry drove me to the hospital where they finally set my thumb. As it turned out there was also ligament damage, so I ended up having to have surgery.

At first (and for awhile afterwards) I was pretty much certain that I was done with racing. But after awhile I've decided I'm not yet ready to let go of the sport. However, I do think the RC51 must go.

Most important lesson learned during this race weekend: Crashing sucks. I already knew that though.


Back to my RC51 Page