George McConnel's Racing BLOG
Date:
September 10-12, 2010
Track:
Barber Motorsports Park
Bike:
2001 Suzuki SV650
Weather:
Mostly sunny, highs around 95. Very occasional rain sprinkles
Sponsor:
LearnToRide.Org
Conducted By:
WERA

Track Diagram

Barber Motorsports Park is a beautiful, purpose built motorcycle racing. track built by George W. Barber, an avid automobile enthusiast who made his fortune in the dairy industry. It features 15 numbered turns, several of which are complexes. It also has many elevation changes. It can also be run as a "short track" wherein turn 5 empties out immediately into the back straight, bypassing nearly 50% of the track.

On the same campus as the track is the Barber Vintage Motorsports Museum, which began as Mr. Barber's private collection of vintage automobiles and motorcycles but now is a fully functional public museum.
This would be the second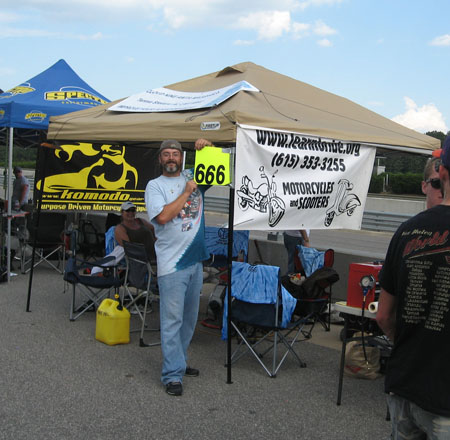 Peace Beast Racing is open for business.

endurance round for "Peace Beast Racing". In preparation for the event I changed the oil on the SV650, checked for loose bolts and other issues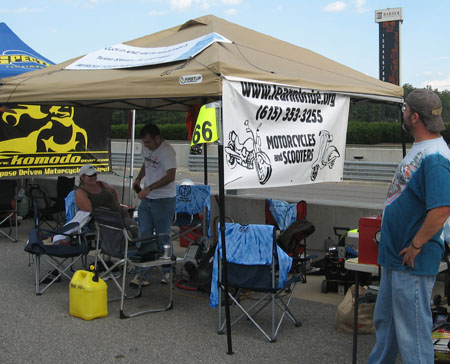 Proudly sponsored by LearnToRide.org and Cloud 9 Sport Massages

that might potentially cause problems, and did some other cosmetic adjustments. I also ordered and installed a new undertail to replace the somewhat damaged plastic one I cut from the lid of a plastic storage box. This one, being specifically made for a first generation SV650, gave me the clearance to keep the tire from rubbing against the undertail. It also looks much nicer than the plastic that was under there before.

So with these improvements in place I loaded everything up on Thursday evening so Sherry and I could hit the road early on Friday morning. Ordinarily Joe and / or Logan would be accompanying me to the track, but this time around Joe wanted to stay here in Nashville so he could go with some friends to the Tennessee State Fair. This would be the last weekend that fair would ever setup at the fairgrounds.

Logan, on the other hand, had other committments. He is in the middle of taking the prep class to become a RiderCoach so he can work MSF classes like I do to help fund his track addiction.

So Sherry and I went down Friday morning, arriving in Birmingham around noon. Randy had agreed to load and carry my SV650 so I could bring the RC51 for Brad Johnson to ride. The other side of my trailer was loaded down with Sherry's bike, which we were going to use as a pit bike as well as transportation whenever the two of us wanted to be in different places.

I agonized for a few minutes about whether or not to pay the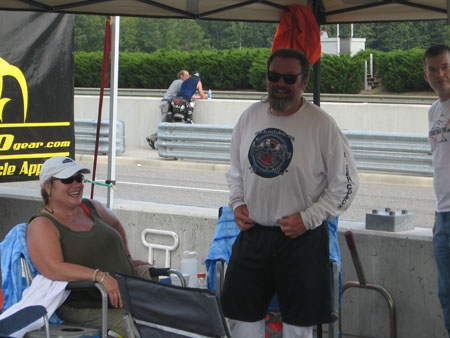 Several of us lounge around the pit.

money to do Friday afternoon practice.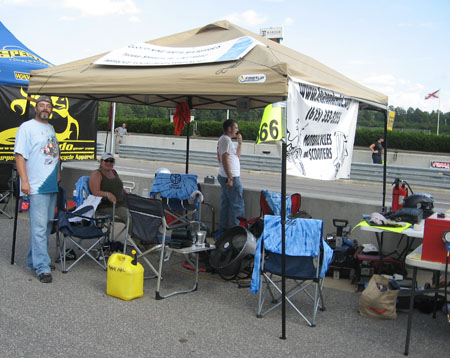 More pit lounging...

But I ended up just kicking back, relaxing and not worrying about riding. This was a good thing because I'd need all my energy for the task that lay ahead.

I had packed both my 12x12 and 10x10 pop-up tents, but the 12x12 tent was pretty much on its last leg. I didn't know if the larger canopy would make it all the way through the weekend. As it turned out it did not.

I set up the larger canopy to cover the bikes and set up the smaller one as a shade and sitting area for us. At around 5:00, as practice was winding down, Jeff got on the P.A. and announced that pit lane would be open for us to go ahead and set up our endurance tents. I tossed my tent and a couple other things in the truck and drove down there to claim some pit space.

We got the pit set-up and retired back to our pit area. We didn't stay up late at all as we had a busy day ahead of us. Randy offered us the use of his jeep rather than the motorcycle so that we could ride separately the next morning. I drove the jeep home but drove the truck back since I had a bunch of stuff in the truck that I might need during the race.

Saturday morning I went ahead and moved the bikes (Kurts too) down to the endurance pit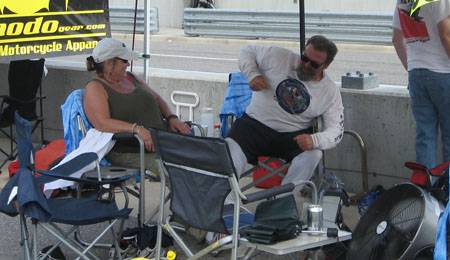 Telling Sherry about an exciting moment on the track...

and set up most of the rest of the stuff. We hit registration and tech and

Sunday morning Logan got to go out for first practice. I took some pictures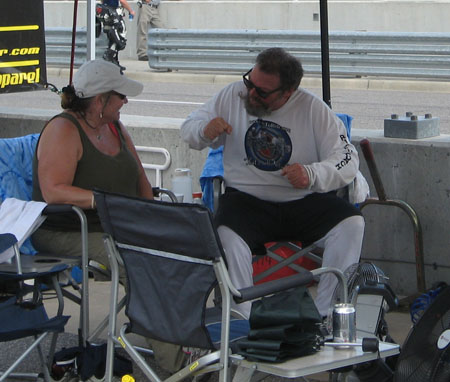 Okay, now you're just bragging...

formulated a game plan. I figured Kurt could ride his own bike during first practice (Lightweight practice) and Brad could ride mine. I'd just sit out 1st practice. Since Brad had already ridden my bike he'd be used to it and it would give him some time to re-familiarize himself with the reference points for Barber. Kurt would get the same benefit. Then Kurt would ride my bike and I'd ride his during endurance practice. About mid-way through the endurance practice he'd do a scheduled pit-in and switch with Brad (a simple rider swap), but it would give each of them practice finding the pit during a hot-pit. It would also give all of us practice finding the pit board Sherry would be using.

I never saw the pit-board but I did pit-in after about 10 or so laps. Kurt's bike was not comfortable for me, mostly because the high-mount exhaust on it was burning my boot. I ended up having to hold my foot out away from it when cornering, which was awkward and fatiguing.

I was a bit surprised later when I found out what my laptimes on Kurt's bike were. Having pushed hard back in April to get down to 1:51 on my own bike, I had blown that number away and turned several low 1:47's on Kurt's bike. Considering that my personal best ever time there on the RC51 was a 1:43, I wasn't that far off on Kurt's bike. And that was while I was uncomfortable and hadn't yet gotten used to the bike. It's entirely possible I could do a bit better with more practice on his bike.

Kurt ran a 1:49 on his bike during first practice, while Brad ran a best of 1:52 on mine. When they switched up Kurt's best practice lap on my bike was a 1:55. They did a rider's switch mid-way through practice and Brad did a 1:51.8 on his final practice lap.

Things got really hectic for me during the lunch break. I thought we had plenty of time because I hadn't looked closely enough at the schedule. For some reason I thought the endurance race didn't actually start until 1:00 and would go until 5:00. Instead it was going to start at 12:30. We pulled the wheels off for a tire change and Randy hauled the wheels up to Stickboy's trailer while I made myself a sandwich wrap. Kurt and Brad headed back to their respective pits to get in the air conditioning. When Randy got back with the newly-shod wheels we began reassembling. At that point I discovered that somehow the spacer for the rear wheel had gotten lost somewhere. Meanwhile first calls for the mini's race were alread reverbrating through the paddock, and it was at that point that I discovered that we had 30 less minutes to get ready than I had previously thought.

I was actually about to hop on Randy's scooter and go tracing his path to Stickboy's trailer and back in hopes of spotting the spacer laying on the ground somewhere. But fortunately Randy calmly went over and searched in the brake caliper housing and disovered the spacer laying there.

We got everything reassembled and safety wired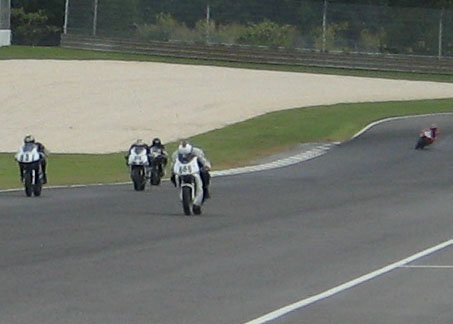 Several of us head down the front straight together.

and Kurt showed back up along with Brad mere moments before the race was about to begin. Somehow in the hustle of all this we had neglected to go and find our grid position for the race. While Kurt was taking his warm-up lap Randy ran to the grid postings and relayed the information back. I stood on pit wall, caught Kurt's attention and pointed out his assigned grid position. He finally got positioned correctly, at which point Chuck and Charlotte got ready to flag the start of the race.

The 1 board went sideways and out came the green flag. They were off. Kurt actually got a pretty decent launch, not that it mattered. This was a marathon, not a sprint, and he was arguably on the most underpowered bike on the grid.

Kurt's laptimes settled down into the low 1:53's, then worked their way down into the occasional 1:51. His best laptime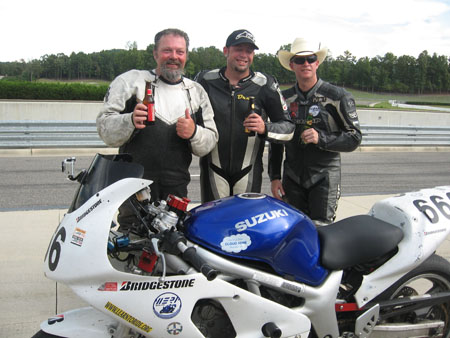 The proud team is ready to celebrate...

during his shift was a 1:51.044. He rode his entire 80 minute shift while Sherry gave him pit signals every 10 minutes so he'd know how much time he had left.

We had agreed that each rider would attempt to do 80 minutes each, so when Kurt's 80 minutes were up we signalled him in.

Kurt came in and Stephen manned the dump can while Randy handled the rear stand and Jason Padilla manned the fire extinguisher. I mounted my GoPro Hero camera, turned it on and made sure it was running. Elise was standing in the next pit over, directly in front of my bike. She told me they had spilled some fuel over there and it was very slippery, so I needed to avoid crossing the wet patch of fuel. She actually stood there as we refuelled to remind me when I mounted to merge wide before proceding down pit lane.

Fueling completed, Randy removed the rear stand and I mounted the bike. I fired it up, checked for pit lane traffic, then accelerated quickly down pit lane and back onto the track.

I quickly settled down into a rhythm, knocking out 1:48's fairly consistently. I didn't actually know what my laptimes were because I had not put a battery in my lap timer (don't know if there was a beacon out anyway), but it didn't matter. I was just out there to eat up laps and keep the bike circulating to the best of my ability.

It was during this time that I discovered just how bad the clearance was on my SV650. It was nearly impossible to keep the toes of my right foot from dragging the ground around the many right-handers at Barber. Although I managed to pass the occasional rider I was generally getting passed gratuitously by nearly everyone else out there. But that's okay, I was on very much under-powered lightweight equipment compared to everyone else. I'd like to know what kind of horsepower my engine actually produces. Maybe there will be a portable dyno at one of the events soon.

Meanwhile, I was amazed at my resilience in staying on the bike. As the pit-board numbers continued to rise I felt more and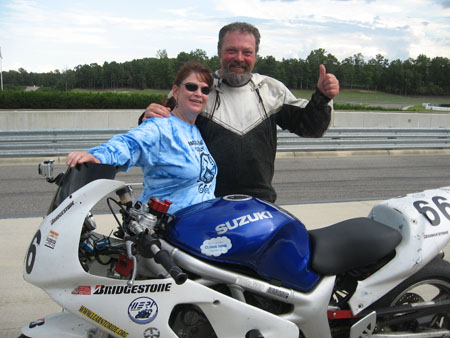 Terese enjoys the moment with us...

more like I would be able to make it the entire 80 minutes. Unfortunately, about the time I reached 70 minutes the low-fuel light on my console came on. I didn't know how much more time I had, but I made sure to tap my helmet on the next lap to make sure everyone knew I was going to have to come in. On the next lap I looked over and tapped my helmet again and verified that they looked like they were ready for me. I pitted in on the next lap and explained to them that I was out of fuel, but I really believed I could have finished my 80 minute shift.

Stephen confessed that he may not have completely filled the tank during the previous refuelling stop, which makes sense. I realize that I'm heavier than Kurt and that I was running quicker laptimes (which meant I was probably getting worse gas mileage), but I really didn't think I would have run out of fuel that much earlier than he did.

So it was Brad's turn. Brad had been running and losing weight since April, but his physical condition caused me a little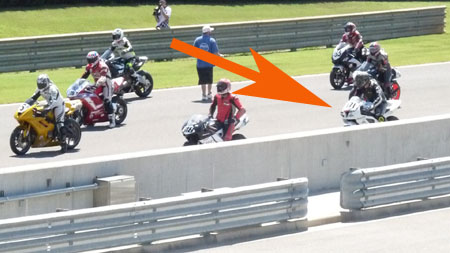 Sunday afternoon: Brad grids up on my RC51.

concern when we did the "Nashville Under the Lights" trackday a few weeks earlier and he looked like that first session had pretty much did him in on the RC51, and he ended up sitting out the next two sessions. As it turned out he did have to pit-in much earlier than we had originally planned. By this time I had rested up, re-hydrated and was ready to put my leathers back on and get back out there. They splashed some fuel into the bike when Brad dismounted and I mounted back up to try to bring it all home. When I mounted back up there were essentially about 41 minutes left on the race clock.

I settled quickly into my earlier rhythm, trying to turn good laps without pushing too hard and fatiguing myself. I watched the pit signals and by this time I had developed the presence of mind to be able to look at the clock on the tower for my own updates. Each lap I knew exactly how much time I had left.

With about 12 minutes to go I got passed by the Bluegrass Motorsports Park bike, easily recognizable because of its baby-blue paintjob. As the rider rolled off the throttle into turn 1 a lot of blue smoke came out the exhaust and I could smell oil.

Somehow I didn't let this spook me and stayed on it as much as I could. I watched another faster rider pass the BG bike and stick his leg out as he did so. The BG rider looked around but it appears he didn't see the problem. He continued on the track. He actually pulled a bit of a gap on me, but then I saw myself reeling him back in. Next thing I knew he pulled off the side on the hill up to turn 4. His day was over. They had blown another engine.

We ended up taking 7th place out of 8 bikes on the grid for our class. Not bad at all, and we had a great time.

On Sunday I just kicked back and relaxed while the other guys rode. Brad rode my RC51 in the two HWT classes. Kurt rode his Ninja 250 in the ESS race. Randy rode his F3 in the two vintage classes he rode in at Talladega, V7MW and V6HW. Randy placed 3rd in both his races and got more trophies! We also found out for sure what was causing the electrical issue on my RC51. It turns out that the "kill switch" was the culprit after all! I think we've got it fixed for sure now. However, I have a new problem on the RC51 with the shifter assembly. I'm working on figuring out a solution to that right now.

Most important lesson learned during this race weekend: Make a freaking list and check it twice. I can't believe we didn't remember to check our grid position. Duh.


Back to my Racing Blog