George McConnel's Racing BLOG
Date:
August 15, 2010
Track:
Nashville SuperSpeedway
Bikes:
2002 Honda RVT1000 (RC51) / 2001 SV650
Weather:
Hot to mild, going from high 90's to mid 70's. Some rain
Sponsor:
LearnToRide.Org
Conducted By:
Sportbike Track Time

Track Diagram

The Nashville SuperSpeedway is a combination track. NASCAR racers use the outer oval, basically just a large concrete track with a back straight, two ends and a tri-oval front "straight".

The road course drops off the tri-oval into the infield, winds through turns 1-6, then exits briefly onto part of the back straight before dipping back into the infield for turns 7-10. Turn 10 is a long non-banked sweeper that exits back onto the front straight. There are transitional seams at each of the four places where the infield road course joins the NASCAR oval. At these points you have to be careful to choose a line that avoids too sudden a transition or you end up getting jarred really hard.

Much like Daytona, races are started from pit lane because the start/finish line is on a steep bank.
I first heard about this track weekend on the Finish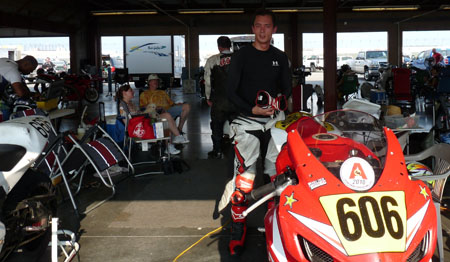 Our pit is setup. Tom and Janell
are in the background talking with me.

Line Racing forum. Ed (one of the folks I met @ the Jennings trackday last December) mentioned that he was planning on going, which set the wheels in motion for me to make plans to go. It's hard to resist a trackday here in Nashville, as it tends to be less expensive than those requiring lots of travel and accomodations.

So I got signed up for the event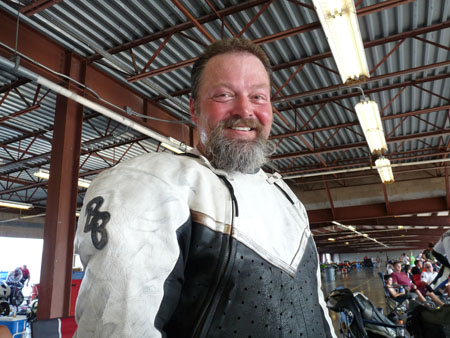 Well... don't I just look happy.

and made plans to bring both bikes. At almost the last minute Tom Lees called me to see if I knew of anyone who might want to purchase an "Advanced" spot for the weekend. I bought the ticket from Tom and gave it to Logan, so he finally got to ride after almost not getting to at all.

I didn't do a very good job with the advance planning, so Friday afternoon I was still woefully unpacked. I did manage to get to the track around 7:00 in the evening, not long before a major lightning storm moved through. There wasn't much rain in it at all, but there was plenty of lightning. They shut the track down during the storm and took their "lunch" break. As the trackday continued I worked on my bikes, fixing a few minor issues and securing a mount for my new GoPro hero camera on the RC51.

Dubbed "Nashville Under the Lights", this track weekend is sponsored by Sportbike Track Time and the riding takes place between 4:00 PM and midnight. The first 3.5 hours are during daylight, then they take an hour lunch break during which they turn on the HID stadium lighting. The last 3.5 hours are under the lights with the added benefit of cooler temperatures.

Although I had brought both bikes I only mounted the GoPro on the RC51 for the time being. I'll figure out a way to mount it on the SV650 later. I ended up not using any of the key fob cameras I have, but fully intend to use them in the near future, probably this weekend at Talladega.

I had promised Brad Johnson that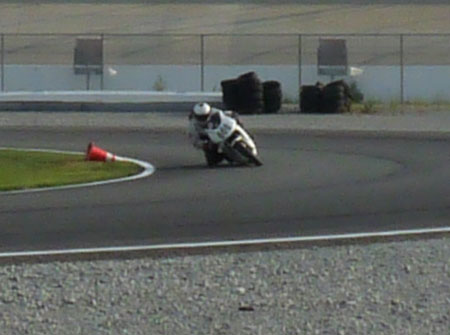 First time on the RC51 in quite awhile.

he could ride whichever bike I wasn't riding. Originally I intended to do most of my riding on the RC51 for this weekend, but as it turned out I rode the RC51 for only one session. It really is a tough bike to wrestle around. I'm going to re-install the right OSF rearset before taking it to Talladega this coming weekend in hopes that the racing rearset helps.

On Saturday afternoon I headed out to the track, where once again the temperature was hovering around 100 degrees. It was miserably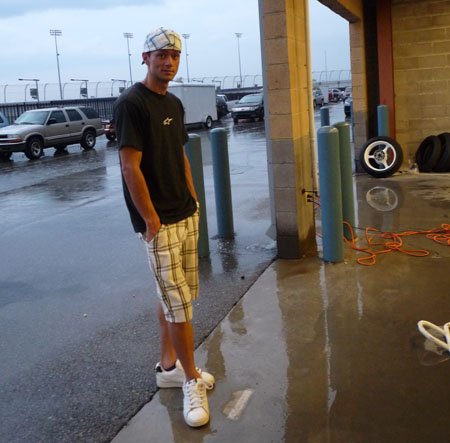 Into each life some rain must fall...

hot. I got registered, took care of Logan's registration and Brad's, got through tech and headed to the rider's meeting. For whatever reason, STT runs the longest rider's meetings in the business. I had no idea how long their rider's meetings were. I should have gotten a clue when I saw nearly everyone dragging a chair over for the meeting. Over 30 minutes for a rider's meeting. Way too long.

At 4:00 PM the track went hot. Intermediate group went out first and we were all riding in advanced. We were to go out during the second session. Sessions were supposed to be 20 minutes each. Our turn came up and out we went, me on the RC51, Logan on his GSXR600 and Brad on my SV650. Joe had come with us and Tom Lees (and Janell) were visiting us in the pit.

My lap timer didn't actually kick on until the session was almost over. I ended up with 2 laptimes, a 15 and a 14. All in all, not too bad for my first time on the track on the RC51 in many months.

When our 2nd session came up I asked Brad if he wanted to trade. He told me "Go ahead and take whichever bike you want." He was already overheated and intended to sit the next session out. He ended up not riding any more sessions until after sundown. It's probably just as well. The RC51 overheated as I pulled into the paddock. It did much better heat-wise after sundown.

So I took the SV650 out for the next two sessions and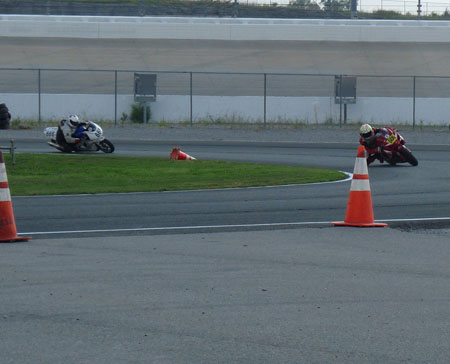 Logan and I in the two-and-a-half hairpin
I'm on the SV this time.

felt much more comfortable immediately. The SV really is a lot easier to ride than the RC51. So much so that I re-considered the merits of selling the RC51. Perhaps that's what I really need to do.

I neglected to move my lap timer over from the RC51, but Logan wanted to know if he could use it on his bike while I wasn't using it. I gave him permission and Joe helped him attach it to his bike. I ended up just leaving it on his bike for the remainder of the evening.

As far as I can tell I ran some 16's, but for the most part the laptimes were up closer to 1:20's. I did get a little more comfortable leaving the throttle on full tilt all the way past the turn 1 transition on the SV650. In some ways I wish I had gotten some of my later laptimes on the SV650. I really think I was doing better as the afternoon progressed. During one early session I got a little too far over on the side of the tire in the turn 2 hairpin and nearly went down. The rear stepped way out on me, then hooked up violently and almost resulted in a highside. Somehow I managed to stay on the bike. I'm sure that if anyone was watching they probably thought it looked impressive. Mostly it was just luck.

About 7:30 or so the evening storm blew in.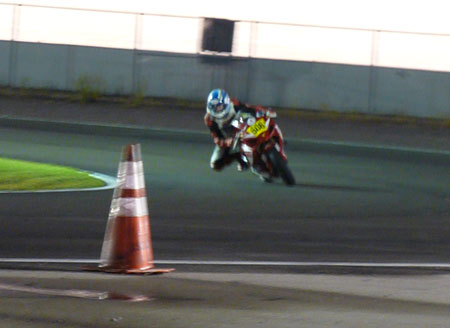 Logan under the lights.
Things sure looked different after dark.

It came in with a lot of wind and rain this time. The rain was blowing in from the north side of the paddock, which meant that it was blowing into our garage. We slid everything in the garage back as far as we could to protect the stuff that needed protection from the moisture. When it all calmed back down our garage floor was covered pretty well with two large puddles of water. I decided to just skip the first "after lunch" session to give others a chance to dry the track off. Meanwhile Joe and I drove to the store and back.

When I got back the Novice riders were on the track. I did end up skipping the first after-sundown session for my group. I took the time to go ahead and mount the GoPro camera on the RC51. When gearing up for the next session Logan asked if I wanted to trade with him and let him ride the RC51 while I rode the Gixxer. We did, but I was extremely uncomfortable on his Gixxer. The rearsets were so high that I could barely tuck my legs far enough to get my feet on top of the rearsets. While riding my muscles started cramping because of the extreme riding position for me. I just circulated on his bike not trying to push hard at all. He was kind enough to follow me for awhile on the RC51 so I could get some camera time, but it was unnecessary.

I ended up working the camera during the Advanced group while Logan and Brad circulated. Brad looked really strong on the SV650, and Logan was certainly looking competent on his own bike.

During my last two sessions I rode the SV650 again. With the slightly wet track and several very slippery seams in various areas it was hard not to find myself tiptoeing at times. Add to that the odd lighting provided by the stadium lights with several dark places and the laptimes just weren't anywhere near at their peak. Still yet I enjoyed riding under the lights and the temperatures were nearly perfect. I sat out the last session to try to get a jump start on packing, but ended up not getting much done in that area other than kicking back and indulging my usual track vices.

All in all it was a very enjoyable track experience and a welcome break from the lengthy dry spell I've had since Road Atlanta.

Most important lesson learned during this track day: Bring a chair if you're going to an STT rider's meeting.


Back to my Racing Page