George McConnel's Motorcycle Racing Blog
Date:
June 25-27, 2010
Track:
Road Atlanta (Atlanta, GA)
Bikes:
2001 Suzuki SV650, 2002 Honda RC51
Weather:
Sunny and hot. Highs around 100
Sponsor:
LearnToRide.Org
Conducted By:
WERA

Track Diagram

Road Atlanta is a 2.5 mile track with many elevation changes. The highest point on the track is turn 11, which is 75 feet above the start/finish line. The lowest point is at the end of the "Esses", right about that last kink before turn 5. That point is 40 feet below the start/finish line. The back straight (which has two minor bends in it labeled 8 and 9) is almost 3/4 of a mile long, and it is not uncommon for race vehicles to approach 180 or more MPH on that section. From turn 9 to turn 10a you are going downhill. This makes for a challenging situation as racers must judge how to brake without running off the track while maintaining enough speed to keep other racers from passing them at that point. The good thing is there is a long runoff on the other side of turn 10 with lots of soft gravel in case you make a mistake.
As always, with Road Atlanta the problem is getting time on the track.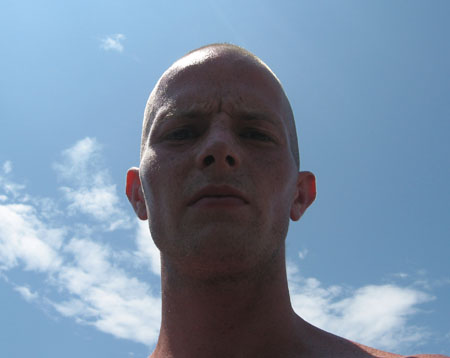 Joe takes a self portrait

This weekend was the first time my son Joe has been able to accompany me to the track in a long, long time. We had big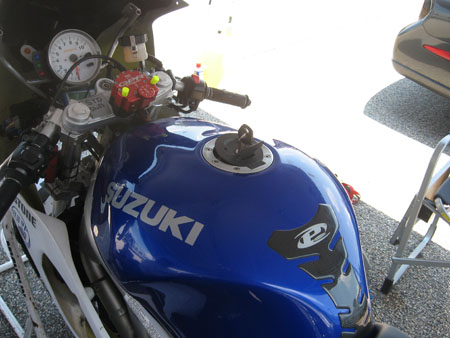 Wonder why this fuel tank is being
vented? Read on to find out why...

plans for him to go to the Talladega round earlier this month but he missed getting picked up because someone had borrowed his cell phone and I had no way to contact him that morning.

My plan was to be down in Atlanta early enough on Friday afternoon to allow me to have some time to do some Friday practice. I didn't start real super early, but around 10:00 in the morning I stopped by Joe's place, picked him up and we were on the road.

I was bringing Logan's GSXR600 as well as my SV650, but I was also bringing the RC51 this time as well. I had offered Logan a chance to ride it in one of the HeavyWeight Twins classes, an opportunity he eagerly accepted. We ended up borrowing a trailer from his friend "Deaf" John. The trailer was just big enough to accomodate the three bikes, but there was a problem with the wiring on it and it blew the fuse on my trailer tail lights (unbeknownst to me until I was returning in the dark).

Unfortunately, I didn't actually get to the track until around 3:00 or so in the afternoon and they were just starting the final round of practice sessions. There was no way I could be ready (or get set up for that matter) in time to get any track time in, so I had to begrudgingly accept the fact that I was not going to get any practice time in on Friday. So we unloaded, pitting next to Morris who had kindly saved us some pit space. Then we opened the tops of a couple of beers and for the first time ever, Joe and I had a beer together. It was quite pleasant. As the evening progressed and things quietened down we watched the movie "Marley and Me" on my laptop computer. Both of us were way too tough to cry when Marley died though, although I did seem to get something caught in my eye and had to wipe it a time or two.

For the first time, I got to sleep in the fabulous and fully functional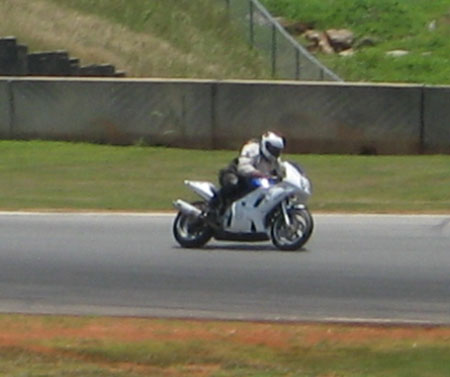 Between turn 10a and 10b.

"Hotel Silverado".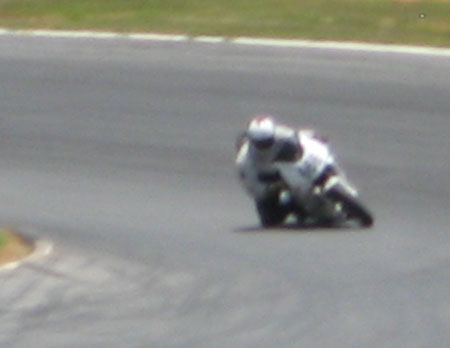 Coming around 10b. Too bad the picture was so fuzzy.
I had spent some time designing and building the accomodations, using the Extang bed cover that came with my "new" pickup truck. The "hotel" provides me with nice, air conditioned (and heated during the winter) sleeping accomodations completely insulated from the weather.
So I got a great night's sleep and woke up Saturday morning feeling pretty good. I had plenty of time to get registered, especially since I had pre-registered. Things should be very laid back.
Wrong... As I began preparing I smelled the unmistakable odor of gasoline around my bike. I could see liquid in the belly pan and was able to quickly ascertain that it was, indeed, gasoline. Quickly I determined that the fuel supply valve had been leaking all night and at least one of the carburetors had a partially open needle valve. Fuel was all over the engine. I tried turning the engine over and (no surprise) discovered that at least one of the cylinders was full of gasoline. Needless to say it didn't turn out to be the rear cylinder, as that one's spark plug is fairly easy to get to.
So I sent Joe to go get my registration materials while I frantically tore down the front of the bike enough to get the radiator out of the way and remove the front spark plug. Then I turned the engine over and squirted gasoline 30 feet or more across the paddock. I was smart enough to survey the area where the fuel would spray and remove a smoldering cigarette butt before doing so. That could have been disasterous.
Finally the engine was running again and I managed to bolt everything back up and get over to tech as they were beginning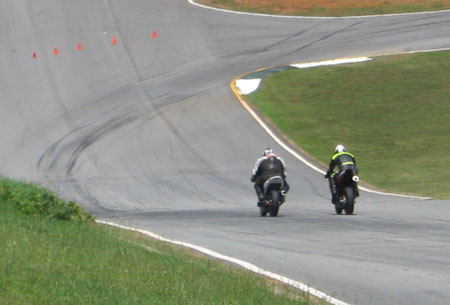 The downhill to Turn 12 is really steep...

calls for my first practice session.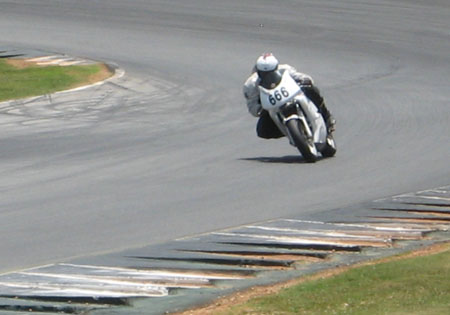 10b again maybe?

All my hopes of a nice, calm morning had been tossed. I would have to hit the track having spent the entire morning frantically trying to fix a problem. But since I never seem to get enough track time on Road Atlanta to suit me, I was determined to make sure that I was out there for the first practice session.

As if that weren't enough excitement for Saturday morning, as I pulled back into the pit I could smell burning oil. I knew it was more than just the aroma of gasoline being heat-evaporated off of the engine. Further inspection revealed that my oil was compromised with an overly generous dose of gasoline. Glad to have made it through the vigorous practice session without seizing my engine due to diluted oil, I effected a quick oil-change between the first and second sessions.

The second session went better and my laptimes went from around 2:00 down to the mid 1:55's or thereabouts.

I had signed up for the Lightweight Solo on Saturday afternoon, my only race of the day. I gridded up on the 3rd row, right. I could look directly to my left and see Morris. Morris had ridden in the previous race (Clubman?) so he was doing back-to-back races. The green flag flew and I got another of my horrible launches. Seemed like everyone in Fulton County with a motorcycle license passed me before I got to the turn 2 chicane, but that wasn't the case. Two or three more passed me before turn 5 and another three passed me before turn 6. Someone went off and crashed in Turn 7 on the first lap, but then things started to settle down a bit.

I was actually beginning to make some good progress on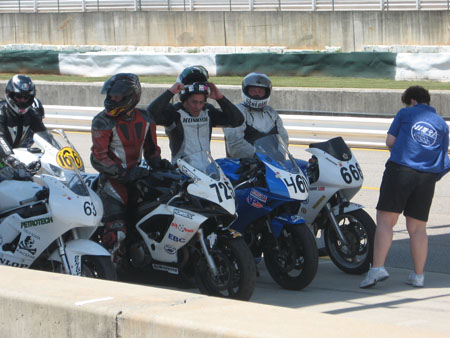 Post tech after the Solo 20.

Ben Matheson (Expert #240). He definitely had motor on me on the straights, but I would catch him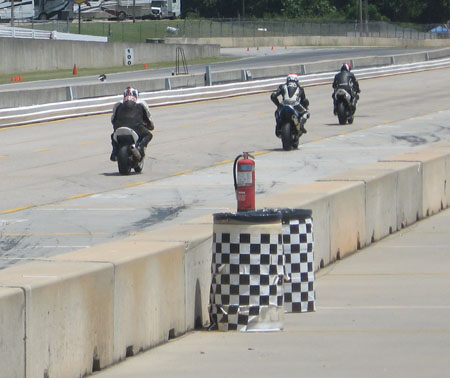 Heading back to the pit after the Solo

quickly enough when we would get back to the curvy parts of the track. At one point I was almost ready to bust a move on him, but another rider passed me and ruined my concentration. It took a bit of time to reel Matheson back in, but I was bound and determined to pass him.

Once again I was real close and trying to set up a move on the inside at turn 7. Suddenly, just to my left (on the outside) a bike came up quickly. It was Kenny Rodriguez attempting to pass both of us. He was in 3rd place in the event.

Unfortunately, he was braking so much later than me or Ben that he ended up running out of room. His front wheel contacted Ben's rear wheel. It was a lateral contact that essentially just pried his front tire right off the tarmac. He fell over into my path a bit and I had to make a quick course correction to avoid running over him. Matheson once again squirted off into the distance on the 3/4 mile back straight.

But he checked up way early for turn 10a, then raised his hand to indicate he was pitting in. I passed him around the outside of 10b as he entered pit lane. I don't know if he was just tired (several folks were) or if he possibly thought something was wrong with his bike because of the impact with Kenny. It's possible he never actually saw Kenny back there.

So I ended up finishing last of the people who actually finished the solo event.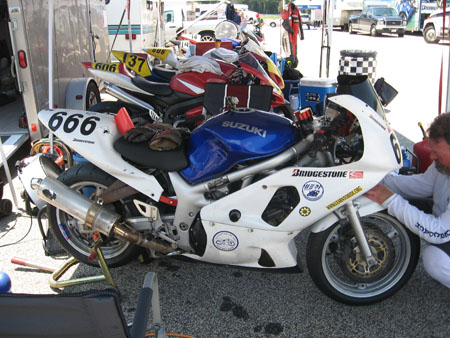 (Front to back)
My SV650, Logan's GSXR600, John MacDonald's 600
My RC51, Morris's SV650, Morris's Hawk

Morris pitted in early because he was exhausted.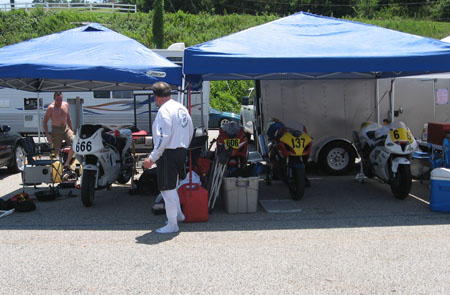 My two pits. That's Jim Fiore on the other side of my SV

It's worth mentioning that my conditioning and weight loss made it possible for me to stay out there and complete the 16 lap solo. Actually I got lapped twice by the leaders, so it was only 14 laps for me, but I could have easily done the other two laps. I was not that tired at the end of the event.

Saturday evening was fairly uneventful. I got a good shower and cleaned up. Several of us sat around talking until too late, but I still tried to get to bed early so I wouldn't be so tired on Sunday morning.

I had bought a very cheap video camera from an Ebay source. This is the first time I had a chance to use it. In fact in the picture above, where you can see all the bikes from the side, you can see me fooling with the front fender of my bike. That's where I mounted the cheap camera, using nothing but duct tape. The camera itself weighs very little and looks like a key fob. In fact, that's what it's designed for, to be a spy cam. Theoretically you can use it to capture video of people who don't know they are being recorded. But my purpose in getting it was to use it for track video.

As it turned out



Check out some video from my front fender!

the camera was much better at recording track video than I expected. I got a practice session in on Sunday morning with the camrera attached to my fender. The video looked surprisingly good. You can watch the video on YouTube by starting it here. Since that worked out so well I went ahead and picked up a GoPro Hero camera at Costco for $100 that I plan to use in the future for my main video. I also picked up three more of the small cheapo key fob cameras that I will position on my bike for picture-in-picture stuff so I can make some really cool videos.

I ran in the Lightweight Twins Superbike class Sunday afternoon and did very poorly once again. Road Atlanta brought out lots more riders than I'm used to being on the grid with. I can't remember if I've ever actually been in a sprint race where I didn't finish in the points before now. But I took a 17th place finish in that race. It was sort of sad in a way, as I felt way overmatched on the straights.

Morris pitted in early because he was exhausted. But Road Atlanta is a fun track. Maybe next year I can have some better equipment with which to ride it and see if I can put up some better laptimes and be more competitive.

Logan ran C Superbike but only managed a 17th place finish. Once again he has yet to earn any points in that class. However, he did run my RC51 in Heavyweight Twins Superbike and got a 5th place finish. That should help him get slightly better grid positions in his future races, assuming he does much more racing this year. Money is getting to be a real issue for him.

I had agreed to let them use my pickup and trailer to move John MacDonald's bike to and from his house. This turned out to be much more of an imposition than I had originally expected it to. They left with my truck while I sat there in a pit that I couldn't put on the trailer. They didn't end up getting back until around 6:30, so by the time I had everything loaded and was ready to leave it was almost 7:30.

However, that wasn't to be the end of the adventure. Blake Jones had an alternator issue with his truck. He called me as I was getting to Chattanooga and we pulled off at the Nickajack exit to try to assist them. We couldn't do anything about his alternator situation while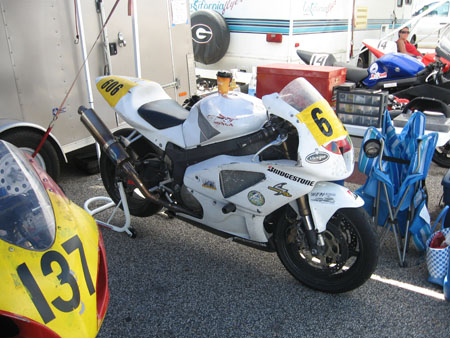 The RC51 is getting Logan's numbers on it...

we were there but we may have diagnosed why the alternator quit running (due to a wire not being hooked up correctly). We managed to swap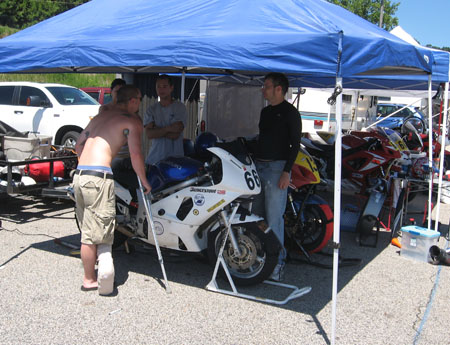 Ryan Jordan talks with Logan, John and Logan's girlfriend Jessica

Logan's car battery for theirs and let Logan charge their battery back up as he drove back to Nashville with it. I drove in front of their truck so they could leave their headlights off (saving battery) and Logan ran behind him. That actually worked out pretty well and Blake managed to make it all the way back home that way.

But it was a long, late night for me. It took two or three days to catch back up on my sleep.

Most important lesson learned during this race weekend: I need to figure out how to get more acceleration out of the SV650!


Back to my Motorcycle Racing Pages