George McConnel's Racing BLOG
Date:
May 1-2, 2010
Track:
Barber Motorsports Park
Bike:
2001 Suzuki SV650
Weather:
Mostly cloudy, threat of heavy rain didn't materialize until late Sunday. Highs around 85
Sponsor:
LearnToRide.Org
Conducted By:
WERA

Track Diagram

Barber Motorsports Park is a beautiful, purpose built motorcycle racing. track built by George W. Barber, an avid automobile enthusiast who made his fortune in the dairy industry. It features 15 numbered turns, several of which are complexes. It also has many elevation changes. It can also be run as a "short track" wherein turn 5 empties out immediately into the back straight, bypassing nearly 50% of the track.

On the same campus as the track is the Barber Vintage Motorsports Museum, which began as Mr. Barber's private collection of vintage automobiles and motorcycles but now is a fully functional public museum.
This would be my first race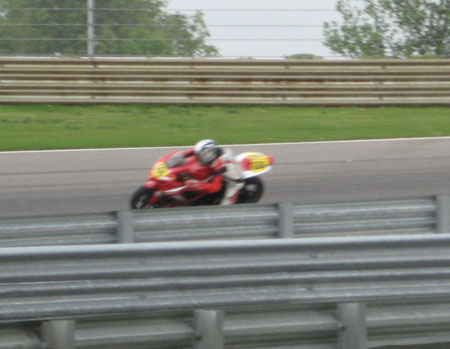 Logan on turn 17, entering the front straight.

weekend at Barber on the SV650. The weather forecast was one of those that just drove you nuts. The forecast was for heavy rain Saturday and isolate storms on Sunday. I had slicks on the bike and really hoped I would be able to use them for this one more weekend of racing, but I knew they would be useless on a wet track.

We got the truck loaded on Thursday afternoon and were ready to leave as soon as I could shake loose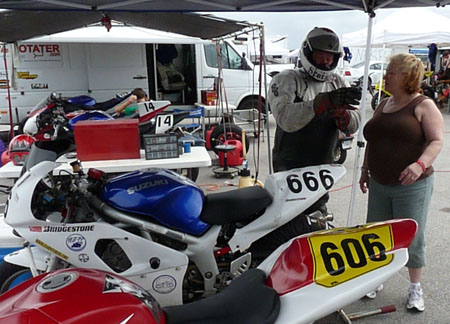 Sherry and I chat for a moment right before
I head out for my 2nd practice session.

from work on Friday. WERA had made arrangements to have registration and tech open for awhile on Friday afternoon and as it turned out we were able to get there early enough to be able to get it done then. That was really great as it meant I would be able to relax on Saturday morning rather than be pressed for time as I had been the last couple of weekends.

Friday evening we spent some time putting a new chain on Logan's bike to move the rear axle as far back as possible on the swingarm. According to some of the fast guys (Blake Jones in particular) this was a key element in helping with drive out of corners. I guess it makes sense that a longer wheelbase would help keep the front wheel from getting too light and pushing during hard acceleration, so that makes sense.

I adjusted my clutch-side clip-on to move the clutch into a more convenient position for access while we had some quiet time. This turned out to be very helpful, but didn't cure all my launching ills for sure.

When Saturday morning arrived, Logan and I went to the track while Sherry slept in. That was when I first discovered that the new schedule had us Lightweight folks in practice group 5. This was an unexpected development, and really did me no good since I had gotten registration and tech out of the way the previous evening. Still though, it allowed me to kick back and relax for awhile on Saturday morning.

With the new policy about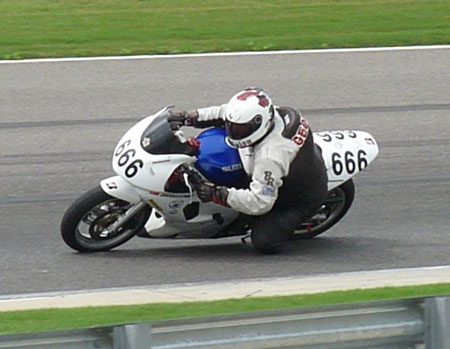 Here I am coming around turn 17

not letting folks practice on Saturday if they're only racing on Sunday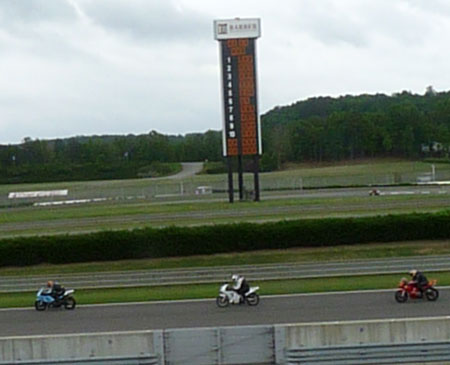 During my solo I re-passed the guy
on the baby blue bike, but
he prevailed over me in the end.

Logan wasn't even able to take advantage of the medium weight practice sessions on Saturday. But when my turn came up I donned the leathers, fired up the SV and took to the track. My first couple of laps were a bit timid, but it didn't take long to start pushing. It took a few laps to begin to get some kind of perspective on braking markers and shift points, but I started developing a rhythm.

After a few laps I was passing quite a few of the riders although it was obvious that many of the other riders were considerably quicker than I was. It was a very enjoyable session and I went back to the pit satisfied that I was doing fine.

During my 2nd session I managed to get consistent laptimes down into the 51's, so I was looking forward to possibly improving on that during the Solo 20.

But when race time came for the Solo event, I gridded up and got a poor launch that let nearly every expert on the grid pass me before turn 1 again. As the race progressed the other two experts that I managed to stay ahead of during the first lap or two finally worked their way around me. One of them, however, wasn't much quicker than I was and as the laps continued I began reeling him back in. I thought it meant I was going faster but I would find out later that it simply meant he had slowed down a bit. Anyway, I managed to dive underneath him on turn 15, executing a proper block pass on turn 16 and getting a good drive out of 17 onto the front straight. I was told later that I actually pulled a good gap on him before he began closing back up on me. In fairness to myself however, I got spooked when some mist started falling, as many of the Mediumweight Novices had fallen under similar conditions a couple of races earlier.

But eventually the other guy passed me for position and I ended up settling for the last position of all the experts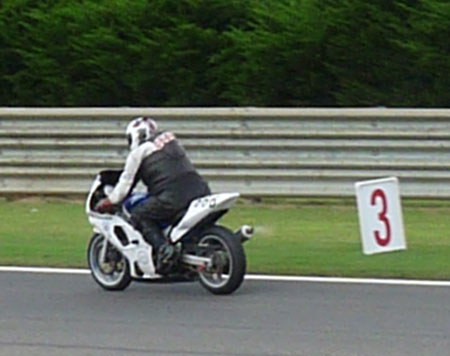 Just about time to squeeze that brake lever...

who finished the race. It was a 14th place finish out of 18 expert entries. There were also 9 novice riders on the grid and two of them passed me as well. I was hoping to see some sub 1:50 laptimes during that race, but somehow I had only managed to get back into the 51's again. This was a bit disappointing.

Sunday morning Logan got to go out for first practice. I took some pictures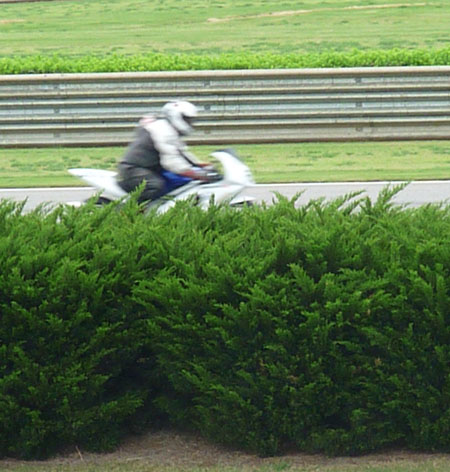 Heading down into Charlotte's Web...

of him coming around turn 17 onto the front straight during that session. He did well, and was very pleased with the changes we'd made (with the new chain and the change that made to his geometry). He's still trying desperately to become more knowledgable about suspension setup, and hopefully be able to coax some more performance from his machine in doing so.

Neither of my practice sessions yielded any better laptime results, which once again surprised me. I felt like I was much more comfortable and really believed I was doing some things to result in better laptimes but it still wasn't happening. I have a few ideas why but those will have to wait until I have another opportunity to ride the track, hopefully in September during the endurance race.

Logan was also disappointed with his laptimes but mostly because he knew the kind of times the leaders were running in his class and he knew he was a good 7 to 10 seconds off the pace.

When race time finally arrived for Logan he went out to line up in a very disappointing grid position. There was going to be a two wave start and he was at the back of the 2nd wave. To add insult to injury the 2nd wave only had maybe six bikes in it. He would have a lot of work to do in order to get back into the points.

The race started and Logan began working his way through traffic. He'd started in about 27th position but managed to get one of his best launches ever, clearing his group and nearly catching the last few riders in the 1st wave by turn 2. He pushed hard to gain a few more easy passes during the first lap, but by then the field was starting to spread out into distinctive groups of quicker riders who would be harder to pass.

Sherry and I watched from the top of the tower building and I kept up with Logan's position when he'd pass us on the front straight. He managed to work his way to 19th position by the end of the 2nd lap. I told Sherry that if he could manage to pass 4 more people he'd be into the points.

He was close to a couple of people who were holding him up, but the next group of riders were a second or more away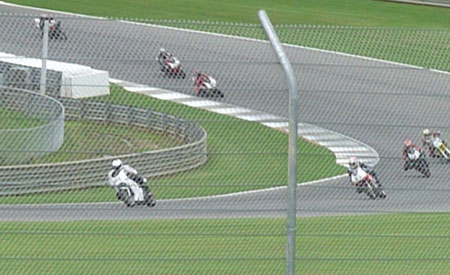 Heading up turn 11 over the tunnel...

and continuing to gap by this point. It took Logan about two laps to finally find a way around those riders, but when he did he managed to effect a significant gap over them. At this point he was in 17th place but the two riders he'd need to pass in order to get into the points were about 3 or so seconds ahead of him. Still, he managed to begin eating into their lead and I had hopes that he would be able to salvage a point or two out of this effort.

But as the white flag came out it was obvious that Logan was not going to catch the two guys in front of him. Then, as Chuck had already picked up the checkered flag and was preparing to display it for the winner, he instead reached for the red flag and began waving it. A rider had gone down in turn 16 as the leaders were preparing to make the final turn back onto the front straight. Sherry tensed up for a minute but I assured her that Logan couldn't have been anywhere near the leaders when the crash happened. He would have been nearly 16 seconds back on the leaders at that point. Only one bike had gone down, so although Logan benefited from the upgrade in final position it still left him in 16th place and just outside of the points. Very disappointing.

My race, Lightweight Twins SuperBike, was going to be the 16th race of the day. I had already decided that if the heavy rain arrived before my race I would just pack everything up and head home. I had no desire to race on a wet track. As it turned out, just a few minutes after Logan finished his race the bottom fell out. I gladly packed the stuff and we headed back in time to watch some MotoGP action on the television before going to bed. All in all it was a great weekend.

Most important lesson learned during this race weekend: Keep respecting the danger. It was a year ago that Sutton died during practice at Barber.


Back to my Racing Blog