George McConnel's Racing BLOG
Date:
April 25, 2010
Track:
Nashville SuperSpeedway
Bike:
2001 Suzuki SV650
Weather:
Rain Saturday, Sunny and very pleasant Sunday. Highs in the upper 70's.
Sponsor:
LearnToRide.Org
Conducted By:
WERA

Track Diagram

The Nashville SuperSpeedway is a combination track. NASCAR racers use the outer oval, basically just a large concrete track with a back straight, two ends and a tri-oval front "straight".

The road course drops off the tri-oval into the infield, winds through turns 1-6, then exits briefly onto part of the back straight before dipping back into the infield for turns 7-10. Turn 10 is a long non-banked sweeper that exits back onto the front straight. There are transitional seams at each of the four places where the infield road course joins the NASCAR oval. At these points you have to be careful to choose a line that avoids too sudden a transition or you end up getting jarred really hard.

Much like Daytona, races are started from pit lane because the start/finish line is on a steep bank.
Back to the old home track.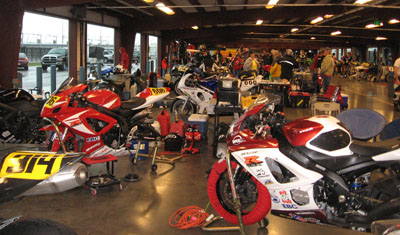 Our bikes are packed into the garages
NSS is really busy this weekend.

The last time I raced at Nashville I crashed on my final lap. Of course I did a trackday there afterward and didn't crash, but the minor lowside crash I experienced on turn 2.5 there didn't really bother me that much anyway.

Unfortunately the economy has really gone into the crapper these days and times are tough all over. People aren't racing and doing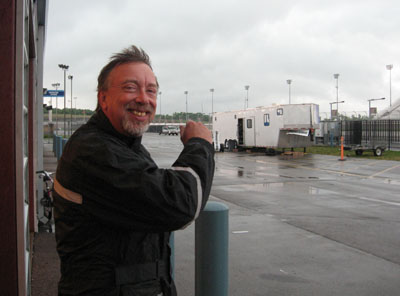 Dewayne surveys the wet paddock
prior to his Solo on Saturday.

track days like they were a couple of years ago and Ed Bargy has had to (for the first time since I started doing this) cancel a practice day before a WERA event. Ordinarily we would have gone to the track on Thursday evening and had our pick of garage spaces and a nearly empty paddock. We would have sat around with the few people who showed up that early and enjoyed a quiet evening in eager anticipation of the upcoming event.

But this year things would be very different. Logan and I loaded up and were able to head over to the track early enough to get there just after the gate opened. It was about 5:10 when we got there and there was a line extending all the way down Victory Lane out to the street, filled with vehicles waiting to get in. We finally made it to the front of the line, signed the clipboard and paid our gate fee. When we rounded the corner into the garage area it was shocking to discover that the entire east side of the garage was full. I circled around to the west side and found three consecutive open garages. We quickly claimed those for ourselves, Dewayne, James, Blake Jones and John MacDonald. I called Dewayne and let him know the situation.

Once we got the situation in control we were able to kick back and take it easy for awhile. Dewayne had brought his banjo as well as his Dobro and Dobro Bass. We picked some bluegrass music and had a good time. Logan and I headed back early because we had our usual gig with the Music City Marathon to do early Saturday morning.

The marathon gig involved hauling photographers around on our bikes so they could take pictures of the runners, scenery, cheerleader stations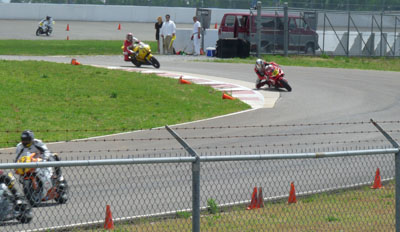 Logan and other novices in C Superbike

and bands. Towards the end of it there came a really heavy rain storm. The ride back was a bit dicey because of the weather, and Sherry's bike had battery issues to complicate things even more. I ended up having to go get her bike with the truck after the event was over.

Eventually, Logan and I managed to get back to the track on Saturday afternoon. Luckily for us we didn't really miss much of the race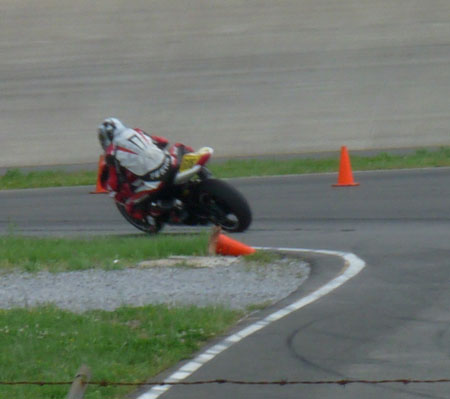 Logan exits the chicayne onto the apron turn

action because they had to delay the races a bit due to the weather. We both had some work to do on our bikes, so he tended to getting new tires put on while I worked on changing the front-end geometry on my bike by lowering the triple tree clamps 8 mm (per Rob Turner's suggestion).

Once all that was done we settled down and enjoyed watching some racing action and great company. There were several strong weather fronts that moved through, each producing sheets of rain and racing delays, but eventually all the races were completed on time. Wouldn't you know that as soon as all the races were over the sun would come out.

But that was fine with me. I wasn't racing in the rain anyway, and it was nice just knowing that the sunshine would help dry the track back off for tomorrow when I was going to have to be one of the first people on the track.

We stayed probably later than we should, and definitely drank a few too many beers as the afternoon progressed. Logan and I headed back home and hit the sack early. Even so, 6:00 in the morning was mighty early. We got to the track at about 7:30 and I was really pressed for time more than I liked to get out there for first practice. I had to do registration and tech. And somewhere in the insanity I couldn't find my ear plugs, which frustrated me greatly. I was a bit agitated as I got on the track but tried to let it go and just try to enjoy the fact that I was on a racetrack on a motorcycle. I wasn't going to try to push at all during the first couple of laps, just try to heat up the tires with some heavy braking and accelerating. But as I began accelerating onto the back straight my right clip-on just swiveled around in my hand. Not good, not good at all. I let off, put up my hand to signal other riders that I was having problems, and circled around back to pit-in. I came in, grabbed an allen wrench and tightened my clip-on and got back on the track.

This time everything felt normal as I began trying to find a rhythm and establish some markers and shift points. The new taller rear sprocket forced me to change my back straight strategy to include an upshift to 4th gear, followed by a downshift while braking for the dive into the chicayne. I also found myself bouncing off the rev limiter on the apron turn before the front straight.

I ended up only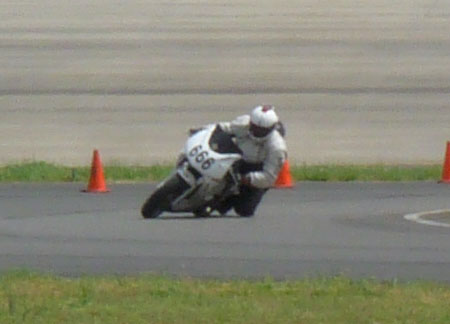 Here I come into the turn 2 hairpin.

getting five laps in during the first practice session, only two of which involved crossing the start/finish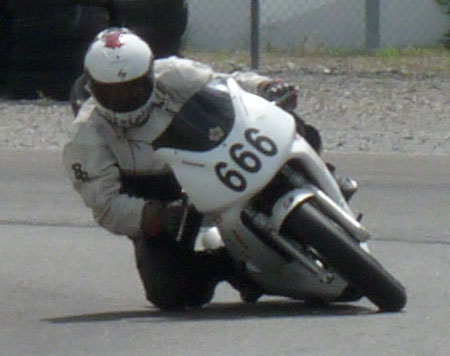 Here's a shot on the turn 2 horseshoe.

line at the beginning and end of the lap. The first lap was a 1:27 and the second was a 1:24. Surprisingly, I was actually pleased with those results, as I really didn't expect to have been running any better than 1:30's during that session. I was not trying to push at all.

The 2nd session I was able to go out with a much better starting attitude and confidence, as the tire warmers had been working for over an hour and had the tires up to operational temperature.

I tipped it into each turn, dragging my knee sliders easily as I worked my way around the track. When I came back in after that session my best lap was a high 1:16. Not bad.

The temperatures were really delightful all day and there was a lot of wind, so I found it pleasant enough to just leave my leathers on all afternoon until my race event. I had only signed up for one event the whole weekend, Lightweight Twins SuperBike.

When race time came I lined up on the 3rd row in the center. Dewayne was position just behind me to my right.

The green flag waved and we were off.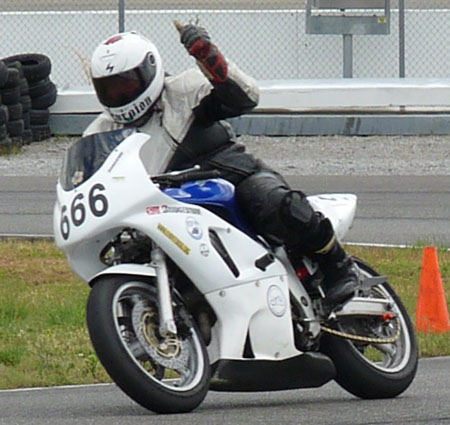 I just loves me some corner workers.
Everything's just peachy!

At least this time I didn't blow the start as badly as I did at Talladega a couple of weeks earlier. But it wasn't a great launch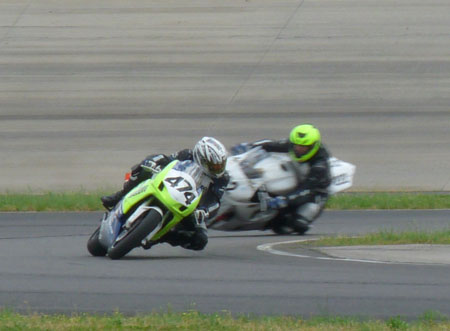 Rob Turner and Michael Wischmeyer are a couple
of the fastest riders in my class.

either. Dewayne, on the other hand, got a really great launch and got way ahead of me before the bikes began serializing for entry into the turn 2 hairpin. By the time we made it to turn 2.5 I had caught up with the back of the pack (which was where Dewayne was). I managed to slip past him on the entry to turn three, although I must admit that the pass I made was a bit harsher than I wanted it to be. I was caught off guard by how much speed Dewayne was carrying into that corner from his entry angle. Unfortunately my move across his bow forced him to check up, for which I apologize. But we both made it through the corner without contact, so everything ended up okay.

Meanwhile I put my head down and put together the best laps I was capable of. The rest of the pack just ran off and left me, but after a few laps I looked across coming out of turn 2.5 and could see Dewayne on the other side of the track. By that time I had at least a 6-8 second lead on him and I knew that he was my only competitor that was behind me. Not knowing for sure how many had showed up on the grid, or how many might have had to exit the track and DNF, I wasn't sure how I placed until they finally posted the results.

The results weren't surprising. I finished 8th and Dewayne finished 9th in the event.

We had a great time racing together. I'm really starting to feel like the SV650 is my future and the RC51 may need to go to someone else.

Most important lesson learned during this race weekend: Lightweight ain't as fast but it's every bit as much fun.


Back to my RC51 Page