George McConnel's Motorcycle Racing Blog
Date:
April 9-11, 2010
Track:
Talladega Gran Prix Raceway
Bike:
2001 Suzuki SV650
Weather:
Sunny and mild. Lows around 35, highs around 80
Sponsor:
LearnToRide.Org
Conducted By:
WERA

Track Diagram

The Talladega Gran Prix Raceway is designed to be run either clockwise or counterclockwise. This weekend's events were conducted in a counterclockwise direction. The redesigned track has been run in clockwise direction once since the repaving, owing to safety concerns.
Since I began racing motorcycles I have had a desire to ride in an endurance race. There's just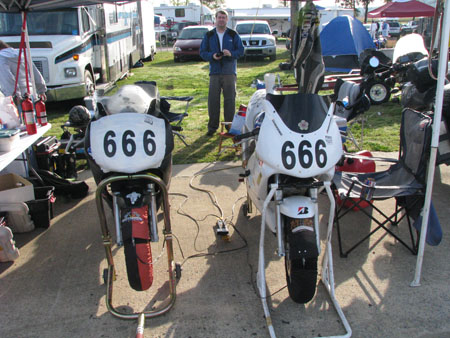 The Peace Beast Livery - Two 1st Gen SV650's

something about the thought of being out there in a four hour race complete with pit stops, solving problems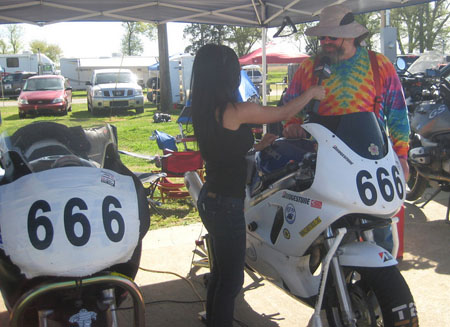 Motoconnect.TV does a pre-race
interview with Team Peace Beast!

as they arise, working as a team and overcoming obstacles.

Months ago I approached Dewayne with the proposition of running my SV650 in endurance. He had his reservations but wanted to do it, so as time went by I offered rides to Logan and my old sparring partner in Novice Heavyweight Twins, Brad Johnson. We (wisely) decided to declare Dewayne's bike as an alternate bike for our program. This was handy for several reasons, not the least of which is that it enabled us to do practice sessions with both bikes on the track at the same time, giving us twice the practice time for the same registration fee.

Dewayne brought his bike over to my place on Wednesday evening so I could load it on my trailer along with mine. As soon as I could break away from work on Thursday afternoon I hit the road. I had arranged to take Friday off work so I could do the Friday practice. When I got there on Thursday evening it was really cold with an ornery wind blowing. I got my pit set up, put the bikes into position and tried to get to bed as early as I could but still didn't manage to get more than about six hours of sleep.

The weather couldn't have possibly been better. It was cold at night, but with each sunrise the temperature rose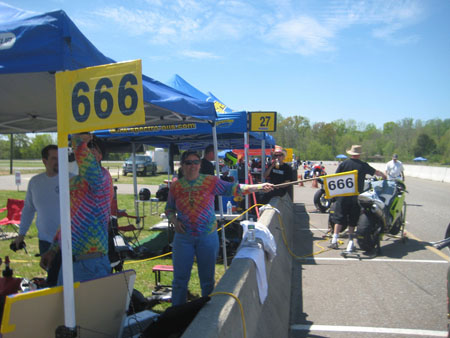 Our endurance team is ready for
action on pit lane...

quickly back to short sleeve conditions quickly. I got up Friday morning to cold weather. I put on my jacket and went to the registration tower to get signed up for Friday practice. The line was fairly short and soon enough I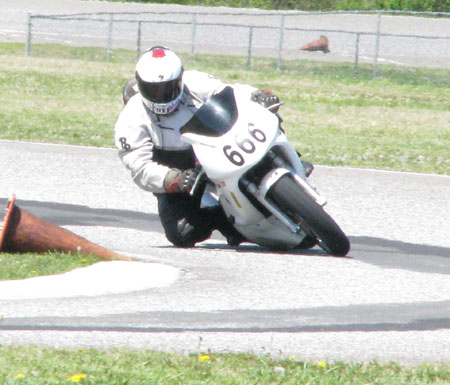 By myself on the 90's during Friday Practice
was back at my pit getting ready to ride the first practice session.
During the first session I was a little bit tight and had to loosen up. But the cool air was invigorating as I got a little quicker each lap. I felt good during each session and managed to put a best time of 1:07.90 on the lap timer during one of the practice sessions. That was the only lap I did in the 7's, but I did manage to do a lot of 1:08's.
Dewayne and I switched bikes for the last session of the day. I found riding his bike to be difficult because the distance between the seat and the rearsets just isn't enough for me to be able to tuck my legs into comfortably at all. It's very difficult on that bike for me to move around on the seat and shift gears. If it ever turns out that we have to use his bike for an endurance round I think I'll have to use my seat. His seat lowers your butt about two inches or so. He did 1:13's on my bike and I did 1:12's on his. Fortunately he was able to do much better on mine during the endurance race.
After Friday practice was done we took my pop-up tent down and moved it (along with tools, table, carpet, etc.,) over to the endurance pit area. We left the bikes parked under Dewayne's tent in the main paddock area so Logan and Brad could just pit from there.
We let Logan and Brad divide the practice time on Saturday morning. This was great for me because it allowed me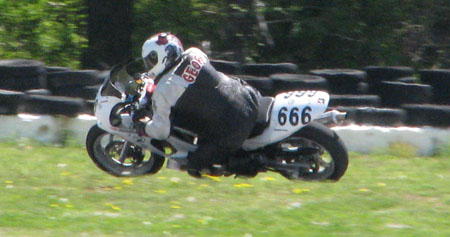 On the Carousel during practice

to just get up very leisurely and dress casually during the morning. It was great sitting in the bleachers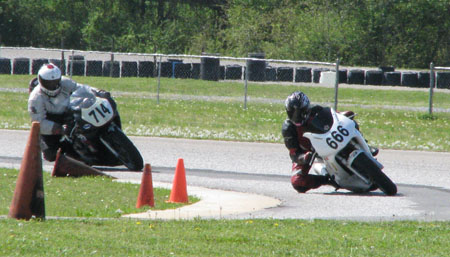 Dewayne and I swapped bikes for
final Friday practice.

and watching "My Team" practice. It gave me a very proud feeling, almost like a fatherhood thing.

Logan took Dewayne's bike out for the first practice session. Brad took my bike out first. WERA was only running one round of practice for each class, so the sessions were 30 minute sessions. After the various classes had their turn the 30 minute endurance practice was run. During that session Brad rode Dewayne's bike while Logan rode mine. It gave each one of them an opportunity to learn the track on an SV, pick up some reference markers and even practice a couple of hot pit stops.

When Brad came in after his practice I was talking with him about his experience and happened to ask him something about his shift points and where on the tachometer he was trying to shift. He told me the tach wasn't working while he was out. I was surprised by this and checked. Sure enough the tach didn't light up or work at all.

We began trying to diagnose the problem and discovered some loose wires in my wiring job from earlier this year. We tried to fix it with the faring upper on but it just wasn't working at all that way, so we pulled the plastic off and kept working at it until we had everything working again. In order to make this happen we ended up making a splice from some wire cannibalized from my test alligator clip test leads. But it seemed to solve the problem and we had a working tach and idiot lights again. We bolted everything back up with plenty of time for Logan to be able to take his turn on my bike.

I sat down in my chair to relax and hydrate up when the camera and interview girl (Danielle) from MotoConnect.TV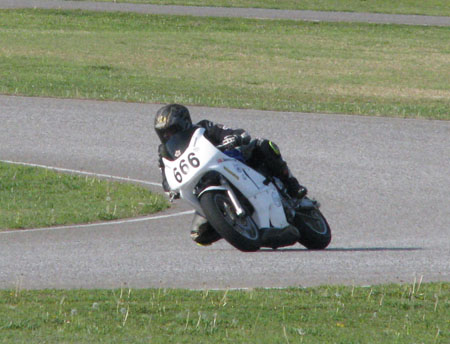 Brad practices on my bike on Saturday morning.
This was his first track ride in 8 months!

stopped by our pit for an interview. Since I was the team owner I did the interview. She asked me about our team and I explained that this would be our first effort at Endurance racing. She seemed a bit surprised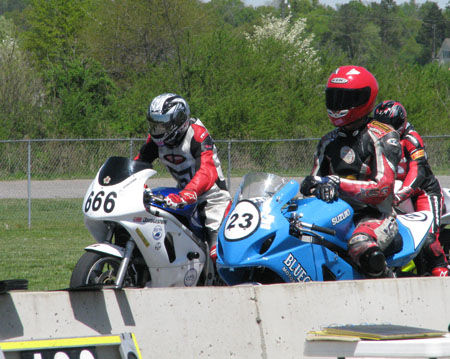 Logan grids up for the start
of the 4 hour endurance race...

that I would actually be one of the riders, obviously because of my size and age. I explained that I was 50 years old and knew that I didn't have the stamina to do an entire hour stint, but that the younger guys on the team were willing to take up the slack. I didn't see any reason for concern. I'd ride for as long as I felt comfortable, then hand it off to the younger guys to wrap it up. She asked a few other questions and I did the best job I could to field them. It was great, like being a real professional team.

We had mounted some fresh tires on Dewayne's spare wheels to use for the Endurance Race. So when Logan pitted in after his 2nd practice we put my bike up on the stands and pulled the wheels off, swapping them with the brand new tires and Dewayne's wheels. We also put new brake pads on the front calipers at that time.

Finally the big moment arrived. Logan took the bike out for his sighting lap and gridded up in his spot, fifth row center. The green flag flew and they were off. It was really thrilling watching those first few laps. Ben Bostrom was out there and (unfortunately) he jumped the start. They brought him in for a stop and go penalty on the third lap, but he had already gapped Logan by so much that Logan was unable to get to the start/finish line before Bostrom was back on the track.

Catt was running the pit signal board. All Logan wanted was a number of minutes he'd been out there in 20 minute increments. She gave him a 20 board and a 40 board. While I was donning my leathers for my turn they had prepared an "IN" board for him. But he tapped his helmet about five laps early, signaling that he was coming in after the next lap. We had agreed that the rider would tap once, then complete one more lap,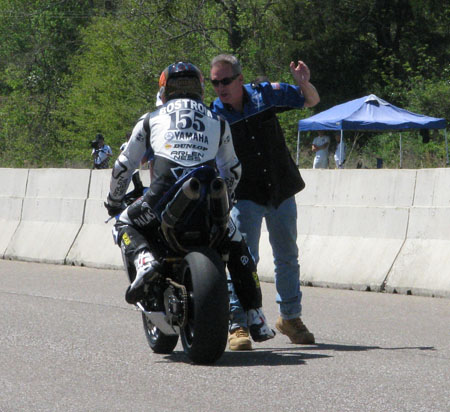 Bostrom gets a ride-through penalty
for jumping the start.

tapping again, then pit in at the conclusion of that lap. Logan came in at the appropriate time and I walked around the wall to get ready to mount while the team filled the tank. As soon as it was ready I hopped on, started it up and took off.

It felt good, but as I entered turn five (the carousel) the engine stalled on me. It was dead, and the tach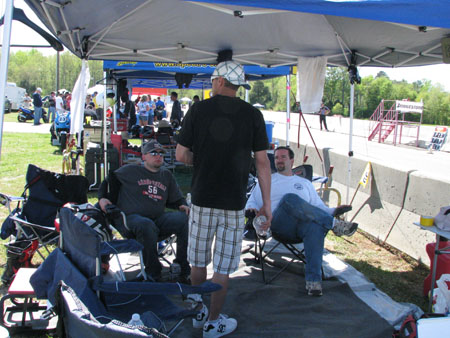 While I'm out riding everyone
relaxes a bit.

was dark. I signaled and rolled off the track into the grass. I dismounted, got the bike into neutral and pushed it far from the track as they dispatched the crash truck. Turning the key on didn't do anything, so the bike was completely dead at that point.

Fuzzy came by and picked me up. We rode back to the pit where they unloaded my bike and we began diagnosing what was wrong. It turned out that a fuse had blown. They replaced the fuse and it started right back up, so I was preparing to get right back on the bike. Then the second fuse blew and we were down again.

The next few minutes tested our ability to think camly under pressure and solve the problem. I couldn't be more proud of the way we communicated with each other. We figured the problem was very likely to have something to do with our re-wiring job at the front of the bike earlier in the morning. I was scratching my head wondering why the idiot lights worked when we plugged the failed connector from earlier into the spliced 12 volt supply, but didn't feel inclined to argue with success. But when we unplugged that connector the bike was able to run without blowing the fuse. However, it meant we didn't have idiot lights, but at least we had a tach.

This repair cost us about 12 minutes, but we got back on the track. At one point we had been ahead of the Bluegrass Motorsports team, but our mechanical issue put us back behind them.

I got on the track and started trying to put down the best laps I could, but there was still a problem. The engine was stalling briefly during the double 90's. It always seemed to catch back up after a brief stall, but at first I thought it was just getting starved for fuel. These brief engine stalls sometimes happened at other points on the track, but just about every time I was in the right handers they would happen.

I rode until the top of the hour, which is what I had hoped to be able to do. When I pitted in I felt remarkably well, as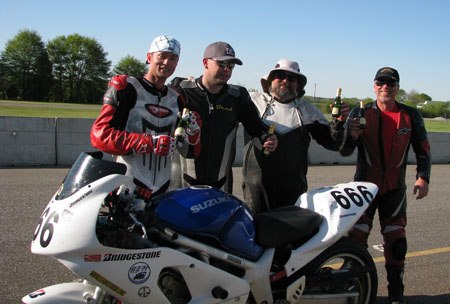 We did it! Team Peace Beast celebrates with champaigne.

if I could have continued for at least ten more laps. But I didn't want to take away from Dewayne's track time or Brad's, so I came in at the appointed time. I told Dewayne about the stalling problem so he'd be aware of it when he went out. They filled the tank and he mounted and was off.

As I re-entered my pit Danielle was there with her camera man again, wanting to do a follow-up interview. We talked for a few minutes about what it was like to be out there. I told her about our electrical issues that we were having to work around and our hope that we could continue to keep the bike running for the remainder of the race event. It was another really cool interview and she was done.

Dewayne pitted in unexpectly a few moments later. He said it was cutting out bad and was afraid it was starved for fuel. We topped off the bike and he went back out but the problem didn't go away.

About 30 minutes into his stint Dewayne tapped his helmet. We prepared for his return to the pit and Brad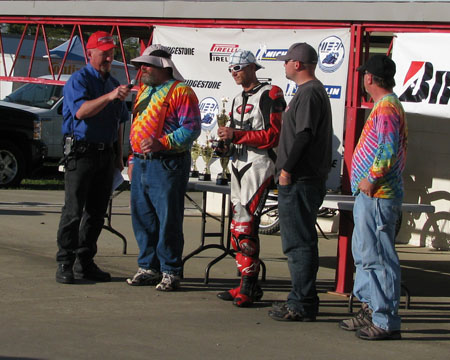 Everyone gets to say a few words
during the awards presentation.

was ready to ride. This time he was though. His right hand had gone numb during the ride. He was visibly disappointed, feeling like he had let the team down. We assured him that was nonsense, as Logan had already been primed to pick up any spare time needed at the end of Brad's session.

Brad went out and put down some good lap times, not quite as good as Logan's, but the bike was cutting out on him the whole time. Fortunately, as he put about 55 minutes in during his turn he was able to figure out the one thing that would make it possible for us to diagnose the issue quickly. He discovered that the stalling always happened when he was moving around on the seat.

So Brad came back in with about 25 minutes left on the clock for Logan to eat up. By this time Bluegrass Motorsports had retired from the race and we were up on them by about 10 laps. Even if they could get their bike back out there as long as Logan could keep circulating there was no way they would be able to catch us. Third place was as good as ours!

Logan did the sensible thing and rode safe laps about 3 seconds off his pace. The checkered flag came out and I couldn't help giving out some loud rebel yells as Logan took the checkered flag. We did it!

Donning our leathers we hopped the wall and gathered around the bike for a team photo. I can't remember the last time I had been so proud.

As if this wasn't enough of a dream for one weekend, we got to be on the track with Ben Bostrom, a respected professional world class racer who has actually won in the premier World Superbike class. I was amazed to discover that I could actually corner as fast as Bostrom. He entered and exited turns much more quickly than me, but our mid-corner speed was exactly the same. That in itself is absolutely incredible to me.

Then during the awards presentation we got to actually meet Ben and he was gracious enough to allow us to make some pictures with him. What a great day!

Sunday morning Brad and I took a look at the bike to see what was causing the engine to stall. We pulled the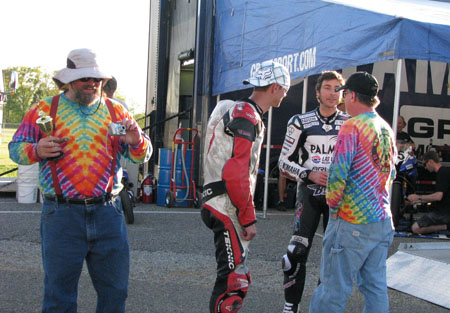 Team Peace Beast hob-nobs with Ben Bostrom.

seat off and found the problem in about 20 minutes. There is a bar (more like a heavy guage wire) welded to the subframe that the seat hooks onto to hold it down in back. The (rider's) left side weld had broken and the bar was in slight contact with the wiring cable that goes to the computer in the back of the tail section. The bar had rubbed a tiny hole into the insulation on that cable and slightly exposed a couple of wires. Re-routing the cable and putting some electrical tape over the exposed wire solved the problem.

Just to be sure that everything was okay I went and signed up for a race on Sunday. This would have me an opportunity to put the bike on the track and verify that the problem was solved. Sure enough the repair fixed the issue.

The race I signed up for was F2. It was the 10th race event on the schedule, but with combined races it ran much earlier than it ordinarily would have, and I was on the track at right about 3:00 in the afternoon. When the green flag flew I pulled a mondo wheelie and nearly lost the bike in the process. I finally managed to get it back down and start running, but meanwhile one of the novices (Jim) had passed me from the back row.

It took me about two laps to reel Jim back in. I passed him coming out of turn 1 on the outside. I had only an inch or so of pavement when I went by him, but I was pretty sure I'd start gapping him quickly once I did. I had been catching him by several bike lengths on brakes into most of the turns.

During the race, however, I could hear the old Jardine exhaust beginning to separate again. It was just like that time when it started doing that on the RC51. This time though it was riveted with steel rivets, not aluminum ones. And there were twice as many rivets on the can as it normally would have. Didn't help though, because the can separated anyway. This time the can just fell off. I could hear the loud exhaust and saw my can laying in the grass on the inside of the track near the dog-leg right after the farmhouse turn. Fortunately for me they didn't meatball or black flag me, so I got to finish the race. Didn't matter, I finished last among the experts who finished. I think I ended up with an 8th place in that effort.

Most important lesson learned during this race weekend: Who cares. I got to meet and ride with Ben Bostrom!!!


Back to my Motorcycle Racing Pages